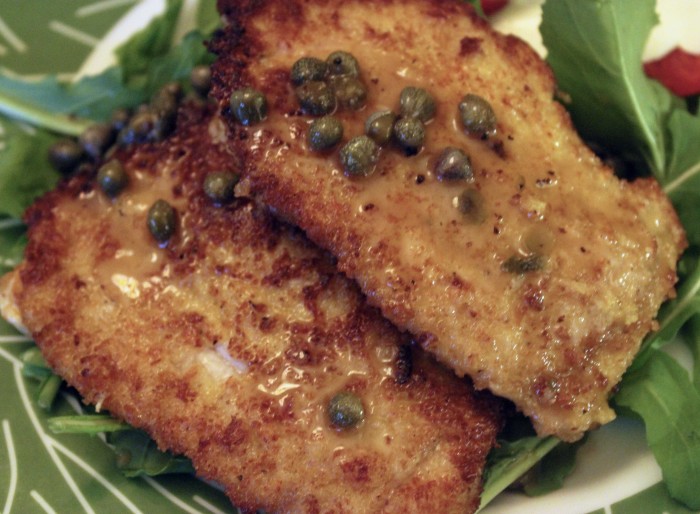 There is a lovely book — Olives, Anchovies, and Capers by Georgeanne Brennan [2001] — that Suzen and I often turn to. We love food with a bite, thus explaining our penchant for hot sauces and the cuisine of Santa Fe. But Mediterranean cuisines have long had the techniques and recipes to satisfy anyone with a "hot" tooth.
There can be no mistaking the intensity of olive, anchovies, or capers. Sometimes Georgeanne combines them all in her exceptional recipes. Sometimes, she lets one flavor shine through.
This is a classic caper dish, intensified by adding a parmesan crust to the veal. The recipe in the book calls for veal chops. We wanted a lighter meal, and did not want to lighten our wallets. So made this dish with veal scallops instead. The recipe below is the original, complete with veal chops.
This is a centerpiece dish, one where the depth and layering of flavors will dominate everything else on the table. So, pair it up with green beans or perhaps some extra-buttery mashed potatoes.
If you love capers, then this can be your next Sunday feast.
Parmesan-Crusted Veal Chops Finished with Lemon and Capers
Yield: serves 4
Ingredients:
⅓ cup freshly grated Parmesan cheese
½ cup freshly made fine dried bread crumbs
1 teaspoon salt
½ teaspoon freshly ground black pepper
1 egg
1 teaspoons water
½ cup all-purpose flour 4 veal chops, each about 6 ounces and ½-inch thick
5 tablespoons extra-virgin olive oil
Juice of 2 lemons, about 1/3 cup
3 tablespoons capers, rinsed and drained
Preparation:
In a shallow bowl, combine the cheese, bread crumbs, salt, and pepper and mix well. In another shallow bowl, whisk together the egg and water just until blended. Spread ½ cup flour on a plate. Coat a veal chop on both sides with the flour, tapping off the excess. Drip the chop into the egg mixture, then dip it into the cheese mixture, coating it on both sides. Set the chop aside on a waxed paper and quickly repeat with the remaining 3 chops.
In a heavy-bottomed skillet, heat the olive oil over medium heat. When it is hot, add the chops and fry, turning once, until a golden crust has formed on the exterior, 2 to 3 minutes on each side. If the chops are browning too quickly, reduce the heat to low. Cover and cook until cooked through but still faintly pink at the center, 3 to 4 minutes. Transfer to a warmed platter or individual plates and keep warm.
Pour off all but 1 teaspoon of the oil from the skillet. Return the pan to medium-high heat, add the lemon juice, and stir to scrape up any bits clinging to the bottom of the pan. Reduce the heat to low, add the capers and cook, stirring, for about 30 seconds.
Pour the lemon juice and capers evenly over the chops and serve immediately.
Source: Olives, Anchovies, and Capers by Georgeanne Brennan
Photo Information Canon T2i, EFS 60 mm Macro Lens, F/5.6 for 1/15th second at ISO‑3200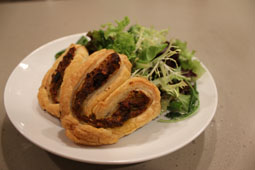 Palmier? Your mind instantly thinks of a wide, thin sweet pasty, laden with sugar. Perhaps paired with a cappuccino in a Paris café. They are big and they are a meal.
A savory palmier? That's got to be an oxymoron. How could you possibly make something that is not sweet, or, worse, potentially even healthy?
Well, you can. And these palmiers, filled with homemade pesto, are every bit as addictive as the sweet ones. Better yet, you can make and freeze these. Served as appetizers or as a first course with salad, as the recipe shows below, you'll find your dinner partners grabbing for more.
The unusual nature of these palmiers will immediately attract attention. Then, after a first bite, there will appear a smile and a quiet look of astonishment. Different, flavorful and zero calories.
Two out of three isn't bad.
Savory Palmiers
Ingredients:
For the Palmiers:
1 package frozen puff pastry, Pepperidge Farm or other, defrosted
1 cup prepared pesto, store-bough or homemade
½ cup crumbled goat cheese, such as Montrachet
¼ cup finely chopped sun-dried tomatoes in oil, drained
¼ cup pine nuts
For the Pesto (2 cups):
¼ cup walnuts
¼ cup pine nuts
3 tablespoons chopped garlic (9 cloves)
5 cups fresh basil leaves, packed
1 teaspoon kosher salt
1 teaspoon freshly ground black pepper
¾ cup extra-virgin olive oil
1 cup fresh grated parmesan cheese
For the Salad and Vinaigrette:
6-8 cups torn salad greens, such as frisée, Boston, red leaf, baby arugula
2 tablespoons chives, cut
½ teaspoon tarragon leaves, cut
½ teaspoon thyme leaves, minced
¾ cup extra-virgin olive oil
¾ cup red wine vinegar
1 tablespoons Dijon mustard
1 tablespoon water
Preparation:
Preheat the oven to 400°F.
To make the pesto: Place the walnuts, pine nuts, and garlic in the bowl of a food processor fitted with a steel blade. Process for 30 seconds. Add the basil leaves, salt, and pepper. With the processor running, slowly pour the olive oil into the bowl through the feed tube and process until the pesto is finely puréed. Add the parmesan and purée for a minute. Serve, or store the pesto in the refrigerator or freezer with a thin film of olive oil on top.
Purée the goat cheese and sun-dried tomatoes in a food processor; stir in the pesto
Lightly flour a board and carefully unfold one sheet of puff pastry. Roll the pastry lightly with a rolling pin until it is 9½ x 11½ inches. Spread the sheet of puff pastry with half the pesto, the sprinkle with half the goat cheese, half the sun-dried tomatoes, and half the pine nuts. Sprinkle with ¼ teaspoon salt.
Working from the short ends, fold each end halfway to the center. Then fold each side again toward the center until the folded edges almost touch. Fold one side over the other and press lightly. Place on a sheet pan lined with parchment paper and chill roll. Repeat for the second sheet of puff pastry using the remaining ingredients. Cover and chill.
Cut the prepared rolls of puff pastry into ¼-inch-thick slices and place them face up 2 inches apart on sheet pans lined with parchment paper. Bake for 14 minutes, until golden brown.
Meanwhile the palmiers are baking, prepare the vinaigrette. In a small bowl whisk together, the olive oil, red wine vinegar and mustard to emulsify. Add the chopped herbs and salt and pepper to taste.
Source: Adapted from Back to Basics by Ina Garten