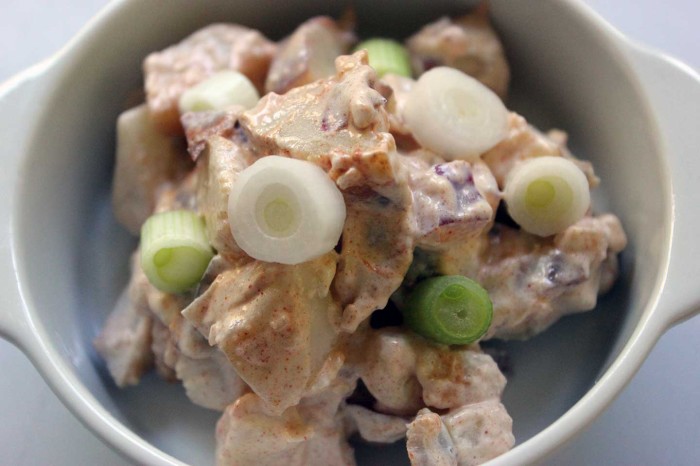 We have just had the summer solstice and now, officially now, is the season for barbecue and all the side dishes that tradition dictates we bring to the table: beans, slaw, cornbread, potato salad, …
Ah, potato salad. Many of us grew up on that mayo-and-hard-boiled-egg-and-celery recipe, but there are options aplenty. For your consideration, here is minimalist version of potato salad with few ingredients but deep flavor and some heat. This time the heat is not from south of the border, no chipotle here, but instead from Hungary. You'll be fascinated by what a touch, and I do mean a touch, of hot paprika can do.
If in preparing this salad you do happen to go overboard with the paprika, do not fear. A little additional apple cider vinegar and some salt can restore a modicum of balance.
From this basic recipe, you are free to add in what you want: those hard boiled eggs, or herbs, or some peppers. Even that chipotle. But, on your first pass, stick to this recipe to see how enjoyable a very basic potato salad can be.
Brian's Potato Salad ala Hungary
Yield: serves 8
Ingredients:
• 3 pounds new potatoes
• 5 slices of bacon
• 1 red onion
• 2/3 cup sour cream
• 1/3 cup mayonnaise
• 2 tablespoons apple cider vinegar
• Salt and pepper
• 1 teaspoon hot paprika
• Sliced scallions for garnish, if desired.
Preparation:
Boil the new potatoes until soft to a knife, then allow to cool to room temperature.
In the meantime, cook the bacon until crisp. Set aside to cool.
Slice and then dice the potatoes into thin pieces and place is a metal bowl. Dice the bacon and add to the bowl. Finely dice the onion and add to the bowl.
In a separate bowl, add the sour cream, mayo and vinegar. Whisk to mix. Add salt and pepper to taste. Pour this dressing over the bowl of potatoes, bacon, and onion. Stir slowly to mix. Make sure every piece of potato has dressing.
Add the 1 teaspoon of paprika and again stir slowly to mix and make sure everything is coated. Taste test to your satisfaction. A single teaspoon of paprika will give you some flavor and heat. Add more if you desire, but be aware you'll soon be creating a paprika, and not potato, salad.
Put the metal bowl in the refrigerator to chill. When read to serve, dust each portion with some sliced scallion.
Source: Brian O'Rourke
Photo Information Canon T2i, EFS 60 mm Macro Lens, F/5.6 for 1/60th second at ISO 1600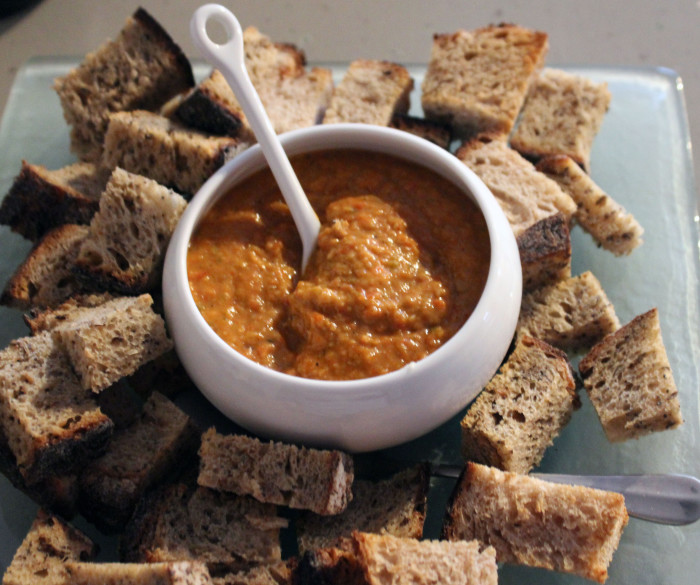 Suzen and I have become hummus purists, in the sense that we now know how to prepare perfect, velvety, just-so-slightly lemony hummus. And while we are not heretics, we still believe in hummus diversity.
Rose Elliot, a widely acclaimed British author, has just collected her best vegetarian recipes into The Best of Rose Elliot: The Ultimate Vegetarian Collection.
Her red pepper hummus, with some added paprika fire plus Tobasco, may not be the ultimate hot hummus but it could enter any contest. It's not too, too hot, but there is fire here that make this the perfect appetizer to match a red wine, especially a dark and stormy one.
This was our Easter Dinner appetizer. Served with toasted homemade bread, and with a bottle of serious red wine, this raised expectations for the entire meal. If you look at the previous recent blogs here — the Chipotle Cheddar Biscuits with Honey Butter and the Slow Roasted Lamb Shoulder with Aioli and Salsa Verde — you'll understand why no one was disappointed.
Even if your bread is not homemade, do toast your bread and serve it a tad black and definitely warm.
Author Rose Elliot suggests using a jar of whole sweet red peppers, in part for each of preparation. We elected to roast a couple of fresh red pepper instead. Fresh, fresh, fresh.
Red Pepper Hummus with Smoked Paprika
Yield: serves 4
Ingredients:
2 garlic cloves
1 can [15 ounces] chickpeas, drained
2 roasted red peppers
1 teaspoon honey
Tabasco to taste
½ teaspoon smoked paprika, to taste, perhaps a tad less
Coarsely ground black pepper
Warmed bread
Preparation:
Put the garlic cloves into a food processor and process until chopped. Add the chickpeas, red peppers, and honey and process again. Stir in the Tabasco and smoked paprika to taste.
Turn the mixture onto a flat plate or into a bowl. Smooth the surface. Grind some coarse black pepper over the top. Serve with strips or chunks of warmed grilled or toasted bread or pita.
Source: Best of Rose Elliot: The Ultimate Vegetarian Collection by Rose Elliot
Photo Information [top picture]: Canon T2i, EFS 60 mm Macro Lens, F/4.5 for 1/6th second at ISO-3200