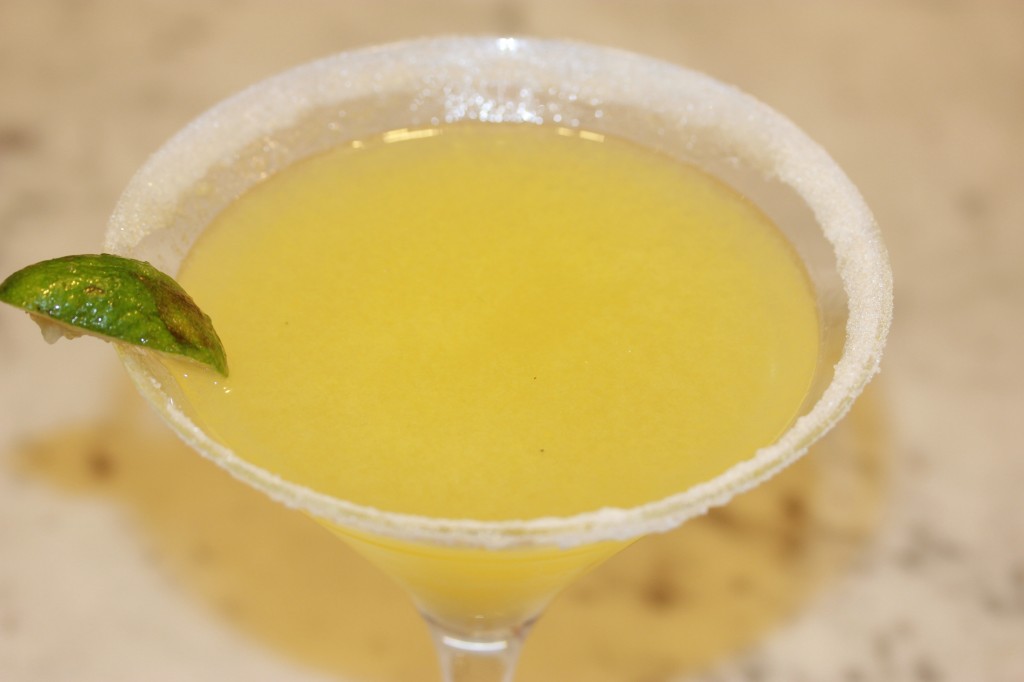 I was stunned. This recipe was sitting right there in front of me on a printed page — a page that is 26 years old — and it suggested something I never imagined. And it's all so simple.
I have made a zillion margaritas. Well, less than a zillion but lord knows more than a thousand. I've done lemons. I've done limes. Lemons and limes together in many different proportions.
And here, the idea was to use oranges [with a hint of lime]. The concept works. You get a different, sweeter flavor and this beautiful color.
For your New Year's Eve party — whether it is a party of 1 or 100 — this is a lovely way to greet the New Year.
And, Suzen and I both hope that 2013 is a better, brighter, happier year for you.
Killer Orange Margarita
Yield: serves 2
Ingredients:
Juice from 5 limes [about ¼ cup]
Juice from 2 oranges [about 1 cup]
2 tablespoons sugar
5 ounces orange liqueur [consider Mandarin Napoleon]
5 ounces gold tequila
Optional garnish elements: salt, sugar … [yes, sugar, don't knock it until you've tried it]
Preparation:
Shake the juice, sugar, and liquor elements with crushed ice in a cocktail shaker. Serve in a margarita glass, optionally rimmed with salt or sugar. Put a modest amount of crushed ice in the glass to keep the drink brightly cold.
Garnish with a citrus slice: orange, lemon, or lime.
Source: adapted from Southwest Tastes by Ellen Brown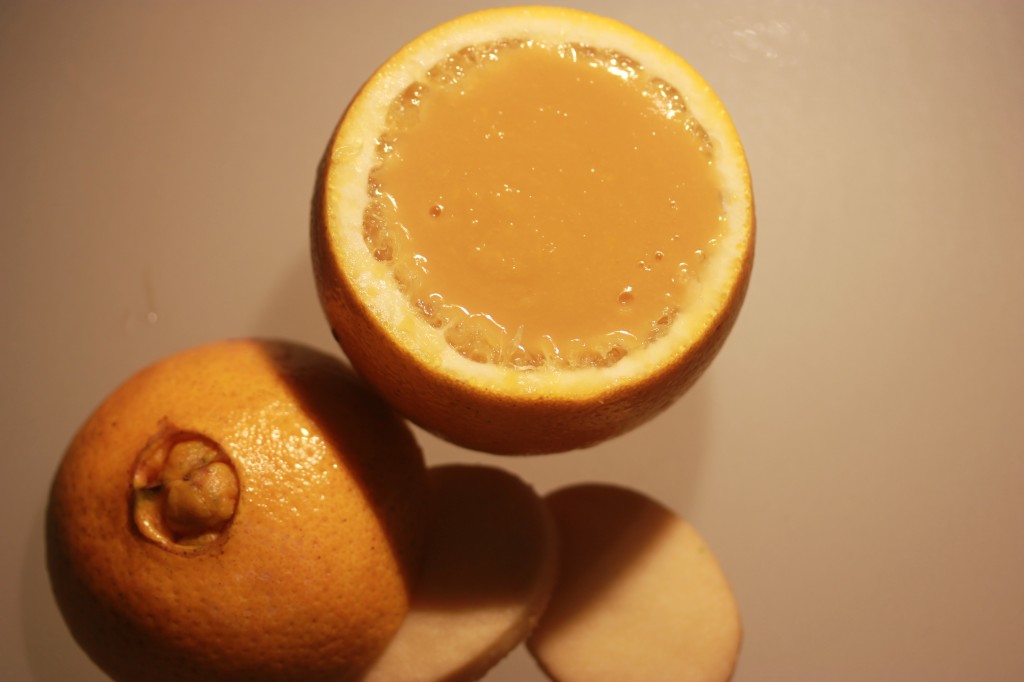 A great dish has, of course, great flavor. But also interesting texture and smell and even a look. Presentation of a dish can make an enormous difference in its appreciation.
This recipe is a clever idea using oranges for both flavor and presentation. Zabaglione is one of those "exotic" desserts that most people order, but think of making at home. It is actually easy to prepare and should be a staple of your home recipes. And now, with this presentation idea, you can have great flavor and a thrilling look on your table.
Zabaglione can be served cold or hot. It's a yin-yang thing. Outside now, it is below freezing, so this zabaglione was served warm right out of the pan.
Orange Zabaglione in Orange Cups
Yield: serves 6
Ingredients:
6 medium navel oranges
8 egg yolks
¼ cup sugar
½ cup Grand Marnier [or other fine orange liqueur]
½ cup Marsala
Optional garnish elements: candied violets, orange sections, candied ginger, …
Preparation:
Cut a slice off the bottom of each orange so that it will stand upright on a plate. Then cut off the top third of each orange and scrape out all the pulp. Set aside.
Whisk the egg yolks and sugar together into the top of a double boiler until thick, then place the pan over simmering water. Add the grand Marnier and Marsala. Beat until the mixture thickens and coast the back of a spoon.
Spoon into the orange shells, and serve either hot or cold. Garnish if desired.
If served cold, the dessert can be prepared a day in advance. If a lighter taste is desired, some orange juice can be substituted for some of the liqueurs.
Source: adapted from Southwest Tastes by Ellen Brown