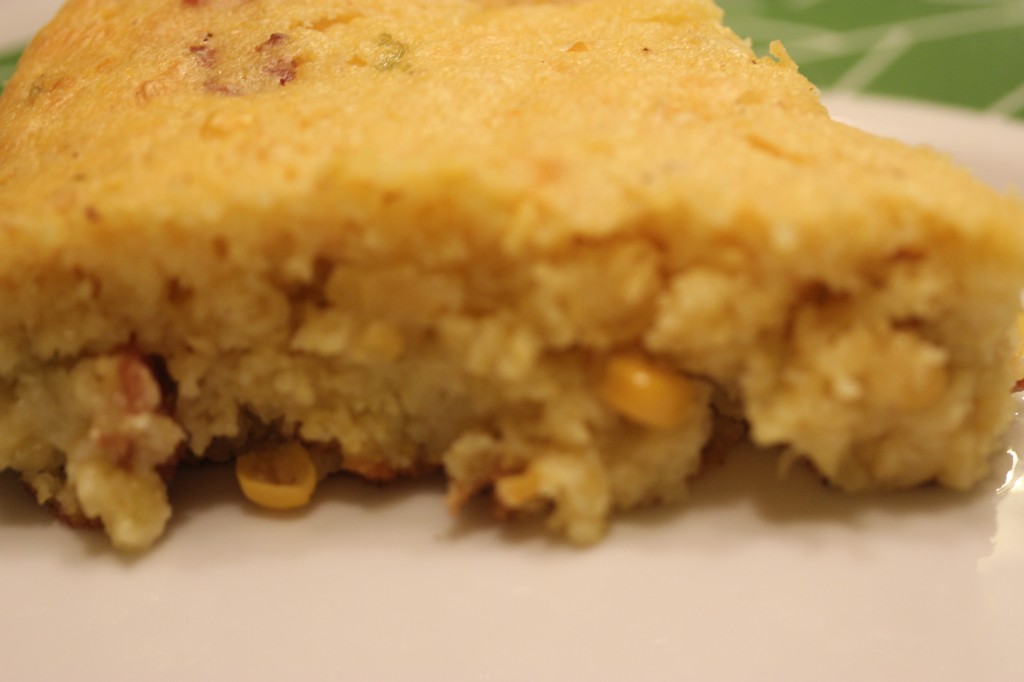 A few days ago, I posted a recipe for chipotle cornbread to use in stuffing. Cornbread recipes came, literally, in all flavors. And all cultures have adopted cornbreads. In Greece, they make cornbreads called bobota. The Greeks thankfully  bear us gifts. Cornbread can be dry. You've surely had some that seem to be as delicate as hay. Hence, the rage to add all kinds of things to improve cornbread flavor and texture: honey, creamed corn, peppers, onions, bacon, … You see some creamed corn kernels in that picture above.
The Greek solution for making cornbread delicious is to add flavor and liquid. This orange-honey syrup is made and poured into holes that have been poked in a freshly baked bobota. The result is sticky. And sweet. You don't need butter when you do this, but you are of course free to add it on. And, you don't need a bobota either. You can employ this syrup with any cornbread.
We've used this syrup with the chipotle cornbread to produce a rich amalgam of flavors. This is definitely finger lickin'.
This recipe calls for the juice of one orange, plus enough water to make 1 cup. I prefer not to have any water and simply make it all juice. It's stickier and sweeter.
This recipe is from the Cornbread Gospels, a book I have fallen in love with. It's winter here in New York, really winter. Cornbread can put a smile on your face for breakfast, as a side at lunch, and surely at dinner. You'll see some more wonderful ideas from Cornbread Gospels over the coming cold months.
Orange Honey Syrup
Yield: 1 ½ cups
Ingredients:
½ cup honey
3 tablespoons honey
Juice from one orange plus water to equal 1 cup
Finely grated zest of 1 orange, preferably organic
6 whole cloves
Preparation:
Combine all the ingredients in a medium saucepan. Bring to a boil, turn the heat down to a simmer, and cook until the sugar is dissolved and the mixture is a thin syrup, about 4 minutes. Let the syrup cool to room temperature. Remove the cloves and pour the syrup over the cornbread.
Source: Cornbread Gospels by Crescent Dragonwagon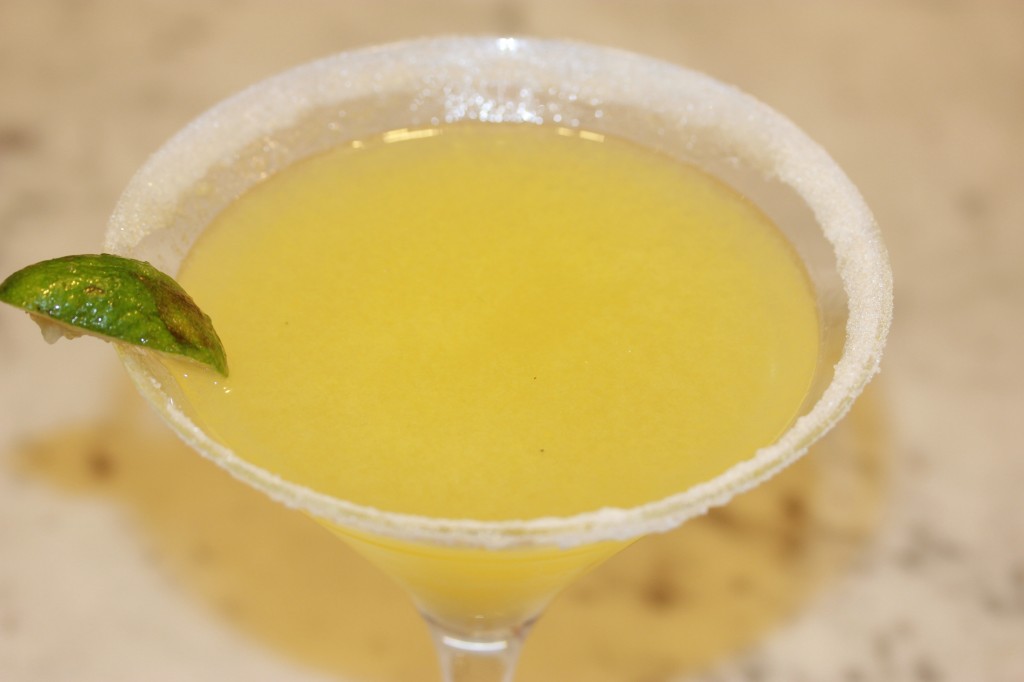 I was stunned. This recipe was sitting right there in front of me on a printed page — a page that is 26 years old — and it suggested something I never imagined. And it's all so simple.
I have made a zillion margaritas. Well, less than a zillion but lord knows more than a thousand. I've done lemons. I've done limes. Lemons and limes together in many different proportions.
And here, the idea was to use oranges [with a hint of lime]. The concept works. You get a different, sweeter flavor and this beautiful color.
For your New Year's Eve party — whether it is a party of 1 or 100 — this is a lovely way to greet the New Year.
And, Suzen and I both hope that 2013 is a better, brighter, happier year for you.
Killer Orange Margarita
Yield: serves 2
Ingredients:
Juice from 5 limes [about ¼ cup]
Juice from 2 oranges [about 1 cup]
2 tablespoons sugar
5 ounces orange liqueur [consider Mandarin Napoleon]
5 ounces gold tequila
Optional garnish elements: salt, sugar … [yes, sugar, don't knock it until you've tried it]
Preparation:
Shake the juice, sugar, and liquor elements with crushed ice in a cocktail shaker. Serve in a margarita glass, optionally rimmed with salt or sugar. Put a modest amount of crushed ice in the glass to keep the drink brightly cold.
Garnish with a citrus slice: orange, lemon, or lime.
Source: adapted from Southwest Tastes by Ellen Brown