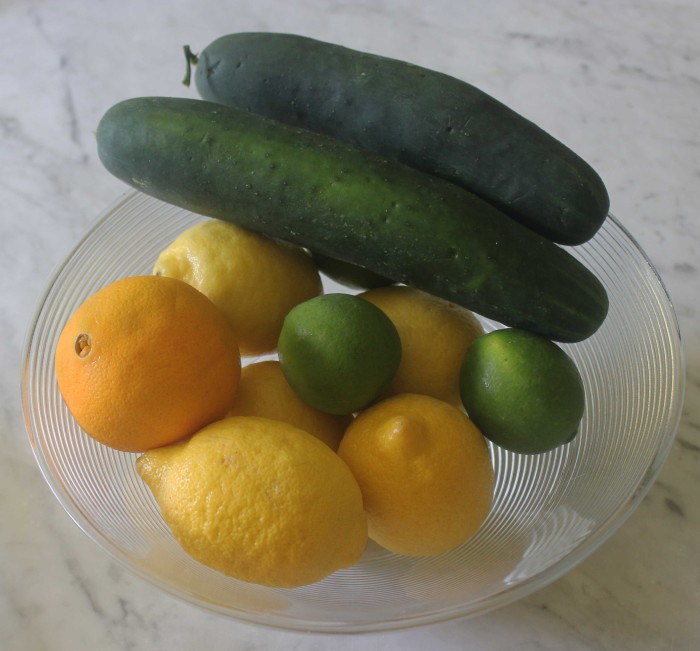 This is supposed to be a blog for Brian's Cucumber Lemonade #2, following yesterday's #1.
I got a little side tracked. I was looked for 6 lemons and found only 3, but I had a lime and 2 oranges. So, this drink is not "lemonady" at all. It's citrus and, modestly, brilliantly refreshing. The beverage is made with only cucumber juice, citrus juice and some simple syrup. No water. It's a tad viscous and definitely forceful.
How does it taste? The cucumber coolness hits first, followed by this cascade of citrus notes: lemon, then orange. The lime is barely susceptible in my version here, but I suspect that every time you make this drink, you'll find a different kaleidoscope of flavors to enjoy. And, you can adjust the mix of citrus juice here; you are looking for about ⅔ cup of juice. Remember, if you change the ratio of lemons/limes to oranges, you'll be affecting the sweetness level. And, more oranges will give you more juice.
I'll go to the store, get more lemons, and work on #2. In the meantime, this #1.5 is very satisfactory.
---
Brian's Cucumber Citrus Cascade #1.5

Yield: 2 cups

Ingredients:

1 English cucumber, about 12 ounces
3 lemons
1 lime
2 oranges
½ cup simple syrup
Preparation:

Peel, slice and seed the cucumber. Cut into chunks and put them in a blender [a Vitamix is better for this, much better]. Process until completely pulverized: a minute or more. Strain through a fine mesh sieve into a bowl. You want about ⅔ cup of cucumber juice.
Rinse the blender and return the cucumber water to it. Add the juice of the lemons, lime, and oranges. Add the sugar syrup. Process until well blended.
Chill before serving and then serve with ice.
Source: Brian O'Rourke, inspired from food.com

Photo Information Canon T2i, EFS 60 mm Macro Lens, F/4 for 1/40th second at ISO‑2500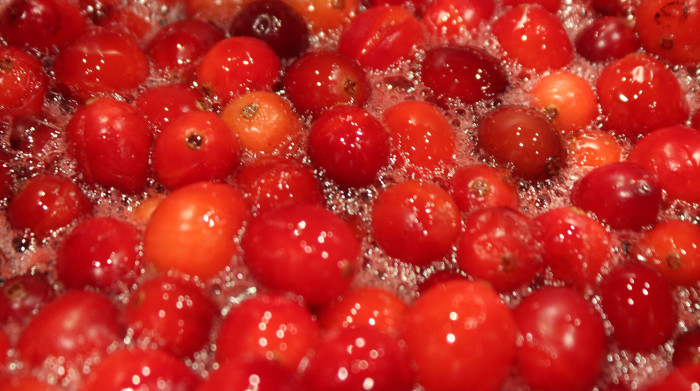 They are not just for Thanksgiving or Christmas any more. Cranberries bring a bright, tart flavor to whatever you choose to adorn, mix, or bake with.
This recipe is from The Great American Cookbook, the wonderful state-by-state array of recipes compiled 50 years ago by Clementine Paddleford. Mention "cranberries" and surely "Maine" pops into mind. This recipe is a classic combination of cranberries and orange, frosted with notes of cinnamon and clove.
What is a compote? It's another French creation, a mixture of fruit and sugar syrup, that first appeared in 17th century. What to do with it? Eat it. In a bowl. By itself. Or, you can have ice cream or yogurt in the bowl. Or, you can top off angel food cake or pound cake. Or, you can serve it as a side to roast poultry. This compote paired with dark, moist turkey meat is an experience that should not deny yourself.
Spiced Cranberry Orange Compote
Yield: serves several depending on
Ingredients:
1 cup water
2 cups sugar
5 whole cloves
2 2-inch cinnamon sticks
3 large seedless oranges, peeled, white pith complete removed, and sliced ½ inch thick
4 cups cranberries, fresh is best, defrosted will suffice
Preparation:
Combine the water, sugar, cloves and cinnamon stick in a large saucepan. Place over medium-high heat, bring to a boil, and boil for 5minutes. Add the orange slices, lower the heat to medium-low, and simmer for 3 minutes.
Add the cranberries and continue to simmer for 5 to 8 minutes, until the liquid becomes syrupy and the cranberry skins pop open. Pour into a bowl, cover and refrigerate for at least 1 hour.
Serve topped with whipped cream, or use as a topping for cake or ice cream.
Source:  The Great American Cookbook by Clementine Paddleford
Photo Information: Canon T2i, EFS 60 mm Macro Lens, F/5 for 1/60th second at ISO-1250