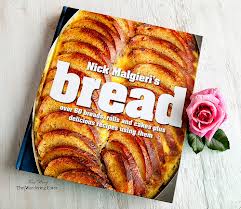 In his new book Bread Nick Malgieri offers this recipe for onion marmalade. How to use it? Nick suggests making grilled cheese sandwiches. Or, as a topping for his focaccia. Suzen is experimenting with adding this intense flavor to her salad vinaigrettes. You could use this to top off your burger, or have it on the side when enjoying chicken blackened on your barbeque.
It's easy to make, just sitting on your stove as the onions edge toward caramel. And you are surge to fashion your own favorite ways to cook with and enjoy.
Nick created this recipe after tasting a version made with red wine, not vinegar. He prefers the vinegar and you may, too. You can try the wine version and experiment with other vinegars to perfect your own personal "family" version.
Onion Marmalade
Yield: one cup+
Ingredients:
2 pounds large white onions or sweet onions such as Vidalia
3 tablespoons olive oil
½ teaspoon sea salt
2 tablespoons sherry vinegar
Preparation:
Peel, halve, and then thinly slice the onion from stem to root end.
Put the oil in a large Dutch oven and add the onion and the salt. Stir to coat the onions with the oil, turn the heat to medium, and wait until the onions start to sizzle. Decrease the heat to very low and cook the onions until they are wilted, about 20 minutes, stirring occasionally.
Continue cooking, stirring more often as the onions reduce tin volume, until they are very soft and light caramel color, a total of about 1 ½ hours. Off the heat, stir in the vinegar and taste for seasoning. Adjust with more salt or vinegar if you like. Cool and pack into a clear plastic container. The marmalade can be stored for up two weeks in the refrigerator. Bring to room temperature before use to maximize the flavor experience.
Source: Bread by Nick Malgieri [published by Kyle books]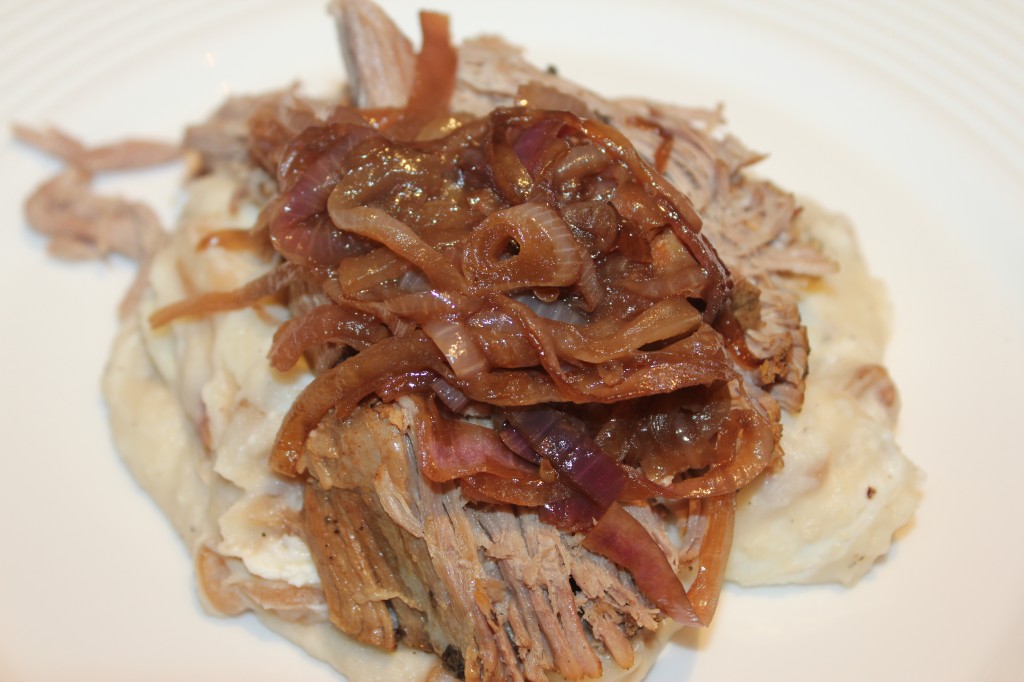 Mashed potatoes are a staple for many of us. Topped with butter and gravy, it's a key comfort food. Mashed potatoes are almost never boring. But, … Well, sometimes you do want those mashed wonders but you want them different.
This recipe is defines that different and delicious. With one cup of goat cheese added, no butter is needed at all. The combination of caramelized onions with that goat cheese is wonderful when imbedded inside the mashed potatoes. This is an excellent side dish for a steak or pork roast for an early Sunday dinner.
How to caramelize those onions? There are many techniques. Look for one here tomorrow that is richly satisfying.
In the picture above, we've got these mashed potatoes topped with more caramelized onions and some pulled pork. It's a one plate feast.
Goat Cheese and Caramelized Onion Mashed Potatoes
Yield: 6 servings
Ingredients:
2 pounds russet potatoes, peeled and cut into 1 ½-inch pieces
6 cloves garlic, peeled
½ cup unsalted butter
¾ cup heavy cream
Kosher salt and freshly ground pepper
1 cup goat cheese
½ cup caramelized onions
Preparation:
Place the potatoes and garlic cloves in a large, heavy saucepan and cover with cold water. Over high heat, bring the water to a boil. Lower the heat to medium, cover the pot, and cook the potatoes until they are just soft when tested with the tip of a knife, about 20 minutes.
While the potatoes are cooking, heat the butter and cream over medium heat in another saucepan. Reduce by one-fourth.
In a colander, strain the water from the potatoes and garlic. While still hot, pass them through a food mill or a ricer with the butter and cream. Add salt and pepper, fold in the goat cheese and onions, and serve warm.
Source: Texas Cowboy Kitchen by Grady Spears with June Naylor