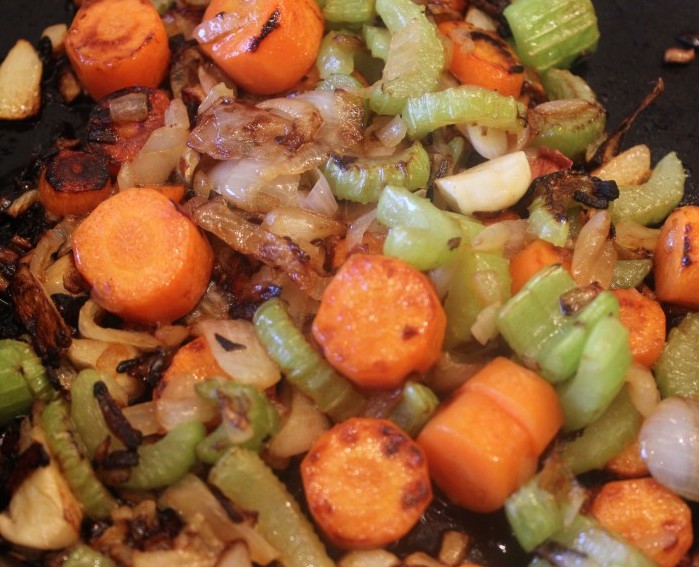 You may be familiar with Alton Brown and his entertaining show Good Eats on the Food Network. Alton is zany, brilliant, and, at times, opinionated. His number one kitchen faux pas? Having something in your kitchen that can only do one thing. He wants you to only have tools and gadgets that multitask.
Suzen and I like to go one step further: make basic ingredient combinations that can be multitasked. Those veggies in the picture above can be used at least four ways:
A smooth, subtle dip
A salad dressing
A condiment for burgers and hot dogs replacing mayonnaise
A key component in a Mexican squash soup [coming tomorrow!]
The idea here is simple: create a great vegetable base that is available for multiple combinations. The recipe for the "base" below gives you about 2 cups of cooked vegetables, enough for the dip/dressing/condiment being presented today. And there's enough left over for the soup you'll see here tomorrow.
While I often preach here about doing everything from scratch, the truth is every cook needs some solid shortcuts. Here I use some store-bought salad dressing. I like the Marie's brand, found in your refrigerated foods section. The Blue Cheese and Ranch dressing are delicious by themselves, but actually a tad overpowering. Just dipping a chip in straight salad dressing can be eye opening. Here, that striking flavor is extended with veggie tones and then muted with the addition of sour cream.
Brian's Veggie Dip and Dressing and Condiment
Yield: 1 ½ cup
Base Ingredients:
2 tablespoons olive oil
1 Vidalia onion, diced
1 shallot, diced
2 medium carrots, peeled and diced
2 celery stalks, washed and diced
2 garlic cloves, smashed
Additional Ingredients for Dip/Dressing/Condiment:
½ cup salad dressing [such as Marie's Blue Cheese
½ cup sour cream
Freshly ground black pepper
Base Preparation:
Put the 2 tablespoons of olive oil in a medium-sized cast iron skillet and heat on high. When the oil is hot, add the onions, shallots, carrots, and celery. Cook for 5 minutes on high, then another 5-10 on medium until the veggies are soft. Add the garlic and cook for two more minutes.
Turn off the heat and transfer the cooked veggies to a 2-cup glass measure cup. You should have about 2 cups total.
Dip/Dressing/Condiment Preparation:
Put ½ cup of the cooked veggies in a blender, ideally a Vitamix which produces a much more homogenous mixture. Reserve the remaining veggies for other recipes, or just increase the proportions here to make more dip/dressing/condiment.
Add the salad dressing. For the Vitamix, set the speed to Variable 1. Turn the machine on, then increase the speed to Variable 10 over about three seconds. Process until very smooth, just a few seconds more.
Transfer the blended ingredients to a bowl. Add the sour cream and pepper, then whisk to mix. Store until using.
Source: Brian O'Rourke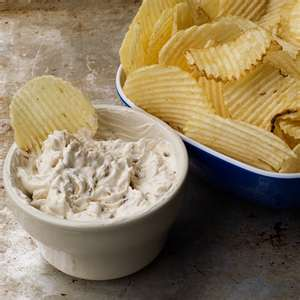 When I die, and if I get to the pearly gates with Heaven just on the other side, it's going to be difficult should they start asking me questions. Supposedly there is a complete record of everything you do in your life, so telling another lie at that point is probably a mistake. A step on the path to the big escalator, the one marked "DOWN."
Have you ever made onion dip with packaged onion soup mix? Well, I have. I would admit that I seem to recall that I have. More than once? Yes, I would slowly answer. But if they probe and ask how many times, I would have to tradeoff between being humiliated in front of angels and risking that escalator ride to the place that has no air conditioning.
This dip is "green" using fresh onions, not the boxed stuff. You'll get your onion flavor here but it's now the just the honest flavor of fresh onions. No preservative chemicals here. There is some tang from balsamic vinegar plus cream cheese in addition to the usual sour cream. Feel free to adjust the amount of vinegar, salt or pepper. You could add lemon or lime juice, too.
This is the classic dip for potato chips, of course. But pita chips and vegetables spears benefit from the glory of its richness.
Caramelized Onion Dip
Yield: 2 cups, enough for 8 [but I wouldn't count on it]
Ingredients:
2 tablespoons extra virgin olive oil
2 large onions, quartered lengthwise and thinly sliced
1 teaspoon balsamic vinegar
½ teaspoon salt
¼ teaspoon freshly ground black pepper
1 cup sour cream
4 ounces cream cheese, at room temperatures
Preparation:
ln a large heavy skillet, warm the olive oil over medium-low heat. Stir in the onions, balsamic vinegar, salt, and pepper. Cover the skillet and cook for 5 minutes. Uncover, raise the heat to medium, and continue to cook, stirring occasionally, until the onions are soft and golden brown, 35 to 40 minutes. Remove from the heat and let cool.
In a medium bowl, combine the sour cream and cream cheese. Beat until smooth and well blended. Stir in the browned onions with all their oil and juices.
Transfer to a serving bowl, cover, and refrigerate for at least 4 hours or up to 2 days. Before serving, stir again and let stand at room temperature for 15 minutes.
Source: Great Party Dips by Peggy Fallon