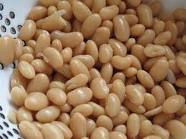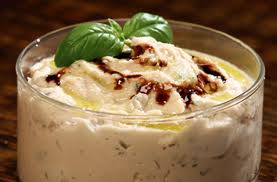 When I was growing up, the only beans were ever ate were from a metal can. We canned them ourselves in a local coop and for the first few months, they were okay. Not fresh, but edible. As time passed, as one year approached, opening a can was an exercise in self-destruction. Eating them was impossible. I always sat at the corner of the dinner table with a carpet corner just to my left. By an act of God, or for self-deliverance, I was left handed.
Decades later, if you say "beans" to me, be prepared for a violent reaction.  Sorry, time cannot erase some traumas.
However, Suzen keeps trying and I must say that she's found a great, and yet simple way, to erase bean nightmares. True, when you open a can of white beans, it's not an exciting event. But, in a short time, through the miracle of onion, carrot and certainly roasted garlic, those white beans can become an addictive puree.
The puree is wonderful as a simple side dish for roasted chicken. Or, if you can't wait for the main dish, spreading this on toasted bread and sharing a crisp white wine is a fine appetizer.
You can top off the puree with a dash of olive oil, balsamic vinegar, perhaps some crushed red pepper, or a garnish of herbs. This quick dish will make you believe in magic. True, you do start with something canned at the start. But you work with it, add fresh ingredients, cook to amplify flavors and concoct joy.
White Bean Puree with Roasted Garlic
Yield: 3 ½ cups
Ingredients:
1 tablespoon olive oil
½ cup carrot, finely chopped
½ cup chopped onion
1 whole garlic bulb, roasted
1 tablespoon fresh thyme
3 15 ounce cans cannellini (white kidney beans), drained
1 cup chicken or vegetable stock
Preparation:
Heat oil in heavy saucepan over medium heat, add carrots and onion then sauté until the vegetables are tender, about 5 minutes.
Add cannellini and broth; bring to boil. Reduce heat to low; cook until almost all liquid is absorbed, stirring often, about 20 minutes. Puree mixture in food processor with the roasted garlic. Season with salt and pepper. Return to saucepan to keep warm or place in microwavable bowl.
Source: Adapted from Bon Appetit Magazine
When you call something "rustic" it's often done with connotations. Well, it's not Madison Avenue but, … It's delightful, despite …
Rarely does "rustic" come across as a 110% compliment.
But there are times when it should. Flo Braker, a true national treasure of baking, has created this tart that can only be described as rustic. The thick crust must be roughly draped over the tart contents. Oh, those contents. Onion and onions and crème fraiche and goat cheese. You bite through a very thick curst, itself distinctive because of corn meal and buttermilk, and then enter the treasure of all those internal flavors.
This tart is fine cold, but really, truly, you want to sample it hot out of the oven. Gooey, flowing, a fireworks of textures and flavors.
This can be a perfect appetizer, a side dish, or — combined with an equally rustic salad — a complete meal.
With its suggested mixture of onion types, you are clearly free to mix and match to your pleasure. Each new combination will generate a distinctive, but surely delicious flavor.
Three Onion and Leek Tart with Goat Cheese and Crème Fraiche
Yield: enough for 6 persons as a side dish
Ingredients:
For the Crust:
3 tablespoons buttermilk
⅓ cup ice water
1 cup flour
¼ cup corn meal
1 teaspoons sugar
Pinch of salt
7 tablespoons cold unsalted butter, chunked
For the Onion Topping:
1 leek, white and light green parts sliced thin and rinsed thoroughly
2 large cloves garlic, minced
1 large Vidalia onion, sliced thin
1 large red onion, sliced thin
1 large shallot, sliced
⅓ cup extra virgin olive oil
For the Cream:
¼ cup crème fraiche
¼ cup goat cheese
1 teaspoon fresh thyme
Salt and freshly ground black pepper
Preparation:
To Make the Crust:
Mix the buttermilk with the ice water in a small measuring cup and keep cold. In a medium bowl, whisk the flour and cornmeal, then "pinch in" the butter with your fingers until the mixture resembles a coarse meal of uneven sized crumbs. Using a tablespoon, sprinkle a bit of the buttermilk-water mixture over the meal a bit at a time and mix lightly with a fork until it begins to hold together. Only add as much liquid as needed to form a soft but not sticky dough.
Gather the dough into a ball and flatten it, wrap well in plastic and refrigerate for at least 2 hours. If you'd like to make two or more smaller tarts, divide the dough accordingly, flatten and refrigerate.
To Make the Cream:
Combine the crème fraiche, goat cheese, thyme and seasoning in a small bowl and stir until well blended. Leave at room temperature until ready to use.
To Make the Filling:
Heat the olive oil in a large skillet over medium low heat. Add all the vegetables at once, stirring to coat with the oil. Cook slowly, and stirring occasionally until the vegetables are soft and very fragrant, but not browned, about 15 minutes.
Season to taste with salt and pepper. Remove from heat.
To Assemble and Bake the Tart:
Remove the dough from the fridge and between two sheets of plastic, roll into one or more disks about 1/8″ in thickness. Place on a parchment lined baking pan and spread a light layer of the crème over the surface, leaving at least a 1-inch boarder.
Mound the softened onion filling over the crème, and then fold the edge of the dough up over the filling pleating it as needed.
Lightly salt and pepper and place in a preheated 400°F oven for about 15-20 minutes or until golden brown. Allow to cool briefly on the baking sheet and either serve immediately, or cool completely at room temperature on a baking rack.
Source: Flo Braker