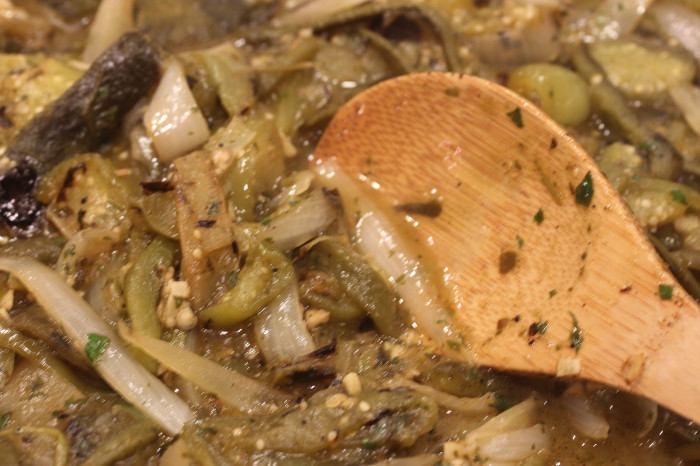 "How about this?" I handed Suzen the first recipe I had found thanks to Google.
"No," she said in a flash. Had she read the recipe? No. Did I mind? No. It was the first one. She always rejects the first one.
"Okay, how about this?" She got the second.
She paused, actually scanning. "No."
"Well, I think you might like this one," I said, handing her the third. I always give her the good one third. Works flawlessly.
"No."
"What?"
"No. Get out."
"What do you mean out?"
"Brian, cooking is a lot like baseball. Three strikes and you are out. Out of the kitchen."
I left. Humbled. Depressed. I get sent on missions to find recipes for Suzen and I often succeed. Often but not always. I need recipes. I am not a chef and I have never been culinary school. I may improvise in the kitchen, but I need that template, that recipe in front of me, to make sure I have all the ingredients and all the proportions. I simply cannot do it out of my head.
Suzen can. Her cooking school, Cooking by the Book, has had enough students to fill Giants Stadium. Twice. And she tested the 3000+ recipes in that last edition of The Joy of Cooking. All those recipes. And, the thousands more that were tried out but did not make the cut for the book. In all that cooking, she's become a kitchen ballerina.
The day's mission for me had been what to do with an abundance of peppers, and onions, and tomatillos. It was the end of the week, classes at CBTB were done, and we had leftovers and a challenge.
Suzen had some vision and she translated leftovers into that vision with immense success. This Southwestern Pepper Medley has a lively tang — from onion, garlic and surely those tomatillos — that makes this a substantial side dish. Pair it with any protein and you'll be successful.
Or, puree this into a sauce and use to top off a burger than has already been adorned with blue cheese. I guarantee your eyes will pop with the sharp, bright tang of this mixture.
I'm sharpening my google skills. Can I learn how to read her mind? Figure out what she really wants? We've only been married for 28 years. I'm just getting started. And Google? They have those glasses and the driverless cars and all sorts of advanced gizmos. Surely, Google can …
No. Strike four. I'm really out.
Southwestern Pepper Medley
Yield: serves 8+ as a side Ingredients:

1 pound poblano peppers, roasted, seeded and sliced
1 pound green bell peppers, roasted, seeded and sliced
2 jalapenos, roasted, seeded and sliced
1 pound tomatillos, husks removed, washed and quartered
1 large white onion, quartered
5 cloves garlic, roasted
Lime juice to taste
1 tablespoon cumin
½ cup vegetable oil
1 cup pepper jack cheese, grated
Salt and freshly ground black pepper to taste
½ cup chopped cilantro gar garnish

Preparation:
Place a small amount of oil in a cast iron pan large enough to hold all the veggies in a shallow layer.
Heat the oil on medium until hot. Add the spices and cook until they become aromatic. Add all the vegetables and sauté until soft. Season with lime juice and salt and pepper to your taste.
Lower the heat to simmer. Add the cilantro and cheese, mix rapidly to achieve a creamy texture.
Sources: Suzen O'Rourke
Photo Information: Canon T2i, EFS 60 mm Macro Lens, F/5.6 for 1/20th second at ISO-640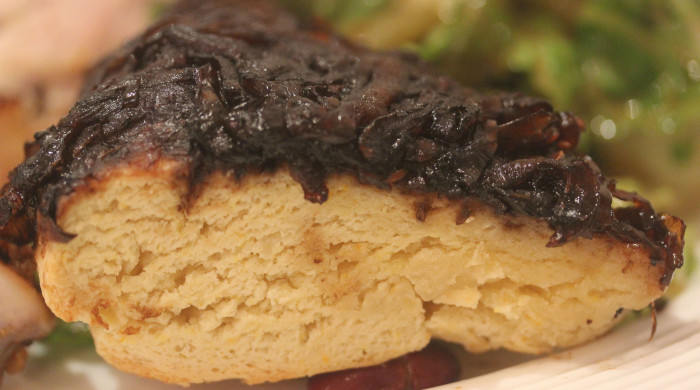 Mary Cech is a truly talented pastry chef and key instructor at the CIA's Greystone campus in California. Her baking talent is unsurpassed. She's taken that talent, and her Zen to translate sweet to savory, to create the recipes in Savory Baking, a book devoted to all savory and no sweets.
There may not be much sugar here, but here is no loss of grandness. Sometimes, sugar can be put aside. Sometimes great dessert ideas can really be translated into a savory main dish. To achieve that translation, you need abundant talent, Mary Cech style talent.
Take the standard upside-down shortcake. Replace the apples or peaches, that you love so well, with something with equally abundant flavor. Say you keep a little sweetness in the shortcake itself via orange juice. But the topping now is onion cooked until it is deep, deep purple. Caramelization is such a wonderful thing. Here, a little fennel seed is added just to, not confuse, but surely give some appealing deception to your palate.
The result is lovely. This is a dramatic side dish that can pair with any protein. Suzen roasted a butterflied chicken with tomatillos. The zing of the roasted tomatillos sang with the onion on the shortcake. Just two courses, but an astonishingly complete meal.
Mary's book is now available on Kindle. You can download, browse and savor.
Onion, Fennel, and Orange Upside-Down Shortcake
Yield: serves 6 to 8
Ingredients:
Onion Filling:
3 tablespoons extra virgin olive oil
3 medium onions, thinly slice
½ cup dry sherry
2 tablespoons brown sugar
½ cup balsamic vinegar
1 tablespoon fennel seeds, toasted and crush
1 ½ teaspoon salt
¼ teaspoon freshly ground black pepper
½ cup water
1 small red bell pepper, roasted, peeled, and roughly chopped
Shortcake:
2 cups all-purpose flour
1 tablespoon baking powder
1 teaspoon salt
Zest of 1 medium orange
6 tablespoon unsalted butter, cold and cut into ½-inch cubes
1 cup whole milk
Preparation:
TO PREPARE THE ONION FILLING, put the onions, sherry, brown sugar, vinegar, fennel seeds, salt, and pepper in a large sauté or wide-bottomed skillet over medium-high heat. Cover and cover for 25 minutes, stirring occasionally to prevent the onions from sticking.
Stir in the water. Add the roasted red peppers to the onions. Cover, reduce the heat medium, and cook for an additional 15 minutes. Remove from the heat. Cut a piece of aluminum foil to fit the bottom of a 9-inch round cake pan. Place it in the bottom of the pan and generously oil or spray the foil and the sides of the pan. Spread the onions evenly in the pan, reserving some to spoon over the finished cake.
TO PREPARE THE SHORTCAKE, preheat the oven to 350°F. Put the flour, baking powder, salt, and orange zest in the bowl of a food processor fitted with a blade attachment. Add the butter and pulse for 10 seconds or until the butter is pea-size. Add the milk and pulse until the mixture starts to form into a dough. Carefully spread the dough over the onions, leaving no gaps and make sure the edges of the pan are covered with dough. Put the pan in the oven and bake just until the top of the cake feels firm in the center when lightly pressed, about 30 minutes (the top will not look brown). Transfer to a rack and let cool for 5 minutes.
RUN A SHARP KNIFE around the inside of the pan. Place and hold a large serving plate over the top of the pan and invert the cake pan and foil. Spoon the reserved onions over the cake. Cut into wedges and serve warm.Source: Savor Baking by Mary Cech
Photo Information Canon T2i, EFS 60 mm Macro Lens, F/7.1 for 1/15th second at ISO-3200