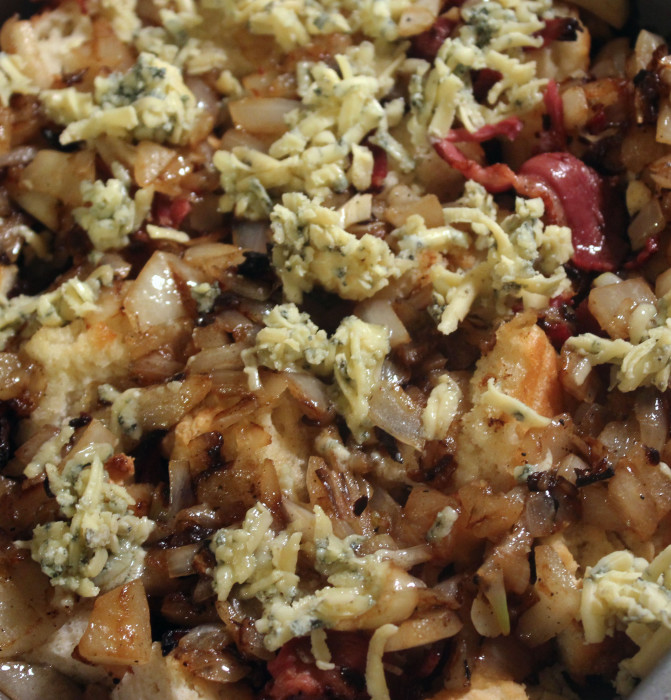 There is nothing better than a fresh biscuit. And nothing worse than a stale one.
If there is just one or two of you, it's unlikely you'll consume a whole batch of biscuits. What to do with those leftovers? Even the next day, they won't be as fresh. For Pete's sake, don't try to reheat them in the microwave, unless you love a dry and rubbery texture.
Here's my combine riff on classic Italian stratas and a biscuit casserole idea from Biscuits by Belinda Ellis. Belinda's recipe calls for bacon and parmesan cheese. I've reduce the bacon and substituted blue cheese — how can you deny that blue and bacon combination. My recipe is below and is one that gives you great latitude. Swap out the bacon for ham. Add some diced potatoes, that have already been cooked. Use other spices, more or less garlic. Add bell peppers. Make it richer with cream in place of milk.
And the cheese. Oh, this was lovely with blue but if you swap to another cheese, the dish will be significantly different. If you have biscuits for Saturday breakfast, and chores to do in the yard on Sunday, this is a powerhouse meal to begin the day.
The picture at the top is before baking, on the bottom is the finished product ready for the table.
---
Brian's Breakfast Biscuit Casserole

Yield: 8 large servings

Ingredients:

¼ pound bacon, diced
1 medium onion, chopped into medium pieces
2 garlic cloves, peeled and minced
3 large eggs
½ cup milk
Salt and freshly ground black pepper to taste
4 cups baked biscuits, pulled into 1-inch chunks
½ cup shredded blue cheese
Preparation:

Preheat the oven to 350°F.
Coat an 8-inch square baking dish with butter or nonstick cooking spray.
In a cast iron skillet, cook the bacon over low heat until just turning crisp. Remove the bacon and transfer to paper towel to dry. Leave the drippings in the pan and add the onion. Cook over medium heat until just browning. Add the garlic and cook for another minute. Remove from the heat.
Crumble the bacon.
Whisk the eggs, milk, salt and pepper in a medium bowl.
Crumble the biscuits into the bottom of the prepared baking dish. Dot with the crumbled bacon, cheese and onion. Pour the egg-milk mixture over the top. Press with a fork to ensure the biscuits absorb the liquid and that every biscuit piece has moisture. Allow to sit for a few moments for the absorption to continue.
Bake in the preheated oven for 30-35 minutes. Check for doneness by inserting a knife. The casserole is ready when the knife comes out clean.
Serve warm with orange juice and coffee.
Source: Brian O'Rourke adapted from Biscuits by Belinda Ellis

Photo Information [top]: Canon T2i, EFS 60mm Macro Lens, F/5 for1/60th second at ISO‑3200

Photo Information [bottom]: Canon T2i, EFS 60mm Macro Lens, F/4.5 for1/50th second at ISO‑640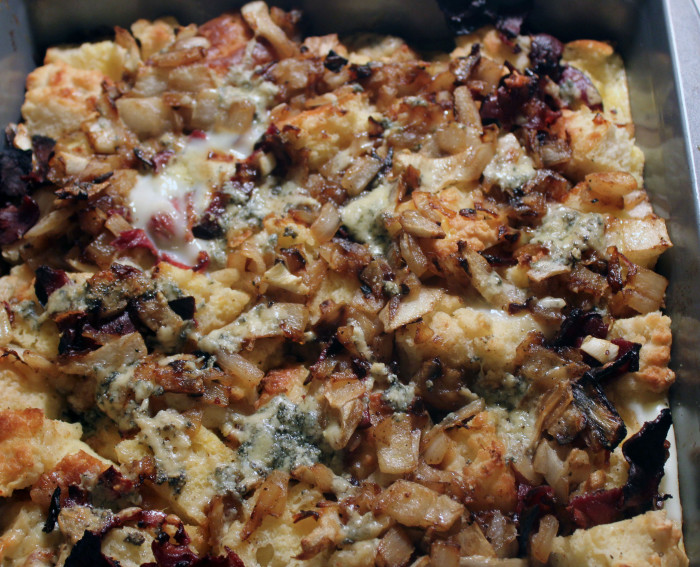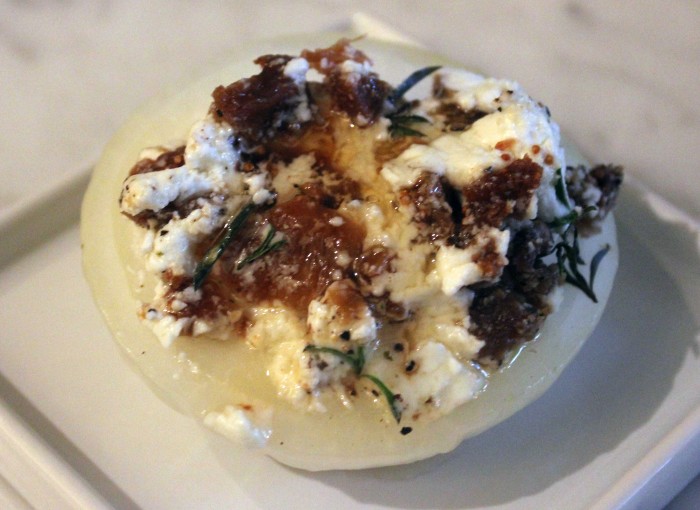 I feel a little guilty. I just ate a steak with a wonderful side dish, a barbecued onion topped with goat cheese and fig and honey. The recipe came from Vegetarian Grilling: 60 Recipes for a Meatless Summer by Karen Schulz and Maren Jahnke. I hope the authors don't mind, but I do want them to know: their 60 recipes are not for vegetarians alone.
Actually, this onion with the goat cheese is so hearty that, in a different world, you could make it the main course and simply pair it with a salad. You should take a look at Vegetarian Grilling for a bounty of interesting ideas that anyone can enjoy, steak eater or not.
This dish can be made in about 30 minutes. It's simple and its presents a combination of textures and flavors that you may not have experienced. Truthfully now, how often do you eat figs? Figs and honey? Ah, you are thinking about it aren't you. Figs and honey and goat cheese? You have to have tried that sometime. You have to.
Okay, you haven't. And now you can. Using the barbecued onion as the foundation for this dish is clever. That onion tang is the perfect mate for the fig and honey sweetness. And the goat cheese adds that distinctive raspy mouth feel that makes this dish seem complicated.
Actually, it is complicated which contributes to its enjoyment.
The recipe call for thyme and goat cheese. You can substitute the herb or herbs that you personally prefer. And the goat cheese gives you additional options. There is plain, "vanilla" goat cheese aplenty, and then there are the other ones. I selected a round from France glowing with herb fragments. Those additional, random herb flavors simply added to the mystery.
---
Barbecued Onions with Goat Cheese and Fig and Honey Topping

Yield: serves 4 people

Ingredients:

2 onions, about 9 ounces each
2 large figs
3-4 thyme sprigs
Salt
2 teaspoons ground peppercorns, mixed colors [red, black, white]
4 ounces goat cheese
Oil for brushing
Honey for pouring over the cooked onions [at least 1 teaspoon per onion half]
Preparation:

Boil the unpeeled onions in salted water for about fifteen minutes. Rinse with cold water and let cool briefly. Peel the onions and cut in half.
Remove the skins from the figs with a sharp knife and finely dice the figs. Remove the thyme leaves the sprigs. Insert some thyme leaves between the onion layers. Salt the onions lightly. Mix the remaining thyme with the diced figs and one teaspoon of ground pepper. Crumble the goat cheese into the mixture, and mix to combine.
Divide the cheese mixture between the onion halves. Place each onion on a piece of oiled aluminum foil, close the foil into envelopes, and grill for about 10 minutes on high heat. Open the foil and drizzle the filling with honey and the remaining ground pepper.
Serve hot.
Source: Vegetarian Grilling: 60 Recipes for a Meatless Summer by Karen Schulz and Maren Jahnke

Photo Information Canon T2i, EFS 60 mm Macro Lens, F/5 for 1/50th second at ISO‑3200