Posted by: Brian on | Leave a comment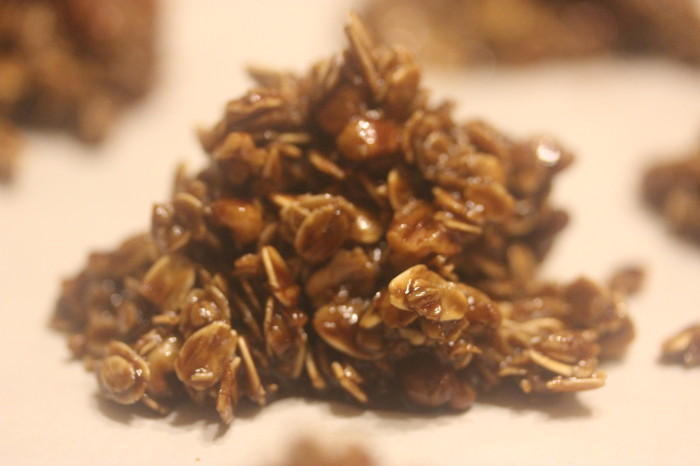 I've posted before a recipe called Nuni's No-Bake Cookies. Stashed in the middle of Cookie Time by Marilyn Miller Wasbotten, this recipe was one I remembered from childhood. I had lost the recipe but not the memories.
Once I had Cookie Time, I made and made these treats. But, I made just them. I would not deviate from the original recipe. I was tempted, but always paused and went vanilla. Well, chocolate and vanilla.
I finally summoned up the courage and played with the recipe. I credit Marilyn for inspiration but I'm going to take credit for this variation. To the original recipe, I add chopped pecans and espresso powder. The result? Well, take a look. It's richer with those coffee overtones so many of us love.
One slight caveat. When you make this and add espresso powder, there is clearly some chemical reaction. The boiling liquid that is mixed with the oats behaves differently. It takes longer for these cookies to set up. I'm going to continue experimenting, adding another 1/2 cup of oats. If these cookies seem "limpy" to you, find a cool space. Even your fridge for a few moments. Just to give the cookies a "cold shock." Once they do set up, they are smooth to the bite.  The only challenge is to stop with one, or two, or …
Brian's No-Bake Coffee Drops
Yield: about 40 cookies
Ingredients:
2 cups sugar
1/4 cup butter
1/4 cup cocoa
1/2 cup milk
2 tablespoons espresso powder
3 cups uncooked quick rolled oats
2 teaspoons vanilla extract
1 cup chopped pecans
Preparation:
Place the sugar, butter, cocoa, milk and espresso powder into a saucepan. Over medium-high heat, bring to a boil while stirring constantly. Boil for 1 minute.
In a large metal bowl, place the oats, vanilla and pecans. Pour the boiling sugar mixture over the oats. Stir to mix thoroughly. The mixture will begin but thicken as you do.
Drop by spoonfulls [a tablespoon in size] onto a cookie sheet lined with foil or parchment.
Source: Brian O'Rourke
Photo Information: Canon T2i with EFS 18-55 Maco lens at F/2.8 for 1/64th second at ISO 3200
Posted by: Brian on | Leave a comment
zv7qrnb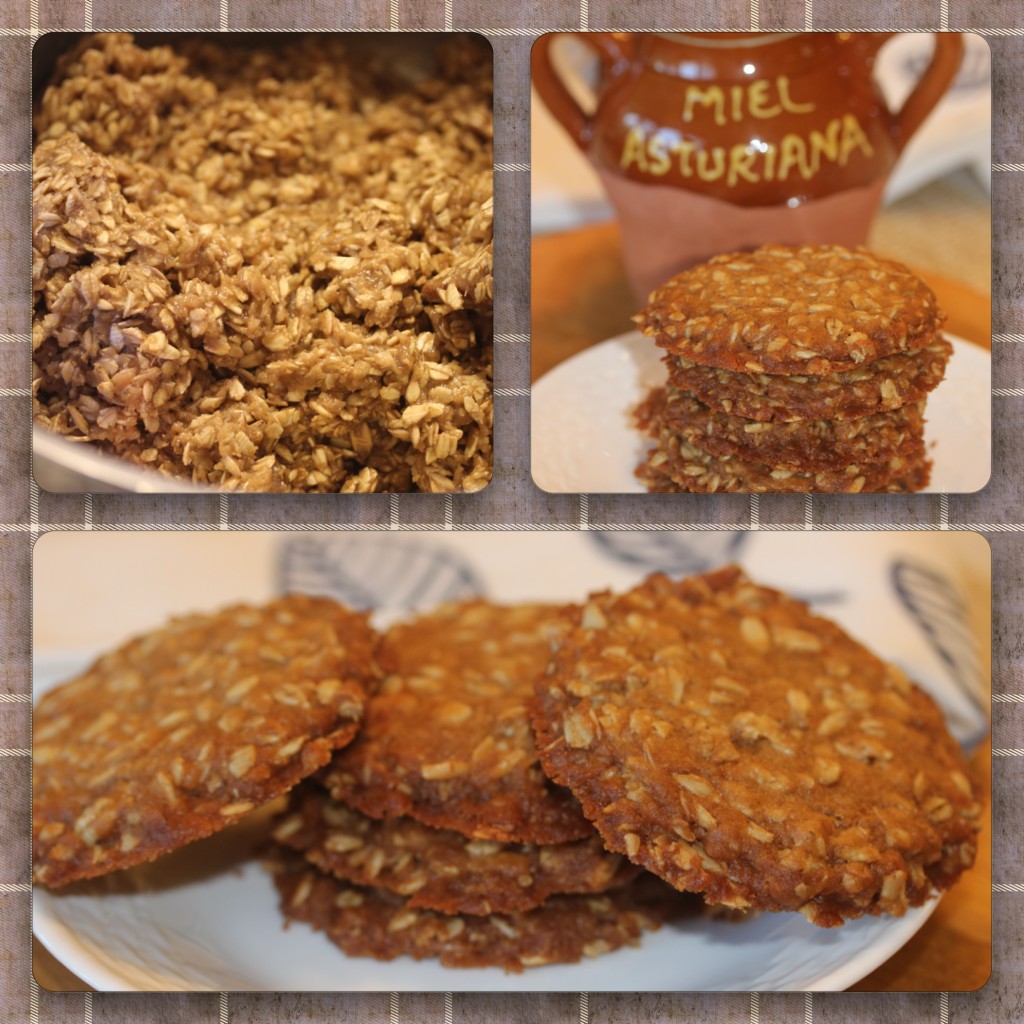 The introduction to Simply Sensational Cookies by Nancy Baggett has three subpoints:
·         Times change.
·         People change.
·         Cookies do, too.
This is not just another cookie book. This is a very wonderful, refreshing, and important book. It's about more than mere change. This book revolutionizes cookies. And in the course of doing that, you'll find an array of absolutely fantastic new cookie concepts.
A distinguished writer, Nancy recounts the cookie culture she grew up in. The same as mine. You'd make chocolate chip cookies, maybe a double batch, but use just a few chocolate chips because, as Nancy says, those were frugal times. This book has a "scandalous" recipe with 1 pound of chocolate for 30 chocolate chip cookies.
And they happen to be very good.
Nancy has looked at old cookie ideas and recipes and reworked them. The flavors are bigger and better. To save time, she has many easy one-bowl recipes. A food processor is a vital tool for her, both to save time and to create textures that were simply unknown a generation or two ago.
Ah, texture. Nancy is very big on texture. She wants cookies that snap when they should, shatter properly if they are supposed to be brittle, and are dangerous to your clothing if they are of the gooey variety. She has many of those.
Literally, Nancy has tackled cookies from every perspective: look, feel, taste, ingredients, preparation, and flavor components. The recipe below, One-Pot Honey-Oatmeal Cookies, is a great example. First of all, they taste wonderful. Second, they are damn near indestructible. These are the perfect cookies to put in your backpack or bicycle pack and take on a journey. Two hours in, when you need energy, these are lovely ways to boost you up. And, they are beautiful.
When you make them, there's a step there to let the dough just rest for 5-10 minutes. That's the top left picture up there. I never saw that in a cookie recipe before, and it's quite the example of how Nancy has truly developed new techniques here to bring these cookie flavor and textures to perfection.
Oh, flavors? Here are some of the recipes I have marked to try [and to blog, don't worry]:
·         Best Every Dulce De Leche Bars [they are!]
·         Cranberry Orange Spice Shortbreads
·         Crispy Soft Cinnamon Vanilla Monster Cookies
·         Flourless Peanut Butter Cookies
·         Chocolate, Grapefruit and Tarragon Wafers
·         Cranberry and Fig Conserve-Stuffed Blue and Cheddar Cheese Cocktail Sandwich Cookies
There are sweet cookies here, savory. Dessert items and wonders to grace an appetizer tray. The final section on Frostings, Filling, and Finishing Touches is filled with ideas to last a lifetime.
You'll see many of Nancy's cookies here over the next year. But, why wait? Get your copy of Simply Sensational Cookies now and join the revolution.
One-Pot Honey-Oatmeal Cookies
Yield: 40 2 ½ inch cookies
Ingredients:
1 ½ cups [3 sticks] unsalted butter, cut into chunks
1 ⅔ cups packed dark or light brown sugar
⅓ cup clover honey or other mild honey
¼ teaspoon regular table salt or ¾ teaspoon coarse salt, divided
4 cups old-fashioned rolled oats
1 ½ teaspoons baking powder
1 ¾ cups unbleached all-purpose white flour
2 cups of water
Preparation:
Baking Preliminaries: Position a rack in the middle of the oven; preheat to 325°F. Generously grease several large baking sheets or coat with non-stick spray.
In a very large saucepan or pot, melt the butter until fluid over medium heat, stirring. Remove from the heat. Stir the sugar, honey and salt into the butter. If using regular table salt, add it all; if using coarse crystal salt, add ⅛ teaspoon and reserve the remainder for garnishing the cookies.
Continue stirring the mixture, mashing out any lumps of sugar until completely smooth. Thoroughly stir in the oats and baking powder. Let the dough stand until cooled slightly.
Stir the our into the dough until evenly incorporated. Let it stand to firm up for 5 to 10 minutes. Using soupspoons or a1 ½-inch diameter ice cream scoop, scoop up the dough and drop in even 1 ½ inch mounds, spacing two inches apart. Pad down the mounds into 2-inch rounds. If garnishing with coarse salt, add a few crystals to the cookie tops.
Bake [middle rack] one sheet at a time for 10 to 13 minutes or until the cookies are brown at the edges and lightly tinged on top. Watch carefully, as they may brown very rapidly at the end.
Transfer the baking sheets to wire racks. Let the cookies firm up for about 2 minutes. Using a wide spatula, transfer the cookies to the wire racks. Let cool completely.
These can be stored airtight for up to 1 week. They can be frozen, airtight, for one month.
Source: Simply Sensation Cookies by Nancy Baggett
Archives
Authors of Note
Foodie Finds