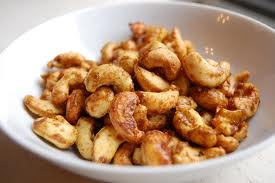 This recipe is for anyone who loves cashews, bacon, and sugar. Okay, it's not a kosher recipe, but in that case you can see how to quickly modify this for use in Israel, Muslim lands, or places where bacon is not loved.
This is a brilliant way to serve up cashews in a different format. You keep the nut taste, but the augmentation of bacon and sweetness is very wonderful. You may not have ever had cashews cooked in sugar syrup before. It's an experience and the flavor does intensity besides sweetening.
The recipe calls for a 4 cups of nuts, which seems like a lot, but really isn't. This will be the top dog appetizer at a party, or for a small friends and family gathering watching a weekend ballgame. There are, believe it or not, alternatives to salsa and chips.
Candied Bacon Cashews
Yield: 5 cups
Ingredients: 
1/4 pound slab bacon, cut into 1/4-inch dice
1/2 cup sugar
4 cups raw cashews (about 1 1/4 pounds)
1 tablespoon unsalted butter
Smoked sea salt (see Note)
Preparation:
In a small skillet, cook the bacon until browned, about 7 minutes. Using a slotted spoon,transfer the bacon to a paper towel-lined plate. Measure out 1 tablespoon of the rendered bacon fat and reserve.
In a medium saucepan, combine the sugar with 1/2  cup of water and bring to a boil. Add the cashews and cook over high heat, stirring constantly, until golden, about 8 minutes. Stir in the butter and the reserved 1 tablespoon of bacon fat and cook over low heat, stirring, for 2 minutes. Stir in the diced bacon and season with smoked salt. Let cool completely, then serve.
NOTE: Smoked sea salt is available at specialty food stores  from surlatable.com.
Source: Food and Wine Cocktails 2012
For this weekend's party, I want things to be spectacularly different. For apps, we are including nuts, but it's not a matter now of just opening up a can or bag. We want to do more.
What can you do with nuts? Why, candy them. Now, we're making an appetizer, not dessert, but it will start on the sweet side. The recipes for candied nuts vary enormously. "Candy" is always operative, meaning you mix nuts with sugar and bake. Beyond the sugar, you are free to add other flavors or herbs to your content. You can go hot with lots of chile powder. Or for a more conventional spicy treat, this recipe uses sugar in combination of cinnamon, ginger, cloves, pepper and vanilla.
These are lovely nuts to being a party with. They pair superbly with a sparkling wine. Your mouth can savor the cold bubbles, the warm spices, and the crunchiness of the nuts.
This recipe is from Alice Waters, the culinary queen of California.
Candied Nuts
Yield: 3 ½ cups
Ingredients:
1 egg white
¾ cup brown sugar
1 tablespoon ground cinnamon
½ teaspoon ground ginger
Pinch of ground cloves
Pinch of cayenne pepper
¼ teaspoon salt
2 teaspoons vanilla extract
3 ½ cups (about 1 pound) pecans halves, walnuts halves, or whole almonds
Preparation:
Preheat the oven to 425°F.
In a medium blow whisk the egg white until frothy.
Add the sugar, spices, salt and vanilla. Stir until combine, then add the nuts. Mix together until all the nuts are coated. Pour onto a lightly oiled baking sheet. Bake for 30 minutes. Turn the nuts from time to time with a large offset spatula until all the nuts are coated and dry.
Let cool before serving. Store in an airtight container.
Source: The Art of Simple Food by Alice Waters