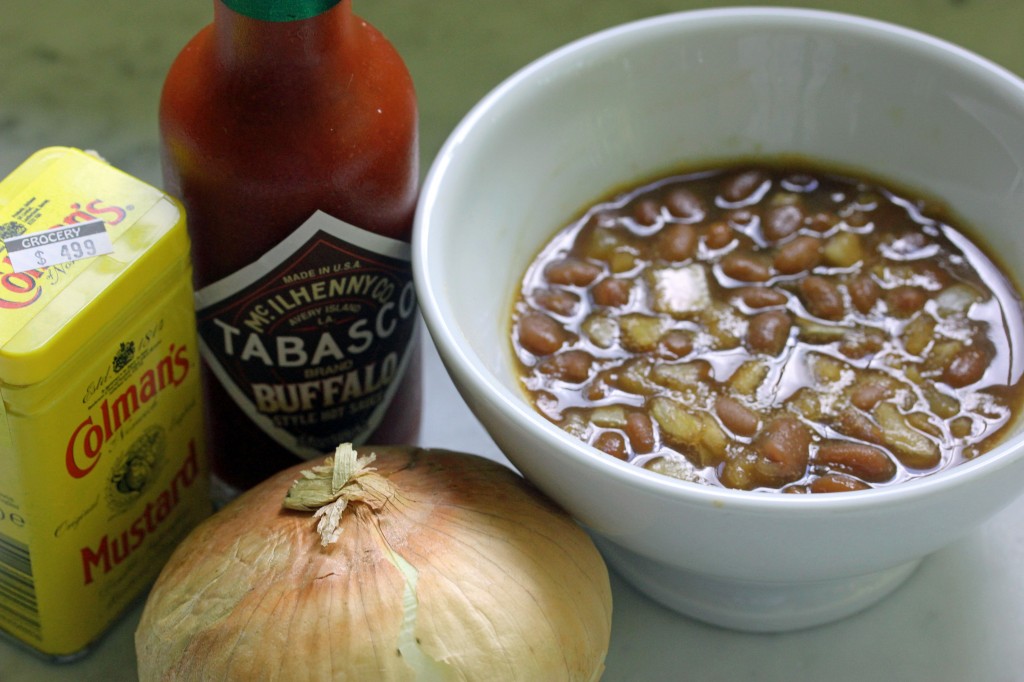 You are male. You are by yourself. You are hungry.
Your tools: a can, a can opener, onion, hot sauce, and mustard.
Your prospects: excellent.
Sometimes I am by myself and I do not have Suzen here to help me, encourage me, or feed me. I happen to like my foods hot and sweet. You can't live on chicken wings and chocolate chip cookies. Not all seven nights.
Regular canned baked beans are decent, but here's the way to convert them into a truly interesting dish, for a side or for you main dish.
Just use regular beans but add to them. Seriously add to them. In the picture above, I show the big three contributions: dry mustard, Tabasco Sauce, and onion. Oh, you could add a sweetener, too, say sugar, but I did not put that in the photo. I'm on a diet. It's in the recipe below though. The proportions here are approximate and you are perfectly free to use more, to use less, or to substitute: scallions, peppers, dice tomatoes, …
These beans are very simple to make and addictive. They will get you through until you see your wife again.
Brian's Beans
Yield: 2 servings
Ingredients:
1 16-ounce can of bake beans [the bland normal style is fine, it'll be fixed]
1 medium onion, diced medium
2+ tablespoons Tabasco Sauce
1 tablespoon dry mustard
½ cup brown sugar [optional but I think mandatory]
½ cup molasses [optional but up to you]
Preparation:
Put all the ingredients in a saucepan and stir to mix. Then turn the heat to medium. Stir occasionally, making sure that the sugar melt.
Bring almost to a boil and simmer for two minutes.
Serve immediately.
These do store for the next day and lunch, in case she has not come home yet.
Source: Brian O'Rourke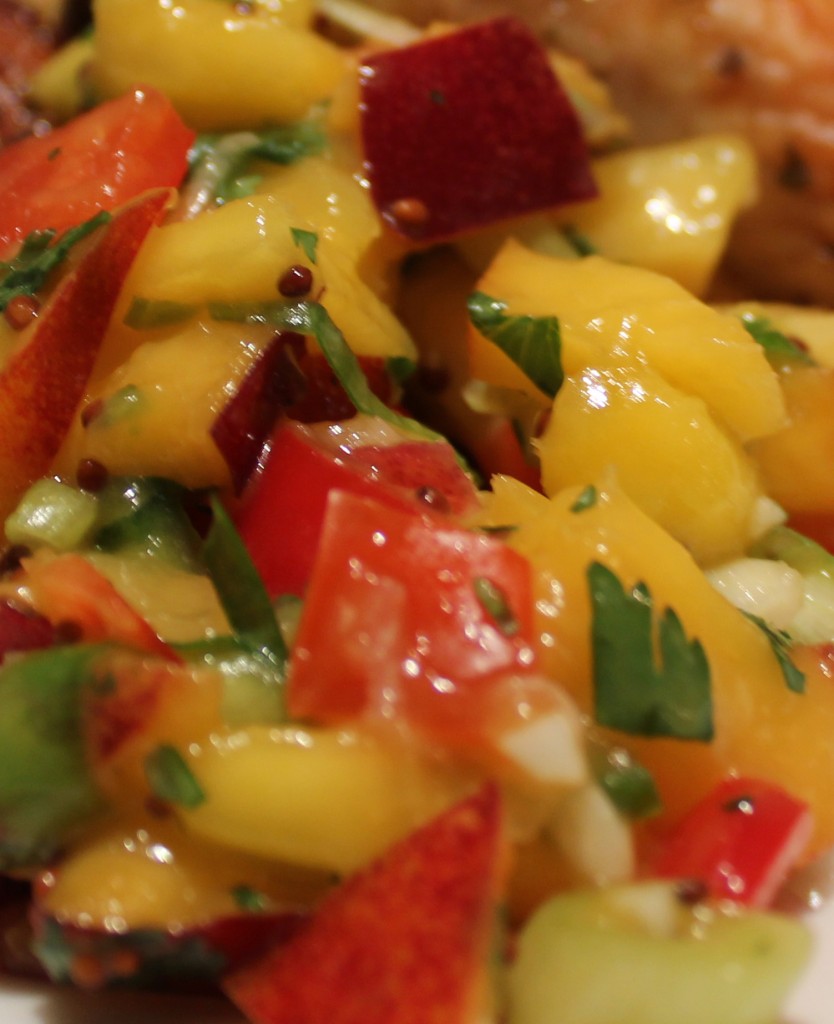 M&M can only mean one thing: those darling little candies. One taste of this salsa though and M&M will now spark in your brain as: that hot sweet salsa that went so well with my chicken, or my steak, or just straight with those chips.
This salsa is a side dish to a Mojito Chicken recipe that people loved this summer at Cooking by the Book. I'll blog the chicken tomorrow, but I want to give equal power and credit to this salsa. It's very beautiful to behold. It's hot, and yet it is sweet from the fruit. No added sugar here. My husband, Brian, did look at the bowl of brown sugar across the counter.
"How comfortable is the sofa?" I asked him.
He did not answer, but he did eat all the salsa. I am going to assume the sofa is not terrific and the salsa was more than acceptable.
This recipe is from Cheryl and Bill Jamison, authors of many outstanding cookbooks.
Mango Mustard Salsa
Yield: enough for 6 persons as a side dish
Ingredients:
2 tablespoons freshly squeezed lemon juice
2 ripe mangoes, peeled and cut into ¼-inch dice
½ cup thinly bias-sliced scallions, green parts only
1 red bell pepper, seeded and cut into ¼-inch dice
2 tablespoons American-style yellow mustard
1 teaspoon black mustard seed
2 tablespoons white wine vinegar
2 tablespoons olive oil
2 tablespoons coarsely chopped fresh cilantro
Juice of 1 lime
1 jalpeno pepper, minced
Preparation:
Combine all the ingredients in a nonreactive bowl and mix well. Refrigerate until ready to serve or transfer to an airtight container and store in the refrigerator for up to two weeks.
Source: Cheryl and Bill Jamison, as appeared in "Best American Recipes 2005-2006"