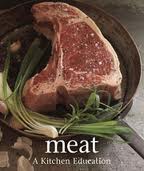 James Peterson is a name that any foodie will instantly recognize. His career as chef, restaurant owner and now distinguished writer has earned him accolades every step of the way. Who hasn't opened Sauces and marveled at the details and scope of that award winner. Peterson is unique in his knowledge, both scientifically of how cooking works and how to translate that insight into beauty and flavor on the plate.
His latest work, Meat: A Kitchen Education, has already been recognized for its quality and importance. James does just what the title says: he provides a solid education to meats of all kinds and all preparations. From chicken to foie gras, his chapters begin with key facts about each meat type, then lead you on to recipes that let you explore the full potential of each meat. In the first chicken chapter, for instance, there are recipes for roasting, poaching, sautéing, fricasseeing, braising, breading, frying, stir-frying, and grilling. The only thing missing is chicken sushi, but I think he's French background just might have drawn the line there.
Of course, you can count on each recipe working for you here. Peterson is professional whose clear writing will guide you to success every time.
Along the way, Peterson shares some insight and history. Sixty years ago, the average American ate seven pounds of veal a year. Now, it has declined to about one pound. There are stories and reasons aplenty to explain the decline, but veal is meat long recognized for its special quality. The 25 veal recipes in Meat will let you appreciate every aspect of flavor.
This dish, veal chops smothered in mushrooms and cooked in a parchment paper pouch, was intriguing to us from the first glance. The chops are first sautéed, then finished in the pouches so they can literally steam to a rich finish. The taste here, buttery veal and aromatic mushrooms, is captivating. All you need is a good bottle of red on the table.
Veal Chops en Papillote
Yield: 4 servings
Ingredients:
4 loin or rib veal chops, about ¾pound each
Salt
Pepper
1½ pounds wild mushrooms such as chanterelle, morel, porcini, or black trumpet, alone or in combination
6 tablespoons butter
½ teaspoon fresh thyme leaves
¼ cup port
1 egg white, lightly beaten
Preparation:
Let the veal chops come to room temperature. Sea­son on both sides with salt and pepper
Quickly rinse the mushrooms in a colander and pat dry. If using large chanterelles, cut them in half or in quarters, following their contours so the pieces maintain their shape. If they are small, leave them whole. If the porcini are large, cut them into thick slices. Morels and black trumpets are usually small enough to leave whole. Set the mushrooms aside.
Place a sauté pan just large enough to hold the chops without crowding over high heat. (Alternatively, sauté the chops in batches or use two pans.) Before the pan gets hot, add 4 tablespoons of the butter to the pan. When the butter begins to froth, add the chops and cook on the first side for about 5minutes, or until well browned. Turn the chops over and brown on the second side the same way. Transfer the chops to a plate and pour the fat out the pan.
Return the pan to high heat and add the remaining 2 tablespoons butter. When the butter froths, add a large handful of the mushrooms and toss and stir for 1 minute. Continue adding the mush­rooms, a handful at a time, and cook, stirring occasionally for about 10 minutes, pr until any liquid they release evaporates and they are browned and fragrant. Season with salt and pepper and remove from the heat.
Preheat the oven to 450°F. Place 1 chop in the center of one-half of a large rectangle of parchment paper. Spoon one-fourth of the mushrooms on top of the chop, sprinkle with one-fourth of the thyme, and drizzle with 1 tablespoon of the port. Brush the edges of the parchment with the egg white, and fold the uncovered half over the chop. Brush the three open edges of the folded parchment and fold over the edges to seal. Repeat with the remaining ingredients and 3 more rectangles of parchment.
Divide the pouches between 2 rimmed sheet pans. Bake for about 12 minutes, or until the parchment puffs up.
To serve, put each pouch on a warmed rimmed plate or soup plate, to trap any liquid that spills when the pouches are cut open. Pass a pair of scis­sors at the table
Source: Meat: A Kitchen Education by James Peterson
If you grew up in the '50s or '60s, then you know what the "Green Box" was. Something from Kraft, like macaroni and cheese. The only variation my mother could come up with was to occasionally burn the top so that it was thick, crusty, and black.
There are better ways. The past couple of years has seen "mac and cheese" come back as a culinary force. Restaurants around the country let their chefs play with variations on this theme. Personally, I'm not so sure of the truffle oil versions. Mac and cheese is definitely home style comfort food. If you are going to boost your mac and cheese, you need something down home. Earthy.
Oh, mushrooms!
This recipe is easy to describe. Delicious. A tad sophisticated, perhaps, but it does not strive for truffle oil heights. No, here you can control the richness level by adjusting the kinds of cheese and mushrooms you choose.
You'll enjoy this recipe whether it's on the day you make it or warmed over the next day. And, sure, you can even try to cook it a little longer and get that hard crust that your mother, too, might have served. This is a food that evokes the best of memories.
Mini Mac and 'Shrooms
Servings: 8 small servings
Ingredients:
1 pound mezzi rigatoni (or any small pasta shape)
1 stick unsalted butter
½ cup all-purpose flour
4 cups whole milk
¼ teaspoon freshly grated nutmeg
freshly ground black pepper
2 tablespoons extra-virgin olive oil
1 pound wild mushrooms, such as shiitake or oyster, stemmed and sliced
4 ounces cremini mushrooms, quartered
8 ounces taleggio or brie cheese, rind removed, cubed (about 1½ cups)
½ cup breadcrumbs
2 tablespoons chopped fresh parsley
 
Bring a large pot of salted water to a boil; add the pasta and cook until al dente, about 9 minutes (make note of directions on the box itself). Drain the pasta, reserving about 1/4 cup cooking water.
Meanwhile, melt 4 tablespoons butter in a large skillet over medium heat. Stir in the flour with a wooden spoon to make a paste. Cook, stirring, until the paste puffs slightly, about 1 minute. Remove from the heat and gradually whisk in the milk until smooth. Bring to a boil over medium-high heat, whisking . Reduce the heat and simmer, whisking occasionally, until the sauce is creamy, 8 to 10 minutes. Add the nutmeg and season with salt and pepper.
Meanwhile, heat 2 tablespoons butter and the olive oil in a large skillet over medium-high heat. Add half of the mushrooms and cook until soft, about 8 minutes. Season with salt. Push to the side of the pan and repeat with the remaining mushrooms.
Reduce the heat under the sauce to low and whisk in both cheeses until smooth. Stir in the mushrooms and pasta and toss; adding the reserved cooking water as needed.
Melt the remaining 2 tablespoons butter in a skillet over medium heat. Add the breadcrumbs and toast until golden; stir in the parsley. Divide the pasta among 8 small bowls. Garnish with the breadcrumb mixture.
Source: Food Network Magazine