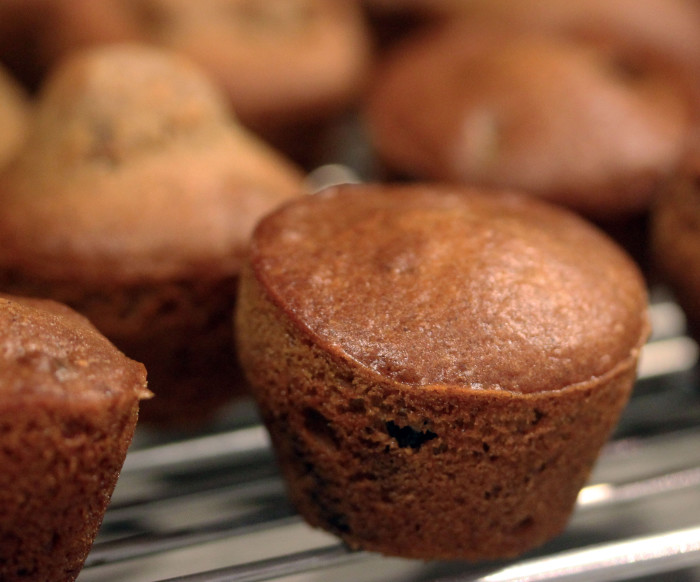 Lucinda Scala Quinn has writing Mad Hungry and Mad Hungry Cravings. These are success and survival manuals she wrote for moms like her, moms with a perpetually hungry husband and one or more tall and getting taller sons. Like their father, her three sons are often hungry, too, and Lucinda believes — well, knows — that men's approach to food is direct: plenty, good, now. And men develop food memories: there is that band of dishes they want over and over again. Men have cravings.
From Cravings comes this very different muffin recipe. In American cuisine, we rarely employ dates in recipes. Overlooked, dates offer a distinctive sweet flavor, but this time with a twist: they are soaked in coffee to add an extra dimension.
The chopped dates add texture as do the nuts. Walnuts are a natural pairing with dates, but Suzen has found that pecans provide a wonderful flavor alternative. Suzen has a personal "no walnut" policy so our nut shelf is stocked with pecans and almonds. The next batch of muffins will take a stroll down the almond path.
But all future batches will employ these coffee-soaked dates.
Enjoy this brunch or breakfast or perhaps a midnight snack.
---
Date Walnut Muffins

Yield: 18 regular size muffins or 36+ mini ones [as pictured

Ingredients:

1 cup strong coffee
5 ounces pitted dates
1 ½ cups all-purpose flour
1 cup whole wheat flour
1 tablespoon baking soda
½ teaspoon coarse salt
2 large eggs
¼ cup honey
½ cup sugar
½ cup safflower oil
1 ½ cups whole milk
½ cup chopped walnuts
Preparation:
Preheat the oven to 400°F with a rack in the middle position. Line 18 muffins cups with paper liners.
Bring the coffee to a simmer in a small saucepan. Add the dates, remove from the heat, and let cool to room temperature. Drain the dates, discarding the coffee, and chop.
Whisk together the flours, baking soda, and salt in a large bowl. In a separate medium-sized bowl, whisk together eggs, honey, sugar, oil and milk.
In the dry ingredients, make a well and pour in the wet ingredients. Whisk together. Fold in the dates and walnuts. Do not over mix. Spoon the batter into the muffin cups, filling them three-quarters full.
Bake for 15-18 minutes [less for mini-sized], or until the muffins are golden brown and a toothpick inserted into the center of the muffin comes out clean. Let cool for 5 minutes in the pan before removing.
Source: Mad Hungry Cravings by Lucinda Scala Quinn.

Photo Information [top]: Canon T2i, EFS 60mm Macro Lens, F/2.8 for1/100th second at ISO‑2000

Photo Information [bottom]: Canon T2i, EFS 60mm Macro Lens, F/2.8 for1/100th second at ISO‑1600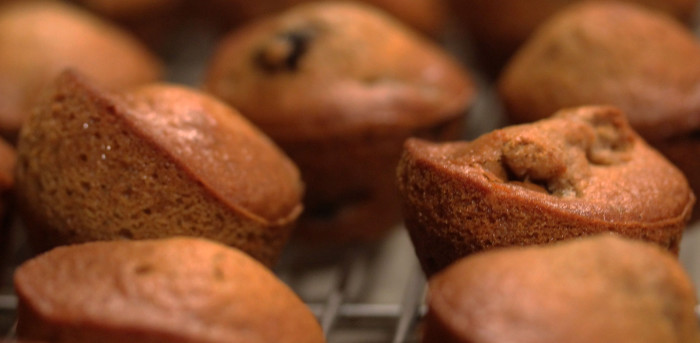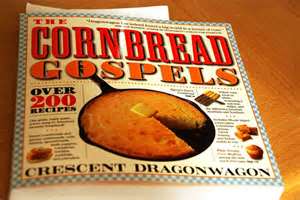 Well, thank God for Google alerts. You know, if you are an author, you can put up an alert for any post that Google might track. Any post using your name or the name of your book. Nice to know if someone has written about you.
Important to know if the blogger has committed some error or a major, tragic, dumb mistake.
My blog last week for Simply Corn Muffins called for 1 tablespoon of buttermilk. It's actually 1 1/4 cups. So, if you tried my poor version of the recipe and failed, I owe you a corn muffin. If you come by to Cooking by the Book at 13 Worth Street, New York, New York, I will happily issue you my penance.
You see, those muffins are so good they are now my standard breakfast. I bake, freeze, microwave, and adorn with butter and jam or honey. I have lots, made with the right amount of buttermilk. As for the batter you have from last week, if you still have it, I would suggest using it as mortar for your patio.
My thanks to author Crescent Dragonwagon for being alert and oh so understanding.