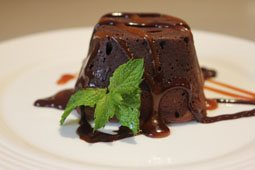 Molten chocolate cakes. Been there. Done that.
They seemed so good when they first appeared. And they were. But after a couple of decades of them, it's a tired dessert. Where's the excitement, the passion?
It's here. Keep the molten part, but now adorn the outside with a sauce. Not just any sauce. A Kahlua-Caramel sauce.
The result? Goo everywhere. And absolutely no need for whipped cream on the side. Although, if you want …
Molten Chocolate Cakes with Kahlua-Caramel Sauce
Yield: 6 desserts
Ingredients:
For the cakes:
5 ounces bittersweet chocolate, chopped
10 tablesppons [1 ¼ sticks] unsalted butter
3 large eggs
3 large egg yolks
1 ½ cups powdered sugar
½ cup all-purpose flour
For the cakes:
1 cup dark brown sugar, firmly packed
½ cup Kahlua liqueur
2 teaspoons instant espresso powder
½ cup whipping cream
Preparation:
Preheat the oven to 450 degrees F.
Butter six ¾ cup soufflé ramekins. Stir chocolate and butter in a heavy medium saucepan over low heat until melted. Cool slightly.
Whisk eggs and egg yolks in a large bowl to blend. Whisk in sugar, then chocolate mixture and flour. Pour batter into dishes, dividing evenly.
Bake cakes until sides are set but center remains soft and runny, about 16 minutes. Run small knife around cakes to loosen.
For the sauce: combine the first 3 ingredients in a heavy medium saucepan over medium heat and stir until espresso powder dissolves (mixture will be grainy) Increase heat to medium-high and bring to boil. Boil for 5 minutes, stirring frequently. Add the cream and stir until smooth. Cool 10 minutes; do not stir.
To serve, remove cakes form soufflé cups and spoon sauce over them.
Source: Adapted from Bon Appetit, January 2001
Sometimes things happen. Or don't. Tonight Suzen was to have had an event here in New York City featuring a team with members from around the world. Folks just gathered here in our kitchen to cook. Instead, they are still scattered around the world. That volcano in Iceland has wrecked havoc in many ways. Six of the people scheduled to be here tonight are still on the other side of the Atlantic. They called, of course. They explained, of course. And, we've rescheduled, of course.
If someone tells you they can't make an event because of a volcano, what can you do? As excuses go, it's both rare and pretty convincing. If you want proof, you could ask for a bucket of lava, but Suzen is very understanding.
Well, actually, we will do one thing. When this team finally shows up, we're going to change their dessert. If you are late because of a volcano, then by God you are going to eat molten chocolate cake for dessert. With white chocolate lava oozing from the interior. No, this dish won't damage the engines of jet planes. What it does to you might be something else. But if you only eat it once a week, how bad could the damage be?
Many clients for Suzen's teambuilding program order this dessert. I never, never get tired of watching the white chocolate wind its way through cracks in the dark chocolate surface and come gracefully to rest on my spoon. There are many recipes for molten chocolate cake, but this is one I guarantee will have you wanting more.
Molten Chocolate Cake with White Chocolate Lava
Yield: serves 6Ingredients:
5½ ounces bittersweet chocolate, coarsely chopped
11 tablespoons unsalted butter
3 large eggs
3 large egg yolks
1/4 cup sugar plus 2 tablespoons
5 tablespoons all-purpose flour
2 ounces white chocolate cut into 6 chucks
Preparation:
| | |
| --- | --- |
| 1 | Preheat oven to 400°F. Butter and flour 6 6-ounce ramekins. |
| 2 | Place 5½ ounces of the chocolate and the butter in the top of a double boiler, and melt them over simmering water. Using a mixer with a whisk attachment, beat the eggs, egg yolks and sugar together until pale and thick, about 8 minutes. Reduce speed and add flour. Add the chocolate mixture and continue beating until glossy, about another 5 minutes. |
| 3 | Divide half the mixture into the ramekins. Place a piece of the white chocolate into the middle of each ramekin with the rest of the batter. |
| 4 | Bake until just set around the edges, but the center still jiggles. About 12 minutes. Do not over cook. Cool just a few minutes and unmold each cake onto a plate. |
Source: The Food Network