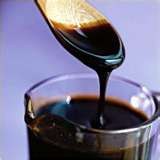 In upstate New York today, it was in the high 60s so that Halloween snow is gone. But more snow is on the way. That's why this was a Kindling Day. Warm, blue sky, no snow or ice. The perfect day to gather firewood and kindling. There may not be another day like this until April.
"This is crazy," my oil delivery man said to me. I think he was a bit disappointed at the temperature.
"That vine on the side of the house?" I pointed. "It's budding." And that vine has not had leaves for two weeks.
"Oh" he was now truly unhappy.
"Don't worry. Snow on Thursday," I said.
"Great." He whistled his way back to the oil truck.
After a few hours of lifting things, I wanted a quick, "comfort food" meal. I know that I rant about only cooking from scratch, but the truth is there are days when some grocery store beans are a great start. A start.
I took a 28-ounce can of baked beans and augmented it: sautéed celery and onion plus some molasses. The result is a one pot meal that, coupled with a good beer, lets the day end on a perfect note.
And for that molasses? Look for something a bit different. Suzen and I found some sugar cane molasses at a Middle Eastern market in Brooklyn. More subtle, and probably more sweet, it made for great beans.
Brian's Baked Beans, Augmented Style
Yield: 2-3 people
Ingredients:
1 28-ounce can of baked beans
1 stalk of celery, finely diced
1 medium sweet white onion, diced
2 tablespoons butter
½ cup molasses
Preparation:
Open the beans and pour off some, but not all, of the liquid. You'll be adding about ¾ cup of liquid between the molasses and vegetables. You want beans here, not soup.
Dice the celery and onion. Melt the butter in a 2-quart sauce pan. Add the vegetables and sauté until translucent. Add the baked beans and the molasses. Stir to combine. Heat until it bubbles, stirring occasionally.
Source: Brian O'Rourke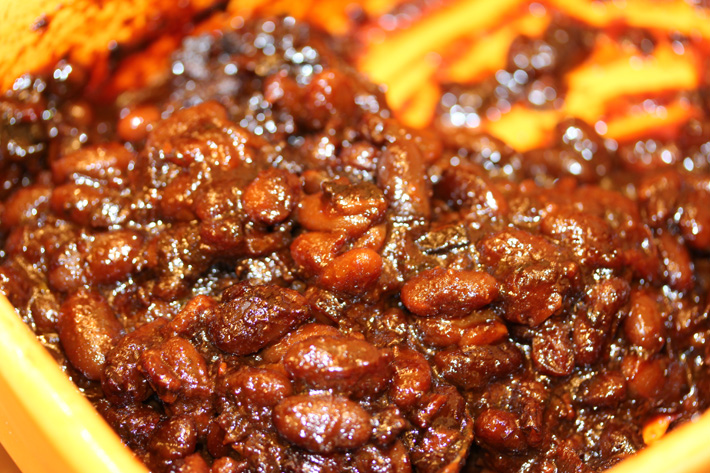 Slow food versus fast food. Slow food versus very slow food. Long cooking times can enable flavors and textures that simply are not possible with a microwave, a deep fryer or a simple broiler. Here's a perfect example. You start with cooked white beans, adorn them with a parade of additional flavors and let the combination bake away for hours. And the result? These are baked beans unlike anything you have ever had.
"More?" Brian asked me.
"I can make more," I said. I watched the tears fall from his eyes and all I could think was: leverage!
Your husband, wife or partner will beg you for these beans. Do not give up this recipe or your control. Slow is good. Very slow is very good.
Made according to this recipe, the chipotle here adds smokiness but only modest heat. The sugar and molasses of course add sweetness but also a stickiness that appeals. This a great complement to chicken wings or burgers. You will truly enjoy this complex combination of flavors.
Smoked Chipotle Baked Beans
Serves: 4 to 6 modestly, 2 persons hungrily
Ingredients:
One 16-ounce can cooked white beans
¼ cup chopped onion
¼ pound uncooked bacon, finely diced
¾ cup molasses
½ cup ketchup
¼ cup packed light brown sugar
1 smoked, dried chipotle pepper, seeded and crushed
1 teaspoons dry mustard
1 teaspoon salt
1 teaspoon Worcestershire sauce
1 tablespoon chopped fresh cilantro.
Preparation:
Heat the oil in a fryer to 350°F.
In a medium mixing bowl, combine the beans, onion, bacon, molasses, ketchup, brown sugar, chipotle, mustard, salt, Worcestershire, and cilantro. Mix well.
Transfer the mixture to a buttered 5- to 6-inch deep baking dish. Cover with foil and bake for 4 hours. Check the beans every hour for moisture content. If they become too dry, add a little water.
Serve piping hot.
Source: Wings Across America by Armand Vandersitgchel