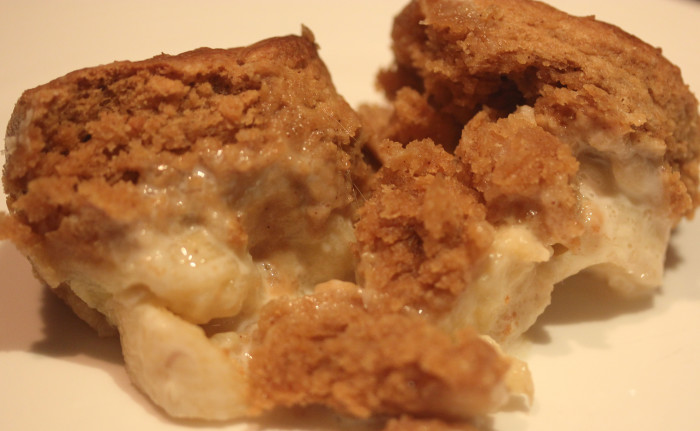 There was no way I was not going to make this. First, the header notes says it is a "decadent dessert for cold winter days." Second, it has the word "molasses" in the title. "You are a sucker for titles," Suzen says to me. "You are just lucky I happen to like a pretty face," I reply. It's true. She has a pretty, no a gorgeous, face. And, yeah, I can get sucked in by recipe titles. I was not born in Dixie, but I am up for anything that is molasses. And I love bananas and this says "cobbler" too. Far too much to ignore. It turns out, this dessert is decadent and comforting, all at the same time. It was 10° outside. Suzen actually made this cobbler [my pastry skills were deemed lacking]. We ate it in front of the fireplace while the snow kept coming down. A snowy night and bananas? It's a combination that once was rare and now can be yours anytime you want. This cobbler can be crafted in just a few moments and enjoyed until the last flakes have fallen. This recipe is from Cinnamon Spice and Warm Apple Pie, a clever little book with many more pleasures awaiting you.
Molasses Banana Cobbler
Yield: serves 4-6
Ingredients:
Banana Layer:
4 medium bananas
2/3 cup heavy cream or canned
evaporated milk
2 tablespoons dark soft brown sugar
Molasses Scone Topping:
1 3/4 cups self-rising flour
a pinch of salt
1/2 stick unsalted butter, chilled and cubed
2 tablespoons sugar
1/2 teaspoon ground cinnamon
3 tablespoons dark molasses
2/3 cup milk, plus extra for glazing2 teaspoons dried red pepper flakes [without seeds] or 1 teaspoon chili powder
Ice cream or whipped cream for topping [optional]
Preparation:
Peel the bananas and slice thickly. Arrange in a baking dish. Mix the cream with the brown sugar and pour this mixture over the bananas. Sift the flour and salt into a bowl and rub in the butter. Stir in the sugar and cinnamon. Combine the molasses and milk, whisking with a fork until the molasses has dissolved. Quickly pour the treacle mixture into the flour mixture and mix to form a soft dough. Tip the dough out onto a floured work surface and knead briefly until smooth. Use the flat of your hand to pat out to a thickness of % inch. Stamp out as many rounds as you can with a cookie cutter, re-rolling the trimmings as necessary. Use these to cover the bananas. Brush with a little milk and bake in the preheated oven for 15-20 minutes, until the scones are well-risen and golden brown on top. Cover with a piece of foil if the scones are cooking too quickly and the banana is still raw. Serve warm with cream or vanilla ice cream.
Source: Cinammon Spice and Warm Apple Pie from Ryland Peters & Small
Photo Information [top picture]: Canon T2i, EFS 60 mm Macro Lens, F/2.8 for 1/100th second at ISO-1250
Wi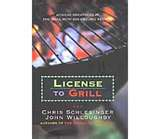 nter? What winter? We don't need no freezing winter?
It's warm enough to go outside and barbeque! Time to toss aside those snow shovels that loyally sat at the ready for months. Time to dig out the barbeque tongs, the chips, the gas, and get grilling.
License to Grill was published 15 years ago. Author Chris Schlesinger set a new standard for ideas, techniques, and quality.
This barbeque sauce is wonderful if you just follow the recipe. But it's really a template for you to experiment with. Change proportions, add and subtract ingredients. Here you have the base for a family of sauces to carry you deep into summer.
So, uncover the grill and get started. This is no store-bought sauce. This one is for you.
Molasses Rum Barbeque Sauce
Yield: about 2 cups
Ingredients:
2 tablespoons vegetable oil
1 large yellow onion, peeled and diced medium
2 tablespoons minced ginger
2 tablespoons minced garlic
1 cup of your choice
½ cup red wine vinegar
1 one cup catsup
½ cup molasses
¼ cup lightly packed brown sugar
1 tablespoon ground allspice
1 pinch of ground mace
Salt and freshly cracked black pepper to taste
Preparation:
In a small saucepan over medium heat, heat the oil until hot but not smoking. Add the onions and sauté, stirring occasionally, until transparent, 5 to 7 minutes. Add the ginger and garlic and sauté, stirring, for 1 minute. Add the rum, vinegar, catsup, molasses, sugar, allspice, and mace and bring just to a boil. Reduce the heat to low and simmer gently for 20 minutes, then remove from the heat, sea­son to taste, and set aside.
Source: License to Grill by Chris Schlesinger