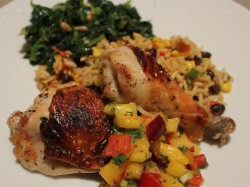 "Will it taste like chicken? Brian asked.
"It is chicken. Taste it," I suggested.
"You know," he began.
"Taste it now," I insisted.
"Oh," he said after swallowing. "Can I have more?"
"Over there," I pointed.
"Would you?" he attempted to beg.
"Over there," I pointed with a knife.
The man understood.
And he actually loved the chicken. Yes, the underlying flavor is chicken but this one is oh so different. The lime juice gives tartness, the rum spice, and the mint a breath of sweetness. Cook this chicken until the skin really begins to crisp. That caramelized flavor will blend with the others to give you heat, spice, and delight.
I've had many clients this summer choose this menu item, so Brian and I have had it once or twice a week all summer long. We both still love it. You will crave it, too.
Serve this chicken with the Mango and Mustard Salsa from yesterday's blog to have an outstanding flavor combination.
Mojito Chicken
Yield: 6 servings
Ingredients:
¾ cup fresh lime juice
½ cup plus 2 tablespoons light rum
Sugar, to taste
1 tablespoon vegetable oil
½ cup finely chopped fresh mint
1 tablespoon coarse or kosher salt
6 chicken breast halves, or legs and thighs or a combination with skin and bones (about 5 pounds)
3 large limes, quartered lengthwise
Fresh mint sprigs
Preparation:
Whisk together the lime juice, ½ cup of the rum, mint syrup, oil, chopped mint, and salt in a small bowl or large measuring cup. Place the chicken in a resealable bag. Pour the marinade over the chicken and seal the bag. Turn the bag over several times to distribute the marinade. Chill for up to 4 hours, turning twice.
Place the lime quarters in a shallow bowl. Pour the remaining 2 tablespoons rum over, tossing to coat. Let stand at room temperature.
Prepare a medium-hot grill or preheat oven to 450 degrees. Remove the chicken from the marinade and grill or broil until cooked through, about 15 minutes per side. Transfer to a platter.
Grill the limes until soft and slightly charred, about 5 minutes. Garnish the platter with the mint sprigs. Squeeze the grilled limes over the chicken and serve.
Source: Cheryl and Bill Jamison, as appeared in "Best American Recipes 2005-2006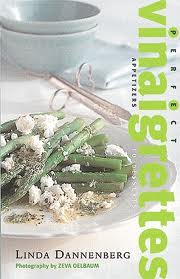 Do I support monogamy? You betcha. Cause Suzen has informed me of the long, painful death I would experience. Not that I need to be threatened. I mean, do I look like Newt Gingrich?
On the other hand, a man is entitled to a little variety in life. When I met Suzen, I was so impressed with the salad she made. Her own, private, secret recipe for a perfect vinaigrette. I love it. I still do.
But, it's been 25 years. A minimum of 100 salads a years with that vinaigrette. Let's see, that's hundreds, no thousands of times I've experienced those flavors.
I've dropped hints. "Did you see that salad thingy in The Times?" Or, "What kind of salad are we having tonight?"
Finally, I bombed hints. I would leave cookbooks open, turned to a page for a great salad dressing idea. I bought ingredients. In desperation, I bought Perfect Vinaigrettes by Linda Dannenberg.
All to no avail. So, today, I am taking a step forward and announcing that I am doing other vinaigrettes. I still love my wife, but I have my needs.
My journey began last night with this very clever twist on the traditional vinaigrette. It appealed to me for two reasons. First, there is no vinegar, just lemon and lime juice. Second, it calls for chopped mint and parsley. Just a few feet out my front door, we are growing both. So, I was already prepared to try this vinaigrette.
It is delightfully distinct and different. I followed the recipe carefully, because the combination of mint and parsley is essential to the flavor, yet you do not want to lose the citrus overtones. I served this dressing over a plate of sliced tomatoes and onions. It will be fabulous with market fresh greens as well.
Lemon-Lime Vinaigrette
Yield: serves 4
Ingredients:
2 tablespoons freshly squeezed lemon juice
2 tablespoons freshly squeezed lime juice
1 teaspoon minced onion
¼ teaspoon fine sea salt
Freshly ground black pepper
1 teaspoon Dijon mustard
2/3 cup extra-virgin olive oil
1 tablespoon chopped mint
1 tablespoon chopped parsley
Preparation:
In a small bowl, combine the lemon juice, lime juice, onion, salt, and several turns of pepper. Stir until the salt is dissolved. Add the mustard, then slowly whisk in the oil, whisking until the mixture is emulsified. Stir in the mint and parsley and serve immediately.
Source: Perfect Vinaigrettes by Linda Dannenberg