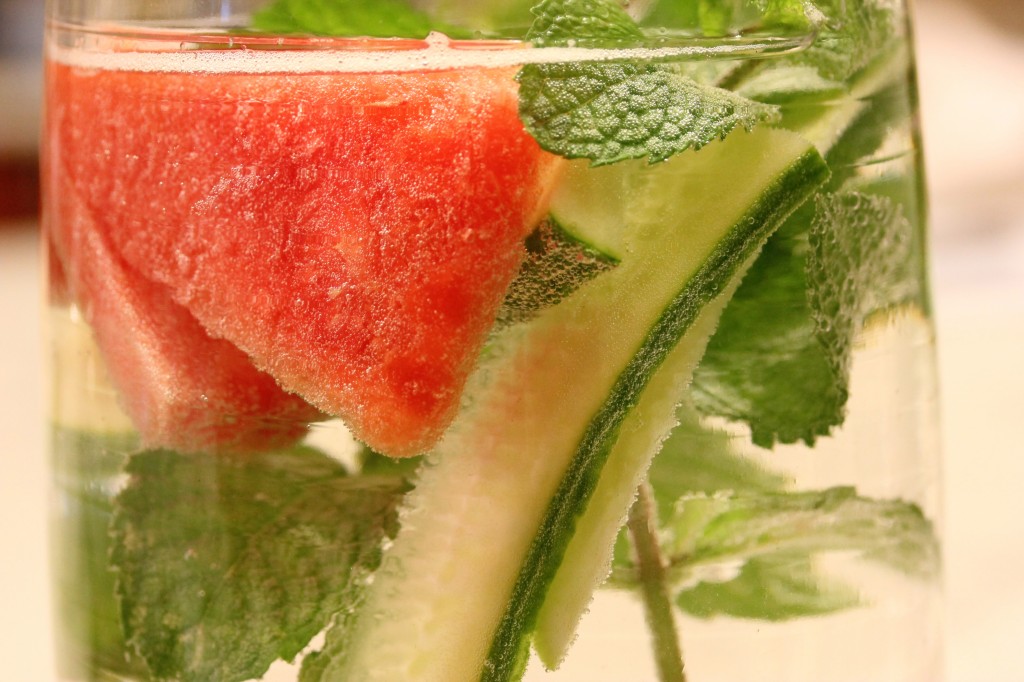 "Rum," Brian said with confidence. A little too much confidence for my taste, but he was about to be cut down to size.
"No," I said quietly.
He pondered the pitcher. I knew the mint was distracting him.
"Tequila," he guessed.
"No."
He stooped low to the pitcher.
"NO CHEATING!" I yelled. "You can't smell!"
"Gin," he was beginning to snarl.
"No," I repeated.
"Ah, you've tried to trick me. It's watermelon-flavored vodka." A bad wild guess on his part. He was wearing down.
"No," I said. "Give up?"
"Yes, damn you." He was now meek and tamed, the way any good husband should be.
"Water," I said.
"Water?" His voice carried terror.
"Yes, water and only water. No booze. No sugar."
"If I drink that it will kill me," he protested.
"If you don't drink it, you'll wish you had." Sometimes a wife deserves to be on top.
When it is smoking hot, and for many of you it is triple digit time, this is a most refreshing beverage. Last Saturday we were at Blue Cashew [www.bluecasherkitchin.com] in Rhinebeck, New York for a book signing. Blue is a superior kitchenware store with an upscale stock of goods that will have you happily wandering for hours.
To make a warm day easier, Blue served this delicious water. It's a simple pitcher with a slice of melon, a slice or two of cucumber, and some mint. Served very cold, it is the perfect pick me up. And, no alcohol. No sugar. Beautiful to behold.
In the end, Brian did taste and he did like it. [I had hidden the sugar container in our kitchen so he had no choice.]
Oh, the book signing was for American Masala by Suvir Saran, a neighbor of ours in the city. Suvir's Manhattan restaurant Devi has received a Michelin star. You should consider his books or his restaurant for marvelous Indian cuisine.
Watermelon, Mint and Cucumber Water
Yield: 1 pitcher
Ingredients:
Water
1 thick slice of ripe water melon
1 sprig of fresh mint
1-2 slices of peeled, seeded cucumber
Preparation:
In a 1-quart or larger pitcher, fill with cold water. Add the melon, mint, and cucumber. Refrigerate until just before serving.
Source: Blue Cashew in Rhinebeck, New York
On Wednesday, we were in Olive, New York. It was snowing a bit. The daffodils held their heads up nobly. Suzen searched for the car keys and escape.
Today, Saturday, we are in Austin. No immediate threat of snow. Suzen is basking in the heat. But to offset the 90°, our daughter-in-law Michele supplied a watermelon gazpacho that is refreshingly wonderful.
This is an example of recipes passing from generation to generation. Except this is a pass up. And, as always, we have to give full credit: the source is Cooking Light and this recipe is a "10" for both flavor and calorie counting. The taste here is full of sweet heat with crunchy texture. And instead of tomato juice as a base, cranberry-raspberry serves up an eye-opening flavor. Offer this soup very cold, perhaps with a red sangria.
Watermelon Gazpacho
Yield: 7-8 cups
Ingredients:
6 cups cubed seeded watermelon
1 cup coarsely chopped peeled English cucumber
½ cup coarsely chopped yellow bell pepper
⅓ cup chopped green onions
3 tablespoons chopped fresh mint
3 tablespoons fresh lime juice
1 tablespoon extra virgin olive oil
¾ teaspoon salt
½ teaspoon hot sauce
1 garlic clove, minced
1 cup cranberry-raspberry juice
Preparation:
Combine first the 10 ingredients, all but the cranberry-raspberry juice. Place half of this watermelon mixture in a food processor, and pulse 3 or 4 times or until finely chopped. Spoon into a large bowl. Repeat procedure with remaining watermelon mixture. Stir in the cranberry-raspberry juice. Chill thoroughly.
Source: David Joachim in Cooking Light Magazine