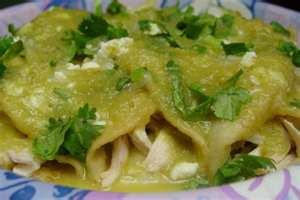 I posted this recipe in early 2010, at my daughter's request, but I'm doing it again because tomorrow you will have leftover turkey and this is just the best possible way to enjoy it. It's not "leftovers." It's "delicious" and rich and different.
The enchiladas are paired with one of my favorite foods: tomatillos.  This green fruit is a staple of Mexican cuisine.  Although in the same botanical family as the tomato, a tomatillo is definitely not a tomato.  If you've had green salsa with a bite, you've enjoyed the particular intensity that only a tomatillo can supply. In this recipe that inherent tomatillo sting is muted into a voluptuous cream sauce that is an outstanding match for that distinctive turkey flavor.  Your mouth is simply going to resonate with a symphony of tones.
When I make this dish, I do follow the recipe but I am heavy handed with the amount of green onion and green chiles. And I suggest sticking with the canned tomatillos, not the salsa verde.
You can garnish the whole dish with cilantro or sliced scallions for one more level of flavor.
Turkey Enchiladas with Creamy tomatillo Sauce
Ingredients:
2 cups shredded roast turkey
2 green onions, including tender green tops, thinly sliced
3 tablespoons cream cheese at room temperature
1 ⅓cups (5 ½ ounces) shredded Monterey Jack Cheese
2 cans (7 ounces each) salsa verde or 1 can (13 ounces) tomatillos, drained
2 tablespoons canned chopped green chiles, drained
½ cup fresh cilantro leaves
⅔ cup heavy (whipping) cream
¼ cup canola oil
8 corn tortillas
Preparation:
Preheat the oven to 350°F. In a medium bowl, combine the turkey, green onions, cream cheese, and 1 cup of the jack cheese and stir to mix thoroughly. Set aside.
In a blender or food processor, combine the tomatillo, chiles, cilantro, and cream and process until smooth.
Heat the oil in a heavy, 6 -inch skillet over medium-high heat. Using tongs, carefully place one tortilla at a time in the hot oil and fry for 5 to 10 seconds just until softened. Flip the tortilla and soften the other side. Drain over the skillet, and place on a plate lined with a paper towel. Place another paper towel on top and press to absorb the oil. Repeat until all 8 tortillas are softened and drained.
Divide the turkey mixture among the tortillas (about ½cup each), mounding it in a line down the center. Roll tightly and then place, seam side down, in a 7 x 11″ baking pan. Pour the tomatillo cream sauce over the enchiladas, and sprinkle the remaining ⅓cup jack cheese down the center. Bake for about 20 minutes until heated through and bubbly. Serve immediately.
Source: The New Thanksgiving Table by Diane Morgan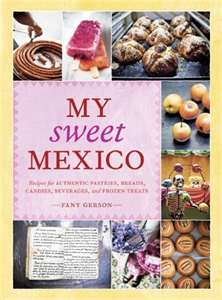 Here is a cookbook review and note on a recipe-in-progress.
Suzen and I were at a farmers market in Lower Manhattan last fall. That fall was warm, and lacked the surprise snow we have just experienced. I was lugging food and very thirsty and there I saw something wonderful.
Fany Gerson, a very serious pastry chef from Mexico, had a stand with aqua fresca. And she had a copy of her book: My Sweet Mexico. Her drink brought relief and her book brings inspiration.
Fany has traveled back and forth across, and up and down, Mexico. Our images of Mexico tend to Mexico City, beaches, Aztec pyramids, and that troublesome border. There is a vast other Mexico, and that is where Fany has explored and compiled this collection of sweet treats.
Most of the recipes are ones you will not have seen, unless you too have been to Mexico. Many of the recipes are regional or even city treasures. Somewhat like Italy, Mexico is divided by mountains into regions, each with its own climate and agriculture. And thus recipes.
My Sweet Recipes offers many temptations:
Spiced Chocolate Cakes with Sweet Tomatillo Sauce
Candied Pumpkin
Lime Meringues
Coconut Stuffed Limes
Sorbets Aplenty: Quince, cucumber, Apricot, Lime and Tamarind
Fany's favorite Tres Leches Cake
Tomato Jam Empanadas
Pecan Fudge Caramels
Pistachio Caramels
Milk Fudge
Fany's Mexican Wedding Cookies
Aceite de Vanilla
That last recipe is for a vanilla liquor. I've started it, and after a week of "nurturing" I tell you about the results. A sugar syrup is infused with vanilla beans, poured into a jar, and topped off with rum. It's sitting on my shelf now.
The headnotes for the recipes are wonderfully informative. Those Mexican Wedding Cookies you have loved? Well, they came to Mexico from Spain. And they got to Spain from the Arab conquest of Spain that lasted, in total, for seven hundred years.
Suzen and I will be trying many of these recipes over the next couple of weeks. That Candied Pumpkin seems the perfect side dish for Thanksgiving!