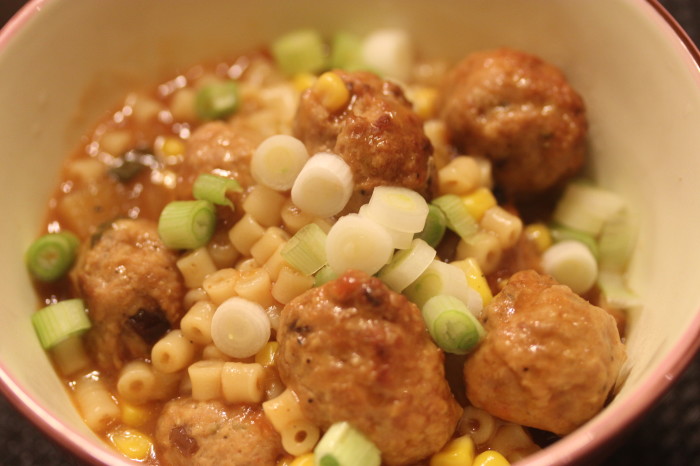 I, uh, wanted something unhealthy for dinner. Not really terribly unhealthy. Just a lot of cheese and some meat and …
"No." Suzen said. She took the magazine from me, sat, turned pages, stood up and showed me a picture.
"You'll like this. I'm making it."
Now, at that point I had choice of actions, but not really. It was time to contemplate a dinner of soup, which reminded me of characters in a Charles Dickens' novel. But I'm not allowed to say that.
Hours later, I was actually really happy. I even said, "More, please." And I got more.
From Mexican by Better Homes and Gardens, this Mexican meatball soup comes with a surprise: pasta. It's pasta and meatballs combined with pineapple relish and cranberries. This is a hearty, one-dish meal that is perfect for a winter night. You need to make meatballs, a lot of them, so I suggest this meal is good for a Sunday afternoon, when you are in the third quarter, the game is being, lost and everyone will welcome the distraction of rolling meatballs in their hands.
It needs to cook for hours, so beer and nachos are in order, whether your team is winning or losing.
Mexican Meatball Soup
Yield: serves 4 to 6
Ingredients:
¼ cup masa harina
¼ cup warm water
8 ounces ground pork
8 ounces ground turkey
2 tablespoons finely snipped dried cranberries
2 garlic cloves, mince
1 tablespoon dried oregano, crushed
½ teaspoon salt
1 32-ounce portion of reduced-sodium chicken broth1 16-ounce jar of peach, pineapple or mango salsa
½ cup frozen whole kernel corn
¼ cup crushed tortilla chips
¼ cup tiny pasta[pastina, stelline, or tripolini]
¼ cup sliced green onions, optional
Red or green salsa, optional
Sour cream, optional
Preparation:
Preheat the broiler. In a large bowl, combine the masa harina and the water. Add the ground pork, ground turkey, dried cranberries, garlic, oregano, sand salt. Shape into 1-inch meatballs. Place on a foil-lined 15X10X1 inch baking pan. Broil 4 to 5 minutes inches from the heat for 5 to 8 minutes or until lightly browned, turning once.
In a 3- to 4-quart slow cooker, combine the meatballs, chicken broth, salsa, corn, and tortilla chips. Cover and cook on low-heat for 6 to 7 hour or on high heat for 3 to 3 ½ hours.
If using low heat setting, turn to high heat. Stir in the pasta, cover and cook for 30 minutes more or until tender. If on high heat, add the past and again cook for 30 minutes.
Stir in the ¼ cup of green onion before serving.
Optionally, top with additional green onions, or salsa, or sour cream, or any combination.
Source: Mexican by Better Homes and Gardens [a newsstand magazine]
Photo Information: Canon T2i, 18-53MM Macro Lens, F/2.8, 1/100th second, ISO 1000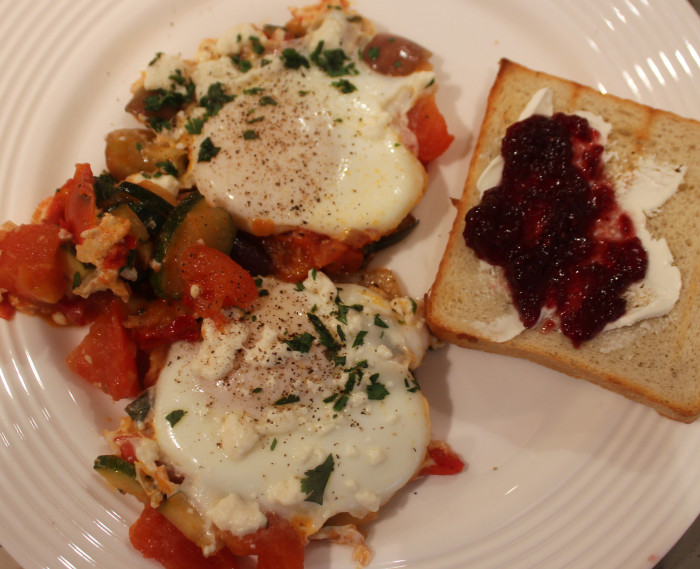 Power. Our lives revolve around power. Not the Con Ed power. The power of people, organizations and nations. Our lives are shaped by power and we endlessly debate and classify power: economic, military, cultural, ….
You can read or hear the debates about American power. We are dead, we will rise again, we are doomed by China, Putin is rational for a guy running a third rate country but is only a thorn in our side. I read and I listen. The problems now are different yet the portrayals of rise or fall have been with us through our history. I no longer panic. And, actually, instead I have become rather mellow. For I have learned which country is the most powerful. At least until 10 AM.
It's Mexico. Because Mexican breakfasts are singularly the best. Thank about your American breakfast, that brownish mélange. Toast, bagels, muffins, oatmeal, cereal, sausage, bacon, scrambled eggs…. There's brown in every bite. Yum. How inspiring.
Now, look at that picture above of Huevos Oaxaqueños. Imagine starting your day with this blast of color and flavor. All that is missing is a mariachi band. Veggies, cheese, chilies, eggs and more are combined here in calculated abandon. Most importantly, this recipe is quite robust. Suzen had a basket of purple tomatillos which where chopped and added to the morning march. You, too, should take whatever liberties your kitchen counter and refrigerator offer.
I'm not a breakfast person, except on Sundays. Too often I find the American carbo breakfast to be an anchor I have to pull through the morning. This Mexican fare is just the opposite: fiery and inspiring.
This lovely recipe is from a Better Homes and Garden Special Interest Publication, Mexican. This annual publication was available this spring but was to be pulled by April 1. Lucky me. I found my copy upstate and you might be able to scour about and find one too. This issue is 120 pages of ideas that begin with breakfast but last thru the day.
Oh, on the side? That Suzen's pepper bread with cream cheese and raspberry jalapeno jam. Unabated flavor.
Huevos Oaxaqueños
Yield: 4 servings
Ingredients:
½ cup chopped onion
1 small fresh Anaheim chili pepper, stemmed, seed, and chopped
1 clove garlic, minced
1 tablespoon olive oil
4 large tomatoes, chopped
1 small zucchini, halved lengthwise and thinly sliced
1 teaspoon dried savory or cilantro, crushed
¼ teaspoon salt
4 eggs
Crumbled queso fresco
Fresh cilantro springs, optional
Corn tortillas, warmed, optional
Preparation:
In a skillet cook the onion, chili pepper, and garlic in hot oil over medium heat about 5 minutes or until tender. Add the tomatoes, zucchini, dried savory or cilantro and salt. Cook for 5 minutes or until the tomatoes release their liquid and the zucchini is tender
Break one of the eggs into a measuring cup. Carefully slide the egg into the tomato mixture in the skillet. Repeat with the remaining three eggs. , allowing each egg an equal amount of space in the tomato mixture. Cover and simmer over medium-low heat for 3 to 5 minutes, or until the egg whites are completely set and the yolks begin to thicken but are not hard. Sprinkle with queso fresco.
If desired, serve with fresh cilantro sprigs and warm corn tortillas.
Spoon sauce over game hens and surround with remaining wild rice.
Source: Mexican from Better Homes and Gardens
Photo Information: Canon T2i, EFS 18-55MM lens, F/3.5 for 1/30th second at ISO 320.