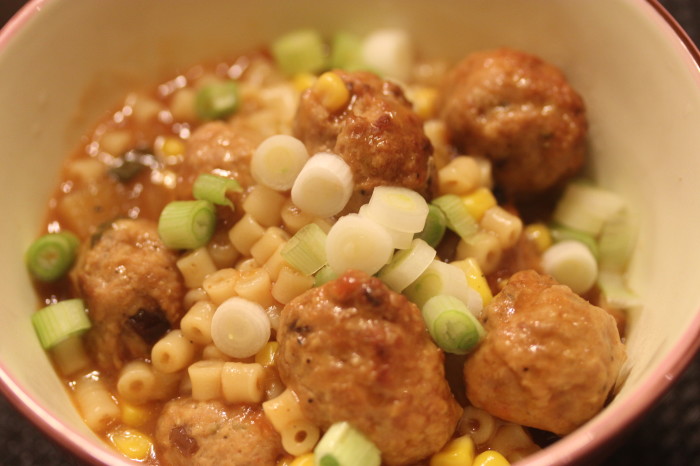 I, uh, wanted something unhealthy for dinner. Not really terribly unhealthy. Just a lot of cheese and some meat and …
"No." Suzen said. She took the magazine from me, sat, turned pages, stood up and showed me a picture.
"You'll like this. I'm making it."
Now, at that point I had choice of actions, but not really. It was time to contemplate a dinner of soup, which reminded me of characters in a Charles Dickens' novel. But I'm not allowed to say that.
Hours later, I was actually really happy. I even said, "More, please." And I got more.
From Mexican by Better Homes and Gardens, this Mexican meatball soup comes with a surprise: pasta. It's pasta and meatballs combined with pineapple relish and cranberries. This is a hearty, one-dish meal that is perfect for a winter night. You need to make meatballs, a lot of them, so I suggest this meal is good for a Sunday afternoon, when you are in the third quarter, the game is being, lost and everyone will welcome the distraction of rolling meatballs in their hands.
It needs to cook for hours, so beer and nachos are in order, whether your team is winning or losing.
Mexican Meatball Soup
Yield: serves 4 to 6
Ingredients:
¼ cup masa harina
¼ cup warm water
8 ounces ground pork
8 ounces ground turkey
2 tablespoons finely snipped dried cranberries
2 garlic cloves, mince
1 tablespoon dried oregano, crushed
½ teaspoon salt
1 32-ounce portion of reduced-sodium chicken broth1 16-ounce jar of peach, pineapple or mango salsa
½ cup frozen whole kernel corn
¼ cup crushed tortilla chips
¼ cup tiny pasta[pastina, stelline, or tripolini]
¼ cup sliced green onions, optional
Red or green salsa, optional
Sour cream, optional
Preparation:
Preheat the broiler. In a large bowl, combine the masa harina and the water. Add the ground pork, ground turkey, dried cranberries, garlic, oregano, sand salt. Shape into 1-inch meatballs. Place on a foil-lined 15X10X1 inch baking pan. Broil 4 to 5 minutes inches from the heat for 5 to 8 minutes or until lightly browned, turning once.
In a 3- to 4-quart slow cooker, combine the meatballs, chicken broth, salsa, corn, and tortilla chips. Cover and cook on low-heat for 6 to 7 hour or on high heat for 3 to 3 ½ hours.
If using low heat setting, turn to high heat. Stir in the pasta, cover and cook for 30 minutes more or until tender. If on high heat, add the past and again cook for 30 minutes.
Stir in the ¼ cup of green onion before serving.
Optionally, top with additional green onions, or salsa, or sour cream, or any combination.
Source: Mexican by Better Homes and Gardens [a newsstand magazine]
Photo Information: Canon T2i, 18-53MM Macro Lens, F/2.8, 1/100th second, ISO 1000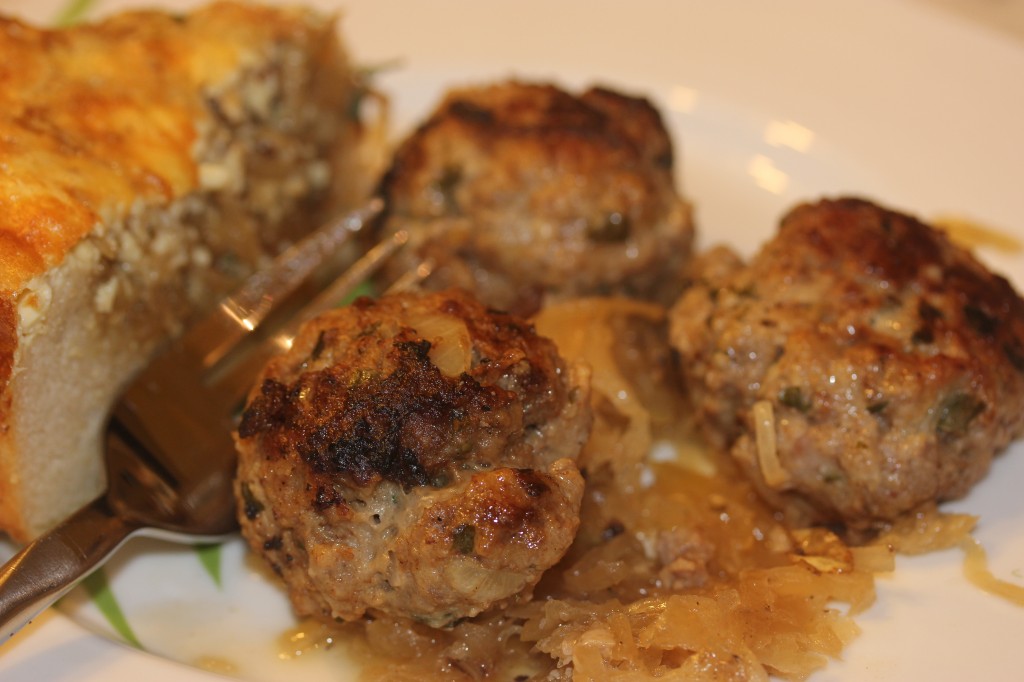 Oktoberfest is in full swing and we have more events here at Cooking by the Book. On Friday, September 28, we will feature that "other" Oktoberfest beverage: German wine. In fact, great German wine.
In this Small Bite Big Sips wine class, we celebrate the unique flavors of fine wines from Germany's renowned Mosel Valley. In an entertaining and non-intimidating setting, we will guide you through the challenge of understanding German wine labels, and take you on a journey through the various styles of German Rieslings, from dry to sweet. You will experience Grand Cru wines, as well as Kabinett, Spatlese, Auslese and Eiswein (and learn how to pronounce them!). All are specially selected gems from the S.A. Prum cellar, a family-owned wine estate that has been making sought-after wines since 1911.
Gregarious S.A. Prum estate owner Raimund Prum and his wife Pirjo will lead the discussion and tasting, and the wines will be paired with a delicious German-inspired menu.
That German-inspired menu includes these German Meatballs, which we have tested, tasted, and adored. These are wonderful meatballs. So often, we hear "meatballs" and our minds fill with Italian scenes and tomato components. No tomato here, and they are not missed.
About the meat. The suggestion in the recipe is beef and pork, mostly beef. At our butcher's counter, we found one of those handy packages with equal amounts of beef, pork, and veal. Suzen took that route for a delicious flavor. You, too, can play with the ingredients and proportions.
In the picture above, we went classic and served the meatballs over sauerkraut. Pairing with rice or noddles is certainly an option for you.
We hope you can join us this Friday. To register for the class, please visit:
German Meatballs
Yield: 6 servings
Ingredients:
1 pound ground beef
½ pound ground pork
½ cup finely chopped onion
¾ cup fine dry bread crumbs
1 tablespoon snipped fresh parsley
1-½teaspoons salt
⅛ teaspoon pepper
1 teaspoon Worcestershire sauce
1 egg, beaten
½ cup milk
2 to 3 tablespoons vegetable oil
1 can (27 ounces) sauerkraut, undrained
⅓ to ½ cup water, optional
Additional snipped parsley
Preparation:
In a bowl, combine the first 10 ingredients; shape into 18 meatballs, 2 in. each. Heat the oil in a skillet; brown the meatballs.
Remove meatballs and drain fat. Spoon sauerkraut into skillet; top with meatballs. Cover and simmer for 15-20 minutes or until a thermometer reads 160°. Add water if necessary.
Sprinkle with parsley.
Source: www.tasteofhome.com