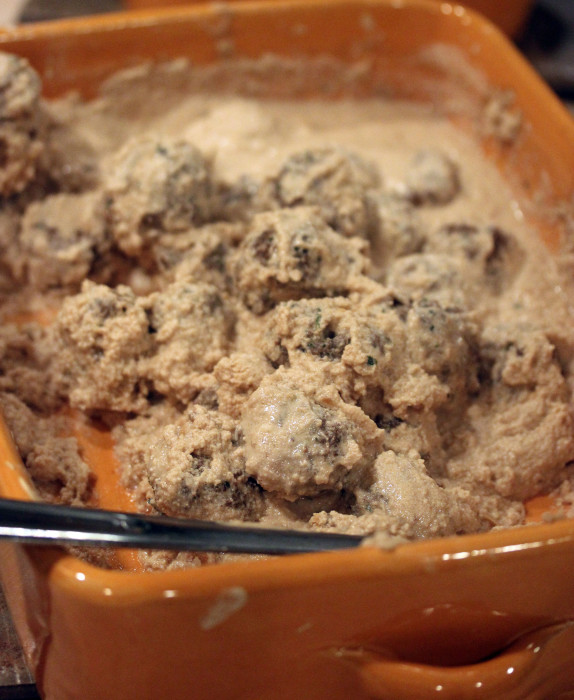 Meatballs. Funny word. It's a food we love and people we think are goofs. Goofy aside, meatballs are one of those dishes that are universal. Western folks are like to say "spaghetti and meatballs" as if it were one continuous phrase. I grew up on that dish. You may have too. Suzen has an Italian godmother, the marvelous Ann Nurse, who has shared with Suzen her unsurpassed recipe for meatballs. Italian style. Put plate in front of me, and I cannot constrain myself.
Of course, meatballs exist around the planet. And they don't all taste like you are in a Roman piazza indulging on pasta and red wine. No, meatballs come in a bounty of flavors. Try some alternatives, and you quickly realize that it is pointless to ask, "Which is the best?" You can simply enjoy the different combinations you will find in the restaurants and home and even campfires around the world.
From the exceptional book Ottolenghi [Yotam Ottolenghi and Sami Tamimi] comes this Middle Eastern version. Here the meatballs have that base flavor accelerated with allspice, parsley, cinnamon, and lemon zest — I said this was Middle Eastern! More importantly, the meatballs are cooked by baking them in tahini.
The flavor profile here is not understated. Authors Ottolenghi and Tamimi admit this dish is not pretty. When it comes from the oven, the tahini has dried and clings to the meatballs. Elegance is not as aspect here. Flavor is. And, by adorning the dish on the table with more herbs or zest, you can gain some prettiness.
After the first bite, pretty will not be your concern. Consumption will be. Why not? These are meatballs.
Beef and Lamb Meatballs Baked in Tahini
Yield: serves 4 to 6
Ingredients:
For the Tahini Sauce:
⅔ cup tahini paste
⅔cup water
4 tablespoons white wine vinegar
1 clove garlic, crushed
Pinch of salt
For the Meatballs:
1 ¼ ounces stale white bread, crusts removed
10 ½ ounces minced beef
10 ½ ounces minced lamb
3 cloves garlic, crushed
⅔ cup flat-leaf parsley, finely chopped, plus 1 tablespoon for garnish
1 teaspoon salt
½ teaspoon  freshly ground black pepper
2 ½ teaspoons ground allspice
1 ½ teaspoons ground cinnamon
1 free-range egg
Light olive oil for frying
Grated zest of ½ lemon, for garnish
Preparation:
To make the tahini sauce, in a bowl, mix together the tahini paste, water, vinegar, garlic, and salt. Whisk well until it turns smooth and creamy with a thick, saucelike consistency. You might need to add more water. Set the sauce aside while you make the meatballs.
Preheat the oven to 400°F. Soak the bread in cold water for 2 to 3 minutes, until it goes soft. Squeeze out most of the water and crumble the bread into a mixing bowl. Add the beef, lamb, ⅔ cup parsley, salt, spices, and egg and mix well with your hands.
Shape the meat mixture into balls, about the size of golf balls. Pour olive oil to a depth of ¼ inch into a large frying pan. Heat it, being careful it doesn't get too hot or it will spit all over when frying. Shallow fry the meatballs in small batches for about 2 minutes, turning them around as you go, until they are uniformly brown on the outside.
Put the meatballs on paper towels to soak up the oil and then arrange them in a single layer in an ovenproof serving dish. Place in the oven for 5 minutes. Carefully remove from the oven, pour the tahini sauce over and around the meatballs, and return to the oven for another 10 minutes. The tahini will take on just a little bit of color and thicken up; the meatballs should be just cooked through. Transfer to individual plates, garnish liberally with the 1 tablespoon parsley and lemon zest, and serve at once.
Source: Ottolenghi The Cookbook by Yotam Ottolenghi and Sami Tamimi
Photo Information: Canon T2i, EFS 60MM Macro Lens, F/2.8, 1/100th second, ISO-2000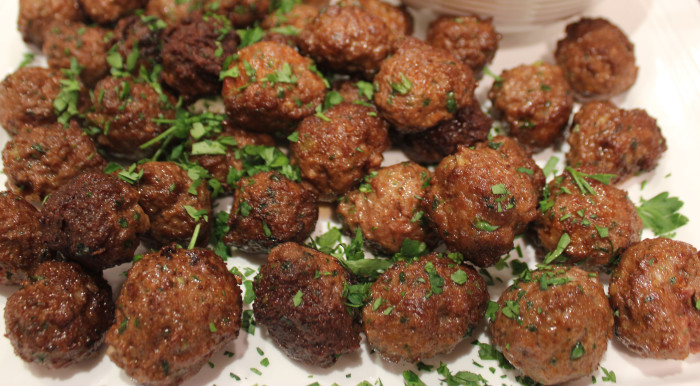 For Valentine's Day, Suzen offered a class, what else, for couples. Couples who came in droves, cooked with laughter, and consumed with pleasure. The seven course meal featured a different sparkling wine with each course.
Suzen was curious about which of the seven dishes would please the crowd the most. Oh, it did not take long. In the kitchen, when the cooking was underway and long before nibbles touched palettes, the winner was evident: these lamb meatballs with yogurt sauce.
Men jostled to be part of the cooking team. Bodies stood around the oven, sniffing the aroma and waiting for the balls to escape from the heat. And when the meatballs and platter were put out for buffet, there was a deluge of hands reach down and over and around. Everyone wanted a meatball.
Now, everyone got one or two or three. But these were the first items gone. If we had made double, these would have been the first things gone.
Consider yourself warned. When you make these, they will disappear. Everyone will relish them. Everyone will want more.
We saw several recipes for meatballs, including one in the Williams Sonoma series Appetizers. We adapted that recipe and allowed our team to have full spice creativity. The results are amazing.
Spiced Lamb Meatballs With Garlicky Yogurt Sauce
Yield: about 40 enough for around 6 [maybe]
Ingredients:
For the sauce:
1 cup plain yogurt
2 cloves garlic minced
1 tsp. lemon juice
Salt and pepper to taste
For the meatballs:
Nonstick cooking spray
2 slices firm white sandwich bread
Water
1 pound ground lamb, preferably grass fed
3 green onions white and green parts minced
¼ cup minced fresh flat-leaf parsley
1 large egg
1 ½ teaspoon ground cumin
1 teaspoon sweet paprika
1 teaspoon smoked paprika
¼ tsp. cayenne
1 teaspoon freshly ground pepper
¼ teaspoon ground allspice
1 ½ teaspoons sea salt
Preparation:
Prepare the sauce: In a small serving bowl, stir together the yogurt, garlic, lemon juice, salt and pepper until well blended. Set aside at room temperature until serving.
Prepare the meatballs: Preheat the oven to 400 degrees F. Line a rimmed baking sheet with aluminum foil and spray the foil with cooking spray.
Remove the crusts of the sliced bread and grind in a food processor. Sprinkle the crumbs with 2 tablespoons of water and toss to moisten evenly.
In another bowl, add the lamb, green onions, most of the parsley (save a small amount to garnish the sauce), the egg, cumin, paprikas, pepper, allspice, the moistened bread crumbs and salt and mix together gently with your hands. Scoop up a heaping teaspoon of the mixture; shape into a ball between your palms, and place on the prepared baking sheet. Repeat to shape the remaining mixture. You should have about 40 meatballs total.
Bake the meatballs until browned and cooked through, about 15 minutes.
Alternately, you can brown the meatballs in 2 Tbsp. of oil in a sauté pan and finish cooking on a sheet pan in the oven. [This gives a better taste, trust me!]
Transfer the meatballs to a warmed platter and place the sauce alongside for dipping. Garnish with the reserved minced parsley. Serve right away with cocktail picks for spearing.
Photo Information: Canon T2i, EFS 18-55mm Lens, F/3.5, 1/30 second, ISO-320