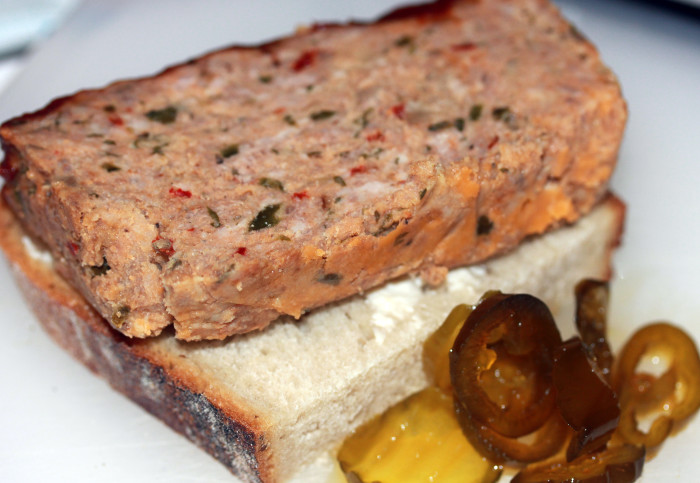 You can say that it doesn't matter. No matter how you do it, it will be fine.
Sure, and Hell did freeze over.
I did a google on "meat loaf sandwiches." I happen to love them and actually, like many people, prefer the sandwiches the next day to the freshly made meat loaf out of the oven. You find, in this search, that there is diversity and passion. And some pretty strong opinions. It's not that a meat loaf sandwich "can be …" It's more like "it must have…" Or else.
Someone wanted just meatloaf on white bread. Period. Nothing more, because if the meat loaf cannot carry the load on its own, then the meatloaf is … Well, they used a four-letter word here. Nasty.
There's the guy in Texas who says it has to be on Texas toast with gravy. And kimchi. Now, I think it is a fair bet that individual is a software guru, first generation, whose parents came from South Korea. That is not a derogatory statement, just an observation on the demographics of our world.
To begin with, what should the meatloaf be made of. People espouse the benefits of bison and turkey. Me? Well, I depend on Suzen and her secret, magic, marvelous combination of ground pork, beef and veal.
What should the bread be? Oh, how intense life can be. There are calls for white bread, rye, pumpernickel, onion rolls, focaccia, Kaiser roll, or just anything with grain.
Upon the bread, mayonnaise wins the plurality, but people do surprise with asking for butter. There's chipotle and chipotle mayo. Ketchup, of course, and horseradish sauce. Next to mayo though, the advocates for gravy are loud and cannot be ignored without personal risk.
Pickles are demanded by perhaps half the respondents. Mostly on top, but some just want their dill spears on the side. Jalapeno peppers, sweet ones like in the pictures, are my favorite addition. Yes, that picture shows that red and green peppers have been added to the meat loaf itself.
Onions? Always a fight. In the meat loaf or out? On top of the mayo or ketchup or not.
Every combination imaginable is someone's favorite. That means you cannot go wrong for yourself, but tread carefully when dining with friends. I suggest a large table, everything spread out, and plenty of knives. For spreading, not arguing.
Oh, if I am coming and you are putting up the table, you better have jalapenos there. Can't be a meat loaf sandwich without jalapenos. Everybody knows that.
Meat loaf. The food, not the singer.
Brian really enjoys meat loaf. It's his #1 comfort food, aside from mimosas and brownies. Meat loaf has legs, with one loaf providing multiple meals. Hot out of the oven with baked potato. Or sliced the next day on great bread with mayo and tart pickles.
And everyone has meat loaf recipes. There are more meat loaf variations out there than for salsa and guacamole combined. The imagination and complexity that go into all those variations are amazing.
Onions? Yes and no. Cooked and uncooked. Yellow, or white, or red, or shallots or scallions.
Ketchup on top? Yes and no. A little or a lot. Just added at the end or gooped on top and baked to carmelization.
And you add jalapenos, cheese, carrots, celery, bread …
Bread? I never did bread. But I saw this recipe in The Bacon Cookbook by James Villas and I could not resist. Villas in turn credits this to Jean Anderson in her cookbook Quick Loaves. Anderson says its grandmother's recipe that has a double dose of bacon, bread softened with milk, and even some baking powder. The recipe was too intriguing not to try.
The result? It's a very different meat loaf, light and soft to the bite because of all the bread. It's not a dense, just-lots-of-meat meat loaf. So you can have a thick slice and not immediately have that "filled to the brim" feeling that often comes with meat loaves that are, well, very meaty.
I enjoyed this fresh from the oven, but I loved it the next two days in sandwiches. I blogged recently for Lime-Mint Freezer Pickles [http://www.cookingbythebook.com/blog/recipes/limemint-freezer-pickle/] and those pickles with this meat loaf made sandwiches that you just can't buy anywhere. When it comes to food, sometimes homemade is just the best.
Of course, since this is a meat loaf recipe, you are free to make all the adjustments you like. But do follow the bread and milk instructions to achieve the distinctive texture and lightness.
Author James Villas has a distinguished writing and editor career and over 15 wonderful cookbooks to his credit. I think his secret passion in pork. Besides The Bacon Cookbook he has authored Pig as well. In Bacon, he shows how to use those bacon strips from appetizer to dessert. Yes, there are bacon cookies here, and I'll test them and let you know.
Nestled in Bacon are over 150 recipes including French Cheese and Bacon Puffs, Alsatian Bacon and Onion Tart, Maryland Crab Shrimp and Bacon Chowder, Maytag Beef and Bacon Stew, and English Roast Guinea Hens with Bacon and Mushrooms. I have singled those ones out for Suzen and me to test this fall and winter. You just may want to get a copy of Bacon, hit your supermarket and get a head start. Recipes by James Villas are impeccably written, easy to follow, and guarantee you a most satisfying experience.
Jean's Best Meat Loaf
Yield: 6 to 8 servings
Ingredients:
3 cups soft white bread crumbs
1 cup whole milk
7 slices lean streaky bacon
1 ½ pounds lean ground beef (preferably a mixture of chuck and round)
1 medium onion, chopped
1 small green bell pepper, cored, seeded, and chopped
1 celery rib, chopped
½ cup ketchup
½ teaspoon baking powder
½ teaspoon freshly ground black pepper
Preparation:
Preheat the oven to 350°F. Great a 9X5X3-inch loaf pan and set aside.
Place the bread crumbs in a large mixing blow, drizzle the milk over the top, and let soak. Meanwhile, fry 2 slices of the bacon in a small skillet over moderate heat till crisp, drain on paper towels, and crumble finely.
Add the crumbled bacon plus all the remaining ingredients, except the 5 remaining bacon slices, to the soaked bread crumbs and mix with your hands till thoroughly blended. Transfer the mixture to the prepared pan, mounding slightly in the center, and bake for 20 minutes. Removed from the oven, increase the hat to 375°F, and arrange the 5 remaining bacon slices lengthwise on top of the loaf, overlapping slightly and tucking the ends down against the pan with a spatula.
Return the loaf to oven and bake till the bacon is nicely browned, 35 to 40 minutes. Cool the loaf in the pan about 20 minutes, pouring off the fat, then transfer to a plate and cut into slices.
Source: The Bacon Cookbook by James Villas