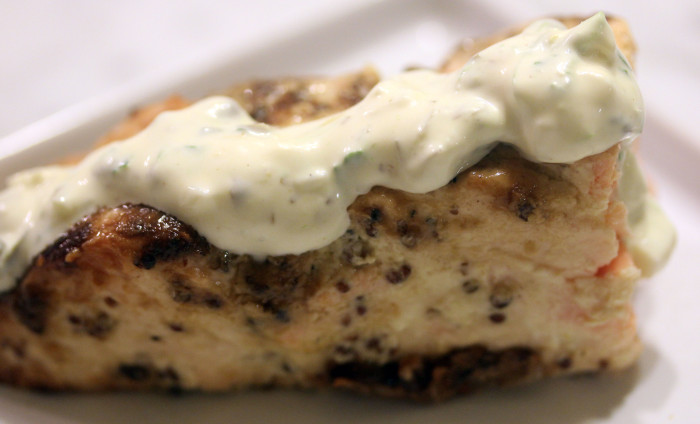 One central reason for the beloved quality of French food is the sauces: the range of flavor and intensities is a treasure trove for us. There is, sadly, a little reluctance to go treasure hunting. Truth is, we are all too often in a fast food mood. We are having salmon tonight? Oh, let's open the jar of tartar sauce. The one that has been sitting there for six months.
This classic French sauce is a far better alternative to that dusty jar. It's a staple in France, typically made with oil, but here the suggested base is a little mayonnaise. This sauce is in fact described, in Wikipedia, as a mayonnaise-style cold egg sauce. Hard-boiled eggs are divided: yolks and whites. The whites are merely chopped finely. The yolks are literally mashed with mustard and vinegar. Add the mayo and seasonings. Then come the additions which classically include pickled cucumbers, capers, parsley, chervil and tarragon.
You are free to mix and match these additions, for example here using cornichons in place of the cucumbers. And you should taste test along the way. Adjusting the vinegar can give you a range of "bite" here. Too much of a bite? Add a little sour cream, which gives the sauce an interesting body as well.
Well chilled, this sauce has a spritely flavor that contrasts and complements salmon. Baked or broiled, with a caramelizing crust, salmon begs for a powerful partner. This sauce is supreme in this role.
Other uses? Any fish of course, but trout will be wonderful. This sauce, as an extended mayonnaise, will transform a sandwich into a fully-fledged memorable treat. Think of toasted French bread with thin slices of roast beef all slathered with this bright sauce.
Put that jar down. Hard boil some eggs. And have some inventive fun.
---
Sauce Gribiche

Yield: ⅔ cup

Ingredients:

1 large hard-boiled egg
1 teaspoon Dijon mustard
1 teaspoon red wine vinegar
3 tablespoons mayonnaise
⅛ teaspoon salt
Pinch ground black pepper
1 tablespoon finely chopped cornichons or sour pickle
1 tablespoon finely chopped fresh parsley
1 teaspoon chopped fresh tarragon
1 teaspoon capers, drain and chopped
Preparation:

Remove the white from the hard-boiled egg and finely chop. In small bowl, mash the yolk, mustard, and vinegar to a paste. Stir in the mayonnaise, salt, and pepper until well combined. Stir in cornichons, parsley, tarragon, capers, and chopped egg white until well blended.
Source: The All New Good Housekeeping Cook Book edited by Susan Westmoreland

Photo Information: Canon T2i, 18-55mm Macro Lens, f/2.8, 1/100 second, ISO-1000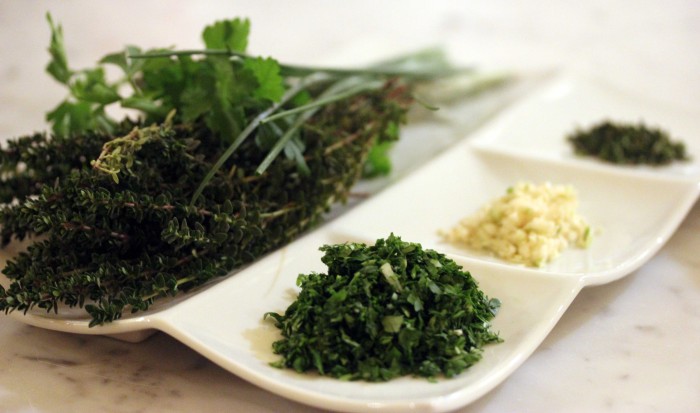 You're about to make a dip. What are you going to use. Onion soup mix in sour cream? Please, take a moment. Look at the post "Not Your Mother's Onion Dip from Diane Morgan" published on April 17, 2014. There the base is sour cream but also mayo with some vinegar on the side for a dash of intense sour.
We'll talk about dips in two steps: that base and then the add-ins. It's just like ice cream.
Dip bases can be many things: sour cream, mayo, sour cream + mayo, mayo + olive oil, whipping cream + olive oil, yogurt, yogurt + sour cream, or crème fraiche. Those are ideas from my "go to" dip book, Delicious Dips by that same Diane Morgan. Clearly, there are more combinations available than listed here. You can play to achieve the flavor and texture you desire. And, in Diane's book, she never goes to a triple combination, say, sour cream + yogurt + crème fraiche. It's not just the ingredients, either, but the relative proportions.
Once you have your base, what do you put in? Again, that packaged onion soup mix should just be put aside. Cooking, well caramelizing, your own onion will create a far more satisfactory dip. I almost slipped and said "product." Product is what you get when you use the soup mix: familiar, ever dependable, but ultimately boring. Live a little.
Dip making can be just the opportunity to empty your spice rack. Don't be afraid to pick three or four jars of spices that really deserve a happy end of life. A combination of spices and live ingredients — diced scallions, peppers, chives, garlic, or herbs fresh from your garden — will contribute their own flavors and amplify others.
The odds are, your dip creation today will be unique. Never to be repeated. And certainly not to be forgotten.