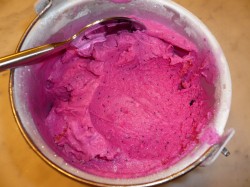 No, that title is not a mistake. It's a step down a new ice cream path that you will find absolutely rewarding. Jeni Britton Bauer is an Ohio legend. She has created an ice cream empire based on loyalty which in turn comes from two things: exceptional quality and amazing creativity. Her commercial success has led to Jeni's Splendid Ice Creams at Home, a book that just may be the best ice cream source ever.
The book is outstanding for two reasons. First, it offers recipes for some of her amazing flavors. Beyond this Beet Ice Cream you'll find:
·

Sweet Corn and Black Raspberry

·

Salty Caramel

·

Cranberry Royale Sorbet

·

Gorgonzola Dolce
And many, many more
Second, Jeni has worked these recipes so that they are home-friendly. The only drawback is deciding which to do first, and then realizing that you'll probably burn out your ice cream machine this summer and you make one after the other.
It's the ingredients that attracted me to this book, beyond the fame that precedes Jeni. When you see Beet Ice Cream with Mascarpone, Orange Zest and Poppy Seeds, what can you do but stop and ponder. Is that real? What will it taste like? What will it look like? And there are NO eggs here, so how thick and custardy can this be?
And the answers are: all good. It's really, really good. That beet taste is different. The consistency is thick and creamy, despite no eggs. You'll be amazed at the influence of the mascarpone. This would be the perfect palette cleanser to have between say the salad and main protein course of a formal dinner party.
This is July 4th weekend in the United States, and it's a big red, white and blue holiday. The hot-pink-red color of this ice cream is perfect. We're going to adorn it with blueberries and whipped cream.
Beet Ice Cream with Mascarpone, Orange Zest and Poppy Seeds
Yield: 1 quart
Roasted Beets Ingredients:
·

2 medium red beets

·

2 tablespoons sugar
Ice Cream Base Ingredients:
·

2 cups whole milk

·

2 ounces [1/4 cup] mascarpone cheese

·

½ teaspoon fine sea salt

·

1 1/4 cups heavy cream

·

2/3 cup sugar

·

2 tablespoons light corn syrup

·

Zest of 1 orange

·

2 tablespoons poppy seeds

·

Poppy seeds for garnish
Preparation:
The Beets:
Preheat the oven to 450F.
Wrap the beets in a sheet of foil and bake them until very soft, about 1 hour. Let the beets cool slightly, then peel them while still warm. Cut into chunks and puree in a food processor. Force the puree through a sieve. Combine ½ cup of the warm beet puree with the sugar. Discard any extra beet puree. Set aside to cool.
The Ice Cream Base:
Mix about 2 tablespoons of the milk with the cornstarch in a small bowl to make a smooth slurry.
Whisk the mascarpone, beet puree, and salt in a medium bowl until smooth.
Fill a large bowl with ice and water.
Combine the remaining milk, the cream, sugar, corn syrup and orange zest in a 4-quart sauce pan, bring to a rolling boil over medium-high heat, and boil for 4 minutes. Remove from the heat and gradually whisk in the cornstarch slurry.
Bring the mixture back to a boil over medium –high heat and cook, stirring with a heatproof spatula until slightly thickened, about 1 minute. Remove from the heat.
Gradually whisk the hot milk mixture into the mascarpone-beet mixture until smooth. Pour the mixture into a 1-gallon Ziploc freezer bag and submerge the sealed bag into the ice bath. Let stand, adding more ice as necessary until cold, about 30 minutes.
Freezing:
Remove the orange zest and pour the ice cream base into the freezer canister of your ice cream machine. Add the poppy seeds and spin until thick and creamy.
Pack the ice cream into a storage container. Sprinkle with a few poppy seeds to garnish. Press a sheet of parchment directly against the surface, and seal with an airtight lid. Freeze in the coldest part of your freezer until firm, about 4 hours.
Source: Jeni's Splendid Ice Creams at Home by Jeni Britton Bauer
A couple of weeks ago Brian and I looked at our DVR and selected the 100th show of No Reservations with Anthony Bourdain. His first show had been in Paris, and so was his 100th. Rather than hit the four star restaurants, the show celebrated a key shift in fine French food. The best young chefs are seeking to open their own restaurants, serving the best food, at far lower prices, in upgraded spaces down side streets that have been forgotten. We looked at some of the fabulous food and could literally taste and smell it. We wanted to just jump on a plane and eat.
So, we did. We got off the plane, dumped the luggage, went downtown, found a side street and in mid-block entered one of those restored old buildings you see in coffee table books. Shining metal and wood with subdued colors and a bar from heaven.
Then we ate the food. And it was simply as good as anything we have ever had anywhere, anytime. Perfect food, complemented by perfect beverages.
So how was Paris? I wouldn't know. We were in Seattle.
I'll be blogging on a very important new cocktail book, Left Coast Librations, by Ted Munat. Ted leads you on a trail of best cocktails from Los Angeles to Vancouver. I asked Ted where to go in Seattle, for drinks and perhaps food. His reply: Spur. Ted says it's the best combination of food and cocktails in Seattle. Modest statement. Spur is simply world class.
A "gastropub", Spur offers incredibly inventive cocktails paired with wonderfully fresh, inspired food featuring the bounty of the northwest. Here's a sampling of the large tapas-style plates Suzen, my daughter Kelly, and I ordered:
Tagliatelle with duck egg, oyster mushroom and pine nuts
Pork Belly Sliders adorned with nectarine, marjoram, and champagne
Washington Chicken Confit [chili-glazed legs with coriander and yogurt]
Sockeye Salmon Crostini
One bite of anything, and you simply stop. There is a "My God" moment where you realized that the food cannot be better. Not one molecule is out of place. The balance of colors, flavors, textures, and temperatures is remarkable. I've written my interpretation of the Sockeye Salmon Crostini below, trying to emphasize the balance achieved along all those lines.
We owe thanks to Ted for his great recommendation, and next week I'll begin blogging his magnificent cocktail book. If you are in, near, or plan to visit Seattle, then Spur is a culinary mandatory stop. Someday soon, I expect you'll see Anthony Bourdain celebrating another milestone in a landmark restaurant. Odds are it'll be Spur.
If you make this appetizer, I do believe it will become a standard for you. It's so good, it just triggers giggles.
Sockeye Salmon Crostini
Yield: 8 servings:
Ingredients:
1 loaf of brioche
⅓ pound smoked sockeye salmon
½ cup mascarpone cheese, at room temperature
¼ cup heavy cream
Capers
⅓ cup pickled shallots
Preparation:
Slice the brioche and then quarter the pieces. You want single bit snacks here. Lightly toast the bread. It needs to be firming, but NOT firm, not crisp. [I honestly don't remember if the bread at Spur was brioche but I do remember it being lightly toasted and soft so that there was no crunch to contrast with the cheese].
With a whisk, mix the mascarpone and heavy cream. At Spur, the cheese was subtle and much more spreadable than straight mascarpone. Suzen and I experiment with this cheese and cream combo, at room temperature, and found it comes close to duplicating the Spur dish.
Spread a layer of mascarpone-cream on each piece of bread. Sprinkle with capers and shallots. Top with a bite size piece of smoked salmon. At Spur, the salmon was both smoked and sticky sweet, as if honey were involved somewhere in the process. If I can find out just what it was, I'll let you know.
Arrange on a plate, sit, enjoy.
Source: Spur, Seattle Washington