Many drink recipes, including my margarita, use sugar syrup as an essential ingredient.  For some beverages, including that margarita, a citrus-flavored sugar syrup can boost the flavor.  Making a citrus syrup is just as easy as making a standard one.  Try this recipe and see if doesn't add a new dimension to your beverages. [ For my margarita go to http://www.cookingbythebook.com/blog/recipes/not-your-mothers-margarita],
Getting balance in this syrup does depend on the size and quantity of the orange, lemon and lime you add.  The orange is going to contribute the most liquid, so keeping it to medium size is important.  One lime is plenty.  You'll be surprised at how easily you can pick up the overtones of just one.  If you prefer a tarter syrup, then adding a second lime will do it.  And that one lemon is needed, too.  You may not taste the flavor directly, but it is contributing to the total flavor balance.
The syrup is always best fresh, but it can keep for two weeks in an airtight container in your refrigerator.
Citrus Simple Syrup
Ingredients
2 cups sugar
1 cup water
1 medium orange, sliced thinly
1 lemon, sliced thinly
1 lime, sliced thinly
Preparation
Put the sugar and water in a wide sauce pan — you want surface area for laying down the fruit slices.  Stir over medium heat bringing the mixture to a boil.  Boil for a moment more until the liquid starts to clear.
Add the fruit slices and distribute evenly over the top.  Turn the heat to medium-high and bring back to a boil, stirring and pressing the fruit to release the juices.  When the mixture returns to a boil, lower the heat to simmer and leave for 5 minutes.
Turn off the heat and remove the fruit slices, squeezing each one to release any final juice.  Cool to room temperature, place in an airtight container and refrigerate.
Source: Brian O'Rourke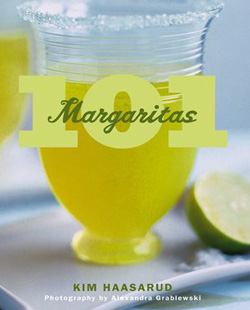 This is the first blog is a new series devoted to mixology.  After chocolate, my favorite passion is mixing cocktails.  In these blogs, I'll focus on great beverage ideas, discuss options for crafting the best in cocktails, and share some of the best references for finding terrific drinks.
Let's start with a terrific combination: guilt and redemption.
For years I have been making really good margaritas.  Well, almost margaritas.  I've been adding a special ingredient and doing a certain twist on the classical recipe.  Suzen would say, "This is great!  What did you do?"
I am ashamed to admit that I would answer her with, "It's the tequila."  I never had the courage to look her in the eye and admit, "It's the sugar."  Yes, sugar in a margarita.  Technically, sugar syrup.  But it's sugar.  And I even used lemon juice instead of lime.  I felt guilty.  I had desecrated the classic recipe.  But, God, was it good.
Now, I am redeemed.  By two serious beverage experts, not just one.  Both Kim Haasarud in 101 Margaritas and Lucy Brennan in Hip Sips recommend sugar syrup in their classic margarita recipes.  And both suggest using a mixture of half-lime and half-lemon juice for the tart part.  I am not a drink defiler.  I am an accidental mixologist.
Continue reading "Dedicated Drinker's Diary #1: Not Your Mothers Margarita" »