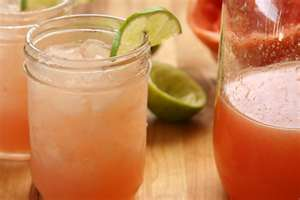 With a son, daughter-in-law, and twin grandsons in Austin, Suzen and I have a very deep Texas connection. When we fly in for a visit, there is no question about the first stop. We always arrive with a newly refreshed list of barbeque joints and we take the family to a wooden stand offering a smoky pig paradise. Well, there can be beef bounty, too. To be honest, I like a platter with it all: meat, poultry, potato salad, cole slaw, and a whole container of rib sauce on the side.
When we are far away from Texas hickory smoke back in New York, my family keeps me beaming with a steady array of Texas cookbooks. Yes, folks, Texas is a different place. It's on this planet and in the United States, but Texas is just not like anywhere else. There's a whole bookshelf of Texas cookbooks that you can sample and enjoy, offering combinations and ideas that you just won't see anywhere else. And that's a shame.
Recently, my family sent me The Texas Cowboy Kitchen by Grady Spears and June Naylor. I know, "cowboy" cooking. How good could that be? Let's just say that the cowboy-inspired origins of these recipes might make you want to go buy a horse. To ride, for Pete's sake, not eat!
This book belongs both in your kitchen and on your coffee table with its beautifully photographed recipe temptations:
Bread-and-Butter Jalapenos
Goat Cheese and Caramelized Onion Mashed Potatoes
Dr. Pepper-Marinated Skirt Steak
Goat Cheese Sliders with Creamed Onion Jam
Suzen and I actually made our Valentine's Day dinner out of this book. We're delighted to recommend Texas Cowboy Kitchen and offer up some of its recipes to you. Let's begin where Suzen and I did: with a beverage.
If you like your margarita with a tang, then this version is perfectly easy. Okay, to be honest, I like both tang and sweetness, so I've add the sugar syrup here. The original calls for just tequila, lime juice, and fresh grapefruit juice.
When I say fresh, I do mean fresh squeezed. Grapefruit juice from a container, no matter how much you pay for it, simply cannot compare with having that juice running wild on your floor. Oxidation is a terrible thing, so buy grapefruits and squeeze them just as you make this winner. It's winter now and for grapefruits that means high availability and low prices. It's the ideal time to treat yourself.
This is one "margarita" where I don't want to adorn the rim of the glass with either salt or sugar. Use a premium tequila here and savor the pure smoky flavor backlighted by the grapefruit juice.
La Paloma [The Dove]
Yield: 2 generous drinks
Ingredients:
3 ounces tequila
Juice of one lemon
8 ounces of freshly squeezed grapefruit juice
2 ounces simple sugar syrup [optional but interesting]
Ice for the shaker plus shaved for the cocktails glasses
Sprig of mint
Preparation:
Combine all of the ingredients in a shaker filled with ice cubes. Shake well, and strain into cocktail glasses filled with shaved ice.
If you wish, garnish the glass with a lime wedge. And, in true Texas style, your cocktail glass can be something that used to hold jam.
Source: The Texas Cowboy Kitchen by Grady Spears with June Naylor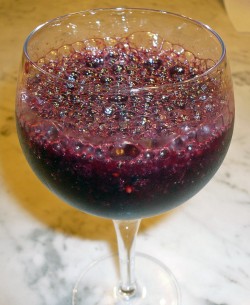 There is an expression I dread to hear: "I'm over edge." When Suzen says that, there is the threat of a tornado, flooding, or quake. Probably simultaneously.
After a recent stressful event here, she looked at me and said, "I need a drink."
"Mojito?" I suggested her favorite.
"No." She said.
"Margarita?"
"No." She said it louder.
Her next sentence was going to be that dreaded, "I'm over the edge."
"You want something different," I said, cutting her off.
She nodded yes.
"Go to the front room," I suggested, hoping to get her out of the kitchen. I opened the refrigerator, found some goodies, and created this super smoothie margarita chock full of fruit flavors.
I gave her a glassful. "Yum," she said.
Disaster averted.
You can make this with just the blackberries and have a good drink, but the banana here adds a flavor layer that is obvious and delicious. It makes the drink a bit more viscous. You'll want to balance the berry/banana flavor here, and you may need a bit more sugar syrup depending on the ripeness of your fruit.
Blackberry Banana Margarita
Yield: 1 full blender, probably 6 drinks
Ingredients:
½ cup white tequila
½ cup orange liquor
½ cup lime juice
½ cup simple sugar syrup
1 pint of blackberries
1 large, ripe banana
Preparation:
Put everything in the blender and process until the berries and banana are smooth. Then add enough ice to fill the blender to the top. Process until the ice is pulverized and you have a smooth consistency. Serve into chilled glasses, top with a whole blackberry.
Source: Brian O'Rourke