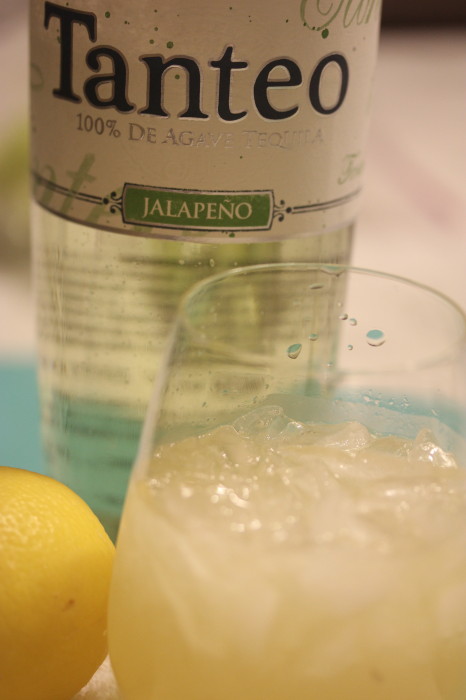 I am not a fan of "adulterated" food and beverages. A flavored tequila? I'll make my own.
Not any more. Tanteo is a new firm with a line of flavored tequilas that you must, must try: jalapeno, cocoa, and tropical.
Jalapeno tequila? You are thinking what I did: kitsch, ugly flavor, waste of money.
"The best places are serving it. My customers love it. You will, too." My local liquor store is literally around the corner from me. I don't have to cross a street to get to the smallish store with the smiling Indian entrepreneur. He's always so calm and, in a tight space, he always seems to have those very latest thing.
So, over time, I have come to trust him. If he says try it, I do.
You can just sip Tanteo Jalapeno. Slowly. Your mouth fills with a full tequila blow and then comes the aftertaste, strong and surely jalapeno yet not overwhelming. Suzen and several of her staff have sampled it here at Cooking by the Book, all with the same reaction: eyes that open wide in surprise and smile that says, "Yes."
On the neck of the bottle, there is one of those little pamphlets with recipes. The Jalapeno Margarita was my first test. I did, I admit, take a hard look at this. The only booze here is the jalapeno tequila: no triple sec, no orange liquor. Just the tequila.
I made a batch for our Saturday dinner, which happens to have been guacamole and chips. Suzen had done a baby shower in the afternoon and we had eaten a full meal at 3PM. So, at 8PM, we were hungry but we just wanted a little something. Chips and margarita sounded fine to both of us.
Chips and a jalapeno margarita were oh so fine.
I really, truly, sincerely encourage you to try this tequila and this beverage. It's exceptional. Do not, not, over pour the tequila. You really want to follow the proportions here. And, in full disclosure, I made mine with lemon and not lime juice. Did I miss something? I don't know, but I'm going to find out next Saturday!
Jalapeno Margarita
Serves: 1
Ingredients:
2 ounces Tanteo Jalapeno Tequila
1 ounce freshly squeezed lime juice
¾ ounce agave nectar
Preparation:
Place all the ingredients in a cocktail shaker with ice. Vigorously shake to chill. Pour into an ice-filled glass, possible rimmed with salt or sugar.
Source: Tanteo Tequila Company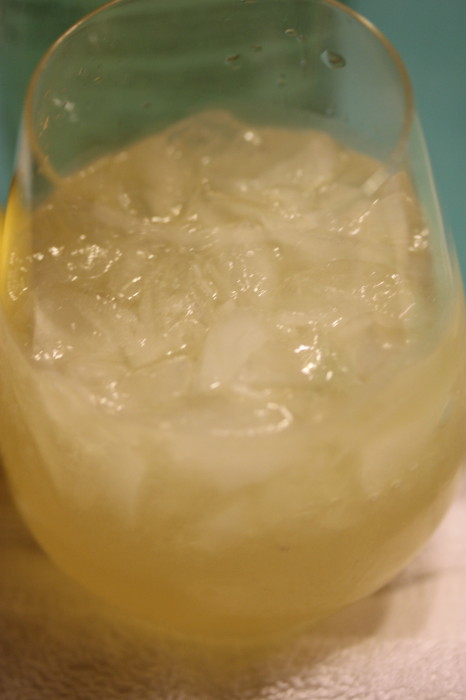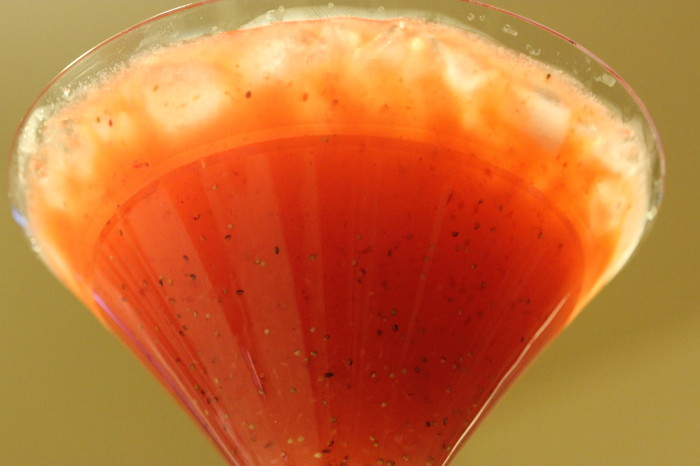 Ultimate is one of those words that just might seem a bit egotistical. The ultimate? The best?
"Best drink ever," Suzen beamed at me. She meant it. "How did you do this?"
"Sugar," I said.
"I know that. What else?"
"Aperol."
"No. Tell me the truth or I'll be forced to …"
"It's Aperol." I was telling the truth.
"Brian?"
"Yes?"
"How much Aperol do we have?"
In the past few months, I've touted Aperol as the liqueur that,  for those of who find Campari too harsh, anyone can enjoy with a smile. Aperol is orange and bitter. Margaritas demand orange and sweet. How can you make Aperol work here?
You make this strawberry margarita with strawberry puree — the recipe was posted a couple of days ago here. Basically, take 4 cups of strawberry halves and ¾ cup of sugar, and put them in a blender. Let it rip for 3 minutes. Sieve if you want, but the picture above shows those pretty black seedlets that I think gives character to the drink.
The balance of flavor here is perfect. You get the orange from the Aperol, plus the undertones of bitterness to contrast with the puree which is, in a word, sweet.
The drink is seductively smooth and does not overpower you like many a margarita can. This is about enjoying flavor. You'd have to drink a boatload to get smashed. Course, it tastes so good, a boatload is feasible.
There are liqueur options below. Besides Aperol, Rick Bayless suggests optionally paring up with Cointreau or Fragoli, the Italian strawberry liqueur. There are many, many flavor combinations here to enjoy. Somewhere, you'll find a favorite.
The recipe below calls for Strawberry Sugar for rimming the glass. It's really optional but easily done. To make it, just put equal amounts of freeze dried strawberries and granulated sugar in spice grinder or small food processor and pulverize.
Ultimate Strawberry Margarita
Yield: 1 drink
Ingredients:
Strawberry sugar for rimming
1 lime wedge
1 ½ ounces blue agave blanco tequila
¾ ounce lime juice
1 ounce Aperol, or ½ ounce Aperol and ½ ounce Cointreau or ½ ounce Aperol and ½ ounce Fragoli
1 ½ ounces strawberry puree
6 to 10 ice cubes
Strawberry fan for garnish [optional]
Preparation:
Spread the Strawberry Sugar on a small plate. Moisten the rim of a 6-ounce margarita glass with lime wedge and upend the glass onto the sugar to crust the rim.
In a cocktail shaker, combine the tequila, lime juice, Aperol [and other liqueurs], strawberry puree and ice. Cover and shake vigorously until frothy and cold. Tiny ice crystals will appear in the drink after about 15 seconds of shaking. Strain into the sugar-rimmed glass and serve immediately. Garnish with the strawberry, if you like.
Source: Frontera: Margaritas, Guacamoles, and Snacks by Rick Bayless with Deann Groen Bayless
Photo Credits: Canon T2i, 18-55mm lens at F/5.7, 1/60second at ISO 3200 [no flash]