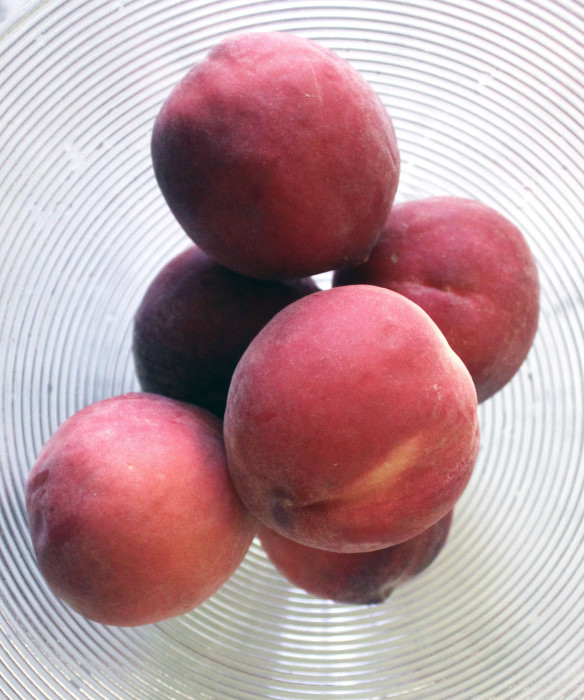 How best to drink a peach? White or yellow, a Bellini is a noble way to devour every flavor molecule. At another extreme, there is Peach Agua Fresca, which was blogged here just a few days ago. The agua fresca, alcohol aside, is equally refreshing.
And, on yet another dimension — because it is does NOT lie between Bellini and agua fresca —is the peach margarita. Frozen, of course. Salt on the rim, if you desire. Or sugar. It's a fruit you understand.
From The Perfect Peach, here is a recipe which I do enjoy. It has clever extensions, like the grenadine for both color and sweetness and it uses both lemon and lime juice. This is a recipe that has been honed and honed over bushels of peaches. It's a good one, and you'll enjoy it.
Is this what I make? I have but I do have some changes that I find excellent. I make mine with all lemon juice, no lime. And no triple sec or other orange liquor. You know that dusty bottle of peach liqueur on the back of your shelf? Use it now, it place of the orangey triple sec. If you are going peachy, go peachy.
Instead of 1 tablespoon of sugar and 1 of grenadine, I just use a quarter cup of sugar [or a half cup of simple syrup]. Too sweet? Well, it depends on the status of the peaches. You can back off the sugar if the peaches are really, really over the top. But if the peaches are at all under ripe, you need sugar to accelerate the flavor.
What's all this mean? The Peach Margarita is quite flexible and adaptable to your personal tastes, the bottles in your liquor closet, and the quality of your peaches. If you make this drink ten times, you'll have ten similar experiences but never the same.
If you make a standard margarita over and over again, with the same ingredients, you'll get a common flavor. Strawberries? Pretty much the same flavor every time. Peaches? Different every time, which is why bartending is an art, not a science.
Oh, you don't have a liquor closet? Only a liquor shelf? You are planning on expansion, aren't you? Really, you should consider it. You could expand your current kitchen making the bar the centerpiece. And you could add a little refrigerator to store fruit and garnishes and different sugar syrups.
Actually, I don't have a liquor closet either.
---
Frozen Peach Margarita

Yield: 4modest servings, 2 large

Ingredients:

Coarse salt, for coating
1 lime wedge
1½ cups peeled, pitted, and sliced fresh or partially thawed frozen peaches
½ cup tequila
½ cup freshly squeezed lime juice
½ cup triple sec
1 tablespoon freshly squeezed lemon juice
1 tablespoon sugar
1 tablespoon grenadine syrup
3+ cups ice
4 fresh mint leaves for garnish, optional
Preparation:

Make a small mound of salt on a saucer. To prepare the glasses, rub the lime wedge (or spent lime peels after juicing) along the rims of 4margarita glasses. Before the rims dry, invert each glass in the salt and rotate it to coat the circumference of the rim with salt. Put the glasses in the freezer to chill.
Combine the peaches, tequila, lime juice, triple sec, lemon juice, sugar, grenadine syrup, and ice in a blender and process until smooth.
Pour into the prepared glasses, float a mint leaf on each serving, and serve immediately.
Source: The Perfect Peach

Photo Information Canon T2i, EFS60mm Macro Lens, F/3.5for1/30thsecondatISO‑1600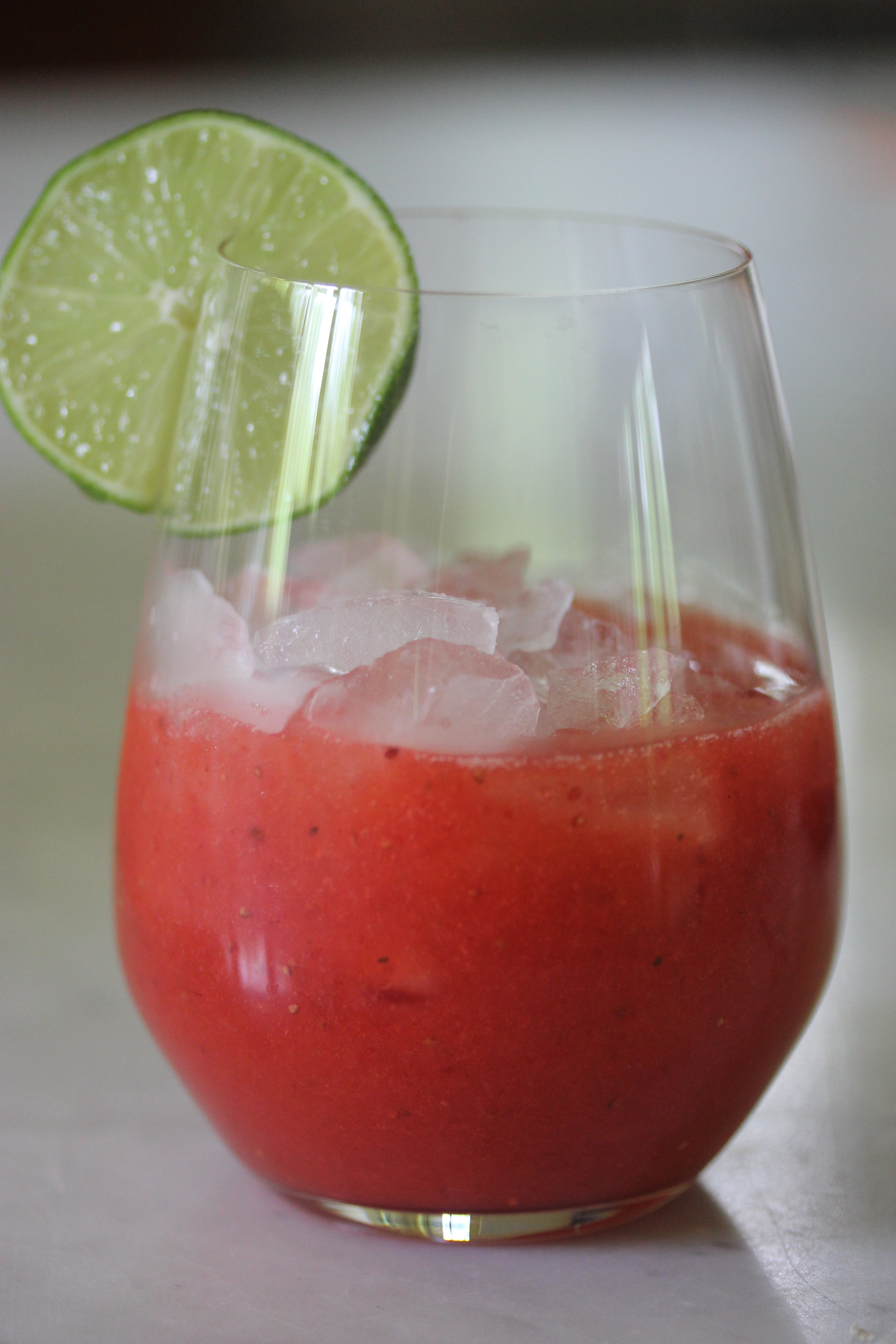 Tomorrow is the Fourth of July. Red, white, and blue day. Red is for strawberries, to be consumed in cake, pie, and beverages aplenty.
This post is really about two things: the lemonade pictured above and puree, which has multiple uses over and above mere lemonade. Once the puree is prepared, then you options are diverse:
Strawberry lemonade: 1 part puree to 3 part lemonade [canned is okay but see other blog posts here for outrageous lemonade ideas using lemons from scratch
Strawberry Agua Fresca: 1 part puree to 3 parts cold water
Strawberry Fritzer: 1 part puree to 3 parts cold club soda or seltzer water
Strawberry Margarita: see the recipe below
My 1-to-3 proportions are simply my personal preference. Depending on the flavor power of your strawberries and the ache in your sweet tooth and the acidity of your lemonade, you'll want to adjust the proportions. Do a side experiment with chilled liquids before making a major decision.
Strawberry Puree
Yield: 2+ cups
Ingredients:
4 cups of perfectly ripe strawberry halves [that's a four cup measure randomly filled with halves, not packed]
¾ cup of granulated sugar
Juice of one small lemon
Preparation:
Before you halve the berries, wash and dry them. Make sure you snip off the end and any sore spots.
Put the berries in a blender, or, better, a VitaMix. Blend for two minutes until liquefied. Add the sugar and lemon juice. Blend another minute or two. If using a blender, you may want to sieve the liquid. If you are using a Vitamix, the machine is so powerful that sieving is really not necessary.
Store in an airtight container in the refrigerator. The puree is best used on Day 1.
Source: Brian O'Rourke
Photo Information: Canon T2i, 30MM, F/4.5 for 1/50 second with ISO 800
Strawberry Margarita from Rick Bayless Frontera Grill
Yield: 4 drinks
Ingredients:
1/2 cup fresh lime juice (2 to 3 limes)
1/4 cup plus 1 teaspoon sugar
Lime wedges
Coarse salt
3/4 cup  Tres Generaciones Blanco Tequila
3/4 cup  pureed strawberries
1/4 cup  cucumber juice  (peel and cube fresh cucumber and puree in a blender)
About 1 cup coarsely broken ice cubes
Preparation:
Make limonada (limeade).  Combine lime juice, sugar and a scant 2/3 cup of water in a glass or plastic pitcher.  Cover and refrigerate for at least 2 hours (but no longer than 24 hours).
Finishing and serving the margaritas.  Rub the rims of 4 martini glasses with a lime wedge, then dip them in a dish of coarse salt.  In a shaker, combine the limeade, tequila, strawberry puree and cucumber juice.  Add ice and shake 10 to 15 seconds, then pour into the prepared glasses.
Tags: puree, strawberries