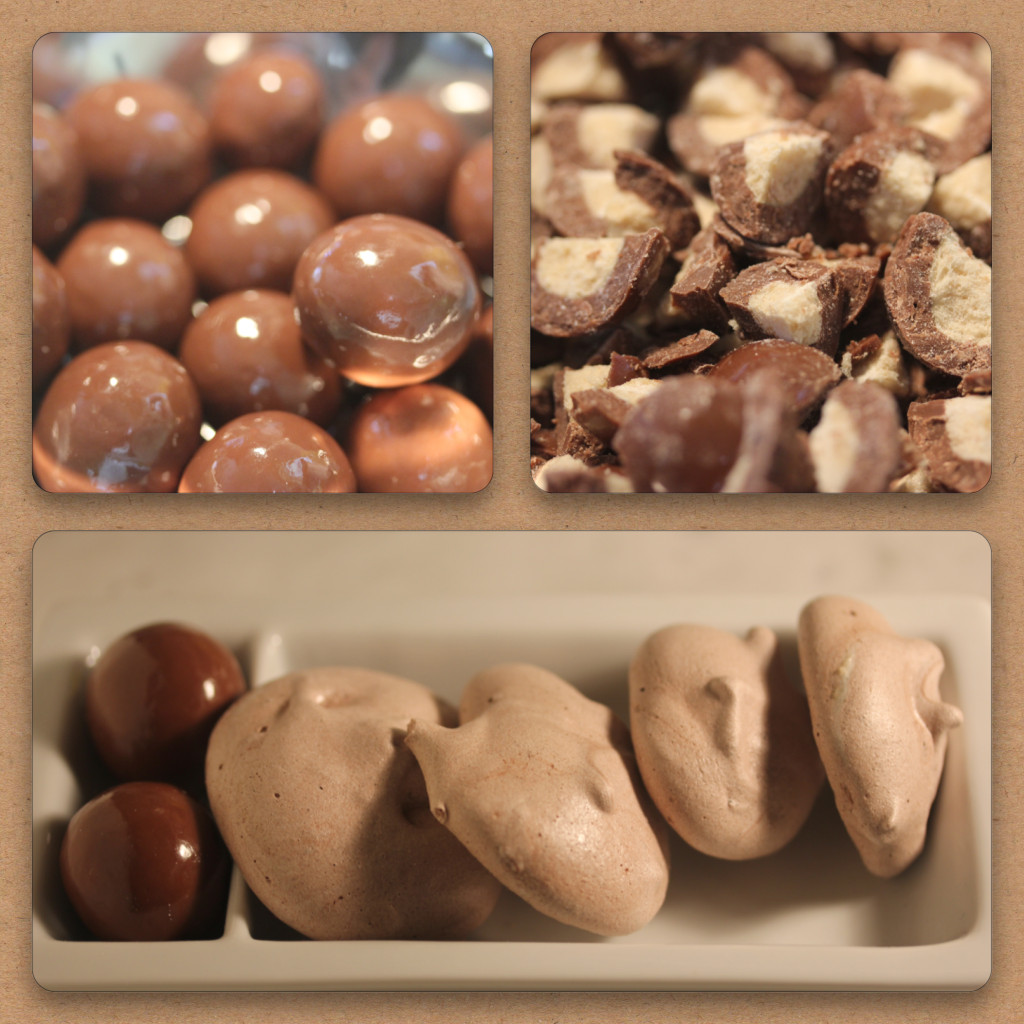 In 1982, I bought a cookbook which has been my sidekick ever since. The Meringue Cookbook by Margaret Shakespeare was typical for its time: just under 10" X 7", 220 pages, mediocre paper, no pictures. But great recipes for that fluffy stuff I just relish. Truth is, all I ever made from The Meringue Cookbook was one cookie recipe but I've just rescanned it and there's much more there – items I'll be sharing with you.
Why did I rescan the old book? Because I have a new sidekick: Meringue by Linda Jackson and Jennifer Evans Gardner. What can happen in meringue-land in 30 years. A lot. Physically, this book still comes in at 220 pages, but this one is 10" x 9" on fine quality paper, bigger and beautiful fonts, lots of inviting pictures and recipes that are marvelous.
Meringue is an important book, one that you should consider. Here you will find cookies, pavlovas, bars, tarts, pies, cakes, tortes, vacherins, dacquoises, and frostings. There is year of grand recipes here, ready for you and your eggs and that whip attachment in your stand mixer.
The photography is quite contemporary and entirely seductive. The Banana Cream Pavlova will have your tongue on the page. I know, that sounds disgusting. Look at the picture on Page 76, though, and temptation will be upon you.
I'm testing recipes already, one or two a week. They work perfectly, and I thank Meringue for the techniques it conveys.
I am a fan of drop-sized meringue cookies. They have always haunted me. I cook too long or too short, too hot or too cool. I use too much sugar or not enough. I have never, ever crafted a meringue like you have in Paris. Until now. The technique here, 90 minutes at 200°F and then an hour more with oven heat off, produces perfect French meringue cookies. Dry, but not crackled. No inner layer of bubbles or, or worse, moist bubbles.
Perfect.
"Why are you buying malt balls?" Suzen asked me at our candy store on Saturday.
"For you," I said.
She snorted, because she does like malt balls and I did not use to like them and then we got this recipe for Malt Ball Ice Cream and … Well, I think she thought it was all a set up for ice cream on Sunday. Instead, she got these Malt Ball Meringues. She's happy. I'm happy. We are out of malt balls. Just part of the balance of life.
Malted Milk Meringues
Yield: about 48
Ingredients:
3 large egg white, room temperature
1/8 teaspoon cream of tartar
1 cup superfine sugar
2 tablespoons unsweetened cocoa powder
½ teaspoon vanilla
6 ounces high quality malt balls, coarsely chopped
Preparation:
Preheat the oven to 200°F.
In the bowl of an electric stand mixer fitted with the whisk attachment, beat egg whites and cream of tartar, increasing the speed to medium-high until soft peaks form. Gradually add the sugar, about a tablespoon at a time, beating on high until peaks are stiff and glossy. Mix in the cocoa powder and vanilla, about 1 minute more. Gently fold in the malt balls.
Drop by well-rounded teaspoons onto parchment-lined baking sheets, about 1 inch apart. Bake for 90 minutes. Turrf the heat and leave the meringes to dry, 1 hour or more. Cool completely before removing from baking sheets.
Source: Meringue by Linda Jackson and Jennifer Evans Gardner
1 cup half and half
¾ cup sugar
pinch of salt
2 cups heavy cream
¼ tsp vanilla extract
2/3 cup malt powder
6 large egg yolks
2 cups malted milk balls, coarsely chopped
Warm the half-and-half, sugar, and salt in a medium saucepan. In a large bowl, whisk together the heavy cream, vanilla, and malt powder and set a mesh strainer on top.
In a separate medium bowl, whisk together the egg yolks. Slowly pour the warm mixture into the egg yolks, whisking constantly, then scrape the warm egg yolks back into the saucepan.
Stir the mixture constantly over medium heat with a heatproof spatula, scraping the bottom as you stir, until the mixture thickens and coats the spatula. Pour the custard through the strainer and whisk it into the malted milk mixture. Stir until cool over an ice bath.
Chill the mixture thoroughly in the refrigerator, then freeze it in your ice cream maker according to the manufacturer's instructions. As you remove the ice cream from the machine, fold in the chopped malted milk balls.
Yield: 1 1/2 quarts
Author: David Lebovitz
Source: The Perfect Scoop