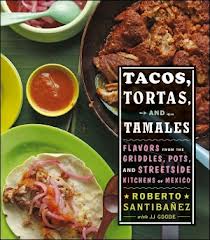 I do love my lemonade but this Mexican Limeade has won my taste buds. It's spectacularly easy to do, uses very little sugar and produces a beautiful lime colored cooler you can use anytime. Racking those fall leaves? Have an afternoon sweat planting bulbs? Here's your solution.
To make this limeade, you just put water, sugar, and couple of quartered limes in the blender. That's it. An easier recipe has not been devised.
This recipe is from the delightful book Tacos, Tortas and Tamales by Roberto Santibanez [published by Wiley]. In the coming weeks, you'll see many recipes here from this shining new book. The recipes are street authentic and terrific. Here you'll find Duck Confit Tacos. And, for my Brooklyn-born wife, Chicken Liver Tacos. Yes, chicken liver. I told Suzen, she did not believe me, I brought her the book, she apologized, and we'll be testing soon.
In the meantime, chill.
Oh, of course, you modify this recipe many ways. Add a lemon. Add some alcohol. This is a fast way to a very different margarita
Mexican Limeade
Yield: 4 large glasses
Ingredients:
2 limes, rinsed well, quartered and seed clicked out
¼ cup sugar
3 cups of water
Ice cubes
Preparation:
Combine the limes, skin and all, and sugar in a blender along with the three cups of water. Blend until very smooth, then strain through a sieve into a large pitcher.
Season to taste with sugar. Stir thoroughly, pour the limeade into ice-filled glasses, and drink immediately.
Source: Tacos, Tortas and Tamales by Roberto Santibanez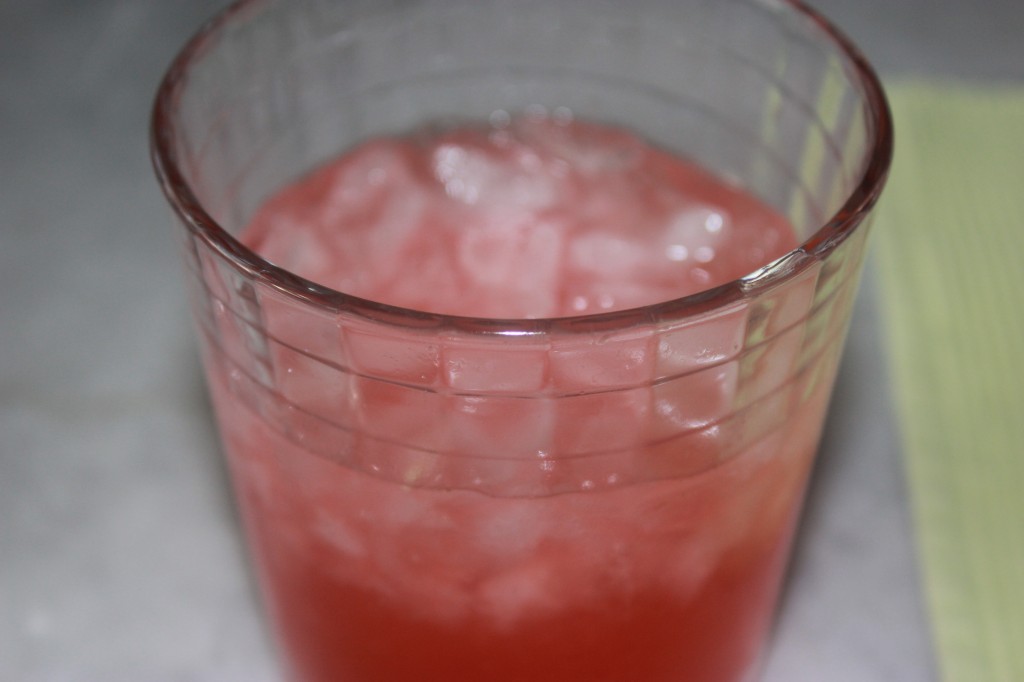 Alright, it's a bad picture. I understand that but I have a very, totally, perfectly legitimate reason.
I made this drink and just took a little sip to make sure it was blogable. Well, it's very blogable, so I took another sip and then a deep sip and then some more. And then I realized I had yet to take the picture. So I put the glass down and tried to angle a decent picture of what was left. That was a lot of work and I got thirsty so I finished the drink.
It's that good.
It all began with Suzen. "There's a grapefruit in here that is dead. Use it or toss it," she said staring into the refrigerator. I hate to be wasteful so I went to www.difforsguide.com, the best online source for constructing cocktails. You tell them what you have, and they give you options — sometimes lots of options — for creating a beverage.
This cocktail calls for Maraschino syrup, but I used Grenadine, hence the very red color. I did NOT add any additional sugar, but I found the drink sweet to my tongue. I'd expected some tang with the grapefruit and lime juice. Maybe the secret is to use very, very, very old grapefruit!
This is an easy cocktail to assemble and will certainly scale well for a summer party. Just plan ahead when buying the grapefruit.
Fruit Tree Daiquiri
Yield: 1 cocktail
Ingredients:
2 shots rum
¾ shot apricot brandy
¾ shot freshly squeezed grapefruit juice
¾ shot freshly squeezed lime juice
¼ shot Maraschino syrup
½ shot mineral water [optional]
Preparation:
Fill a cocktail shaker with the ingredients. Add ice. Shake to very cold. Pour into a cocktail glass filled with shaved ice.
Source: www.diffordsguide.com