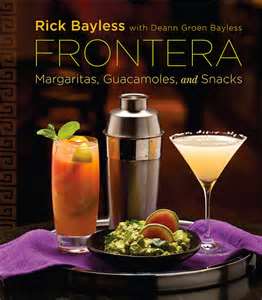 Mexican food maven, Rick Bayless, has a wonderful new book. Frontera: Margaritas, Guacamoles and Snacks offers sensational ideas from his famed Frontera Grill restaurant.
Here's a beverage idea, a duo idea, that is not a margarita but does employ the ever-versatile tequila. It's a sweet agua fresca that can be converted into a delightful cocktail.
The agua fresca is watermelon with lime juice and sugar. By itself, it's very satisfying on a warm day. [Oh, come on, spring will come. Summer will follow. Have some faith. Wait a moment here, I have to close my window. So damn cold …]
And for the cocktail, some tequila and that wonderful liquor Aperol transform agua fresca into something with deeper meaning. Well, deeper flavor.
Watermelon Lime Agua Fresca
Yield: 4 cups
Ingredients:
A 3-pound chunk of ripe, seedless watermelon
½ cup fresh lime juice
½ cup sugar
Water
Preparation:
Cut the rind off the watermelon, then cut the fruit into rough 1-inch chunks. You need about a generous 4 cups [1 ½ pounds] cleaned cubes.
Put the cubes into a blender — or better a Vitamix — then add the lime juice and the sugar. Blend until smooth.
Now, look at the measure scale on the side of your blender and add enough water to make 4 cups. Blend to mix. Strain to remove any seeds [that's the good part about using a Vitamix: typically no seeds survive and you get all the nutrients].
Pour into a storage container, cover and refrigerate. This agua fresca is best used the day it is made.
Watermelon Lime Cocktail
Yield: 8 cocktails
Ingredients:
One batch of watermelon lime agua fresca [recipe above]
1 ½ cups blue agave blanco tequila
¾ cup Aperol
8 cups ice cubes
Preparation:
In a large pitcher, combine the tequila, Aperol and watermelon lime agua fresca. Stir to combine, then cover and refrigerate until chilled, about 2 hours.
When ready to serve, pour about ¾ cup of the cocktail mixture into each of eight 12-ounce highball glasses. Add about a cup of ice to each one and serve immediately.
Source: Frontera: Margaritas, Guacamoles, and Snacks by Rick Bayless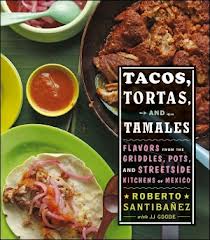 I do love my lemonade but this Mexican Limeade has won my taste buds. It's spectacularly easy to do, uses very little sugar and produces a beautiful lime colored cooler you can use anytime. Racking those fall leaves? Have an afternoon sweat planting bulbs? Here's your solution.
To make this limeade, you just put water, sugar, and couple of quartered limes in the blender. That's it. An easier recipe has not been devised.
This recipe is from the delightful book Tacos, Tortas and Tamales by Roberto Santibanez [published by Wiley]. In the coming weeks, you'll see many recipes here from this shining new book. The recipes are street authentic and terrific. Here you'll find Duck Confit Tacos. And, for my Brooklyn-born wife, Chicken Liver Tacos. Yes, chicken liver. I told Suzen, she did not believe me, I brought her the book, she apologized, and we'll be testing soon.
In the meantime, chill.
Oh, of course, you modify this recipe many ways. Add a lemon. Add some alcohol. This is a fast way to a very different margarita
Mexican Limeade
Yield: 4 large glasses
Ingredients:
2 limes, rinsed well, quartered and seed clicked out
¼ cup sugar
3 cups of water
Ice cubes
Preparation:
Combine the limes, skin and all, and sugar in a blender along with the three cups of water. Blend until very smooth, then strain through a sieve into a large pitcher.
Season to taste with sugar. Stir thoroughly, pour the limeade into ice-filled glasses, and drink immediately.
Source: Tacos, Tortas and Tamales by Roberto Santibanez