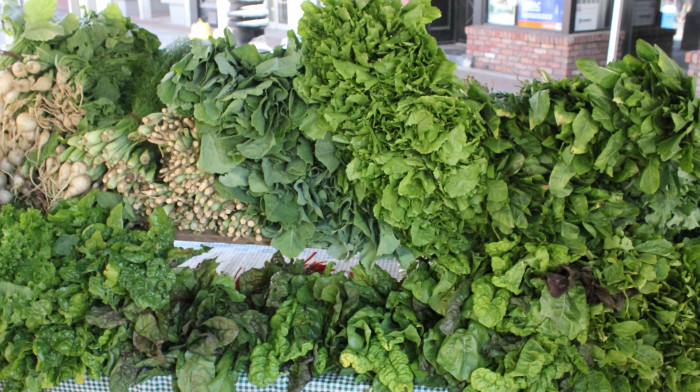 The image is from a greens and herb vendor at the Kingston farmers market. Sometimes these guys can be lifesavers.
Suzen's cooking school, Cooking by the Book, offers team building classes for corporations. Teams come here and socialize for a bit, then cook together in our very large kitchen, and naturally eat what they have just cooked. Enough people have passed through our kitchen to fill Giants Stadium. Twice.
So Suzen has seen everything. She tries to anticipate what is coming by planning and planning. Asking questions and asking again.
There are, despite all that, occasional surprises. She tries to anticipate food needs for those who come to cook and eat. Allergies, vegetarians, vegans — everyone is welcome and everyone can be prepared for.
Except, sometimes as we are plating the food they have prepared, Suzen will get a note from someone in the event saying, typically, "I'm actually vegan and I don't want to make a fuss but while I just cooked that chicken, I can't eat it."
That's why Suzie usually has on hand a stash of Portobello mushrooms, ready for a quick turn in the sauté pan. But what if the person, God bless them, is allergic to mushrooms, too?
Thank God for Alice Waters. In her new book The Art of Simple Food II you will find a lifesaving recipe, right there on page 40, second recipe in the lettuce chapter. The idea is refreshing, simple, and refreshing simple: combine greens, herbs, yogurt and some spices to create a lovely tortilla filling. Complement the fresh garden ingredients with the nutty warmth of a grilled tortilla, and you have a meal anyone, or any rabbit, can enjoy.
We do hope you'll visit Cooking by the Book and enjoy an event with your team or your family. Don't hesitate to mention any special food needs. We please any palette. It's Suzie's pleasure.
Garden Salad Tortilla 
Yield: 1 serving
Ingredients:
1 handful of salad greens
A few tender herb leaves
Spoonful of plain yogurt
Sprinkle of salt [exotic is grand]
Pinch of freshly ground spices [cumin, coriander, nigella, or fella]
1 whole wheat tortilla
Drizzle of good olive oil
Preparation:
Gather, wash and dry well the greens and herbs.
In a small bowl, mix together the yogurt, salt, and spices.
Over a gas burner or in a hot pan, grill/warm the tortilla. Place the warm tortilla on a plate, spoon the yogurt over half the tortilla, add the greens and finish with the olive oil.
Fold, bite, savor.
Consider Alice's advice to be growing your own greens, no matter how small your living space.
Source: The Art of Simple Food II by Alice Waters
Photo Information [top picture]: Canon T2i, EFS 60 mm Macro Lens, F/5.6 for 1/20th second at ISO-3200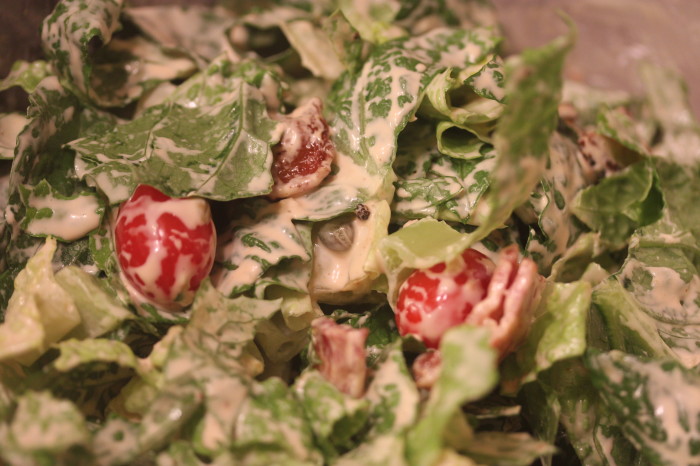 The picture above is Suzen's interpretation of this recipe.
"It's raining," she said. "I'm not grilling."
And so, we did not grill the romaine lettuce but simple served it tossed with bacon, tomatoes and dressing. Either way, this salad is treat, familiar yet dramatically different. This dish easily forms a full meal. Miss the bread of your traditional BLT? How about a warm dinner roll with butter.
Particularly if you do not grill the lettuce, you can create this meal in minutes.
Chilled white wine. You probably want that along with the rolls.
This recipe comes from 365 Comfort Foods from Better Homes and Gardens. Just as that BLT sandwich is something many of us crave [I can do it daily], this is a salad you'd enjoy on a regular basis.
Finally, when baking the bacon, consider topping it with brown sugar or maple syrup. The sweetened bacon will contrast with the buttermilk dressing and give your dish an added lift.
BLT Salad with Buttermilk Dressing
Yield: serves 4
Ingredients:
4 slices bacon
2 tablespoons crème fraiche or sour cream
2 tablespoons mayonnaise or salad dressing
1 tablespoon snipped fresh dill
1 tablespoon cider vinegar
1 clove garlic
¼ cup buttermilk
Freshly ground black pepper
2 head romaine lettuce
 Olive oil
1 cup cherry tomatoes, halved
½ cup shaved Parmesan cheese
Preparation:
Preheat the oven to 375°F. Arrange the bacon in a shallow baking pan. Bake about 15 minutes or until crisp. Remove the bacon and drain on paper towels. Rumble the bacon and set aside.
Meanwhile, for the dressing, in a small bowl whisk together the crème fraiche, mayonnaise, dill, vinegar, and garlic. Whisk in the buttermilk. Seaton to taste with salt and pepper.
Cut each head of the lettuce in half lengthwise. Brush lettuce with oil and sprinkle with additional salt and pepper. For a charcoal or gas grill, place the lettuce on the rack of a covered grill directly over medium heat. Grill about 2 minutes or until lightly charred, turning one halfway through grilling. For a grill pan, preheat the pan, add the lettuce and cook as above.
Place the lettuce on 4 plates. Sprinkle over the bacon and tomatoes. Pour over the dressing and sprinkle with the Parmesan.
Source: 365 Comfort Foods from Better Homes and Gardens
Photo Information: Canon T2i, 18-55MM Macro lens, F/2.8, 100th second, ISO 1000