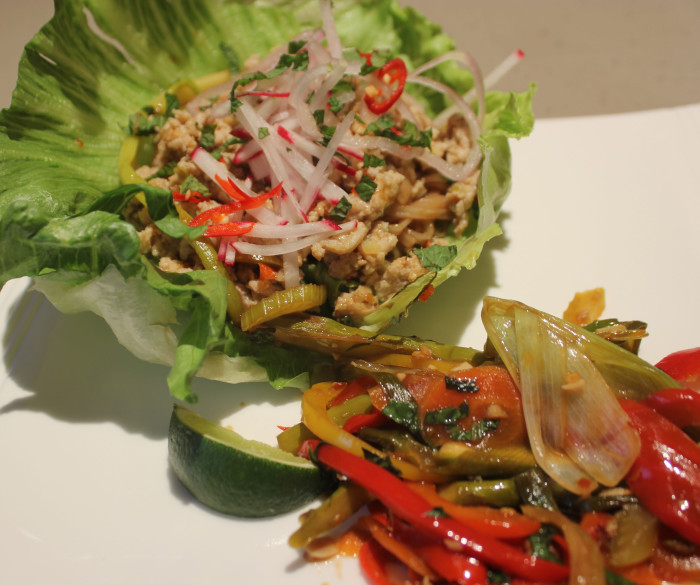 There are times when I can eat a dish and feel that I have done something actually healthy. Asian cuisines are my favorites for this "feel good" situation. I know, tempura and fried rice are not exactly high on the healthy scale. But, this dish is. It's beautiful when plated: elegant lettuce leaves embracing ground pork or chicken [or both] sizzling hot out of the wok. Scents of garlic and fish sauce and lime wafting through the air.
If you have the ingredients on hand, this dish is rapidly prepared. It's ideal for a quick week night meal where you are short on time but long for a taste treat, something to just break up the routine of those standard recipes that keeping repeating onto your table.
While this can be a meal unto itself, we often serve it with sautéed vegetables, say peppers, for contrast in color and flavor.
The recipe calls for chiles, so you have room for maneuver here. How much heat do you want? Small shallots are included, but you can supplement with scallions or other onions for contrast and flavor.
Oh, chopsticks are optional, but recommended. You've gone to good effort here, so you should complete the gestalt. And a cold beer, very cold.
When Suzen serves this to her corporate clients at Cooking by the Book, for some reason they often request a brownie for dessert. We don't have an official Vietnamese brownie recipe here on the blog, but you should check out for the Killer Brownies:
http://www.cookingbythebook.com/cookie-jar/killer-brownies-from-marc-forgione/
No chopsticks required.
Don't have a wok? You can improvise, but woks are so inexpensive and so useful that it is time to visit your local kitchen supply store. Remember the saying: you have to wok before you can run. At least, I think I heard that saying.
---
Vietnamese Ginger Pork/Chicken Lettuce Cups

Yield: 4 servings

Ingredients:

2 cloves garlic crushed
1 tablespoon fresh ginger, peeled, finely grated
2 red or green chiles, seeded, finely chopped
1 tablespoon peanut oil
1 pound ground pork/ground chicken
2 teaspoons finely grated lime zest
¼ cup fish sauce
¼ cup fresh lime juice
1 tablespoon superfine sugar or granulated sugar
12 small iceberg, Bibb, or Boston lettuce leaves
5 radishes, thinly sliced
4 small shallots, thinly sliced
Fresh mint sprigs and lime wedges for garnish and accent
Preparation:

In a small bowl, combine garlic, ginger, and half of the chiles.
In a large wok or a large, deep skillet, heat oil over high heat. Add garlic mixture and stir-fry 30 seconds to 1 minute.
Add the meat and cook, stirring constantly, 3 to 4 minutes, until meat begins to brown and is no longer pink. Add lime zest, fish sauce, lime juice, and sugar and cook 2 minutes.
Remove from heat; taste to adjust seasonings if necessary.
Spoon into lettuce cups; sprinkle with radishes, shallots, mint, and remaining chiles. Serve with lime wedges.
Source: Frank Melodia in Redbook Magazine

Photo Information: Canon T2i, EFS 60mm Macro Lens, F/3.5 for1/30th second at ISO‑100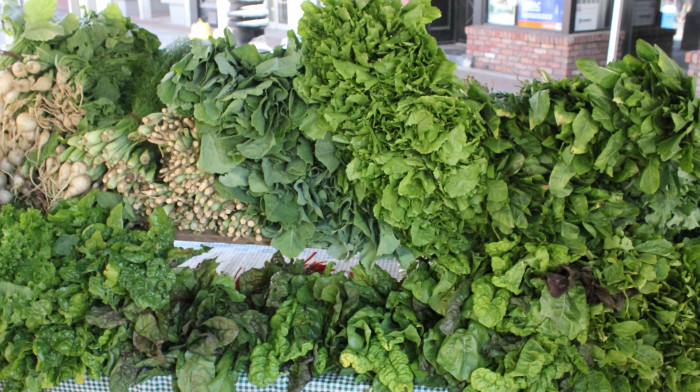 The image is from a greens and herb vendor at the Kingston farmers market. Sometimes these guys can be lifesavers.
Suzen's cooking school, Cooking by the Book, offers team building classes for corporations. Teams come here and socialize for a bit, then cook together in our very large kitchen, and naturally eat what they have just cooked. Enough people have passed through our kitchen to fill Giants Stadium. Twice.
So Suzen has seen everything. She tries to anticipate what is coming by planning and planning. Asking questions and asking again.
There are, despite all that, occasional surprises. She tries to anticipate food needs for those who come to cook and eat. Allergies, vegetarians, vegans — everyone is welcome and everyone can be prepared for.
Except, sometimes as we are plating the food they have prepared, Suzen will get a note from someone in the event saying, typically, "I'm actually vegan and I don't want to make a fuss but while I just cooked that chicken, I can't eat it."
That's why Suzie usually has on hand a stash of Portobello mushrooms, ready for a quick turn in the sauté pan. But what if the person, God bless them, is allergic to mushrooms, too?
Thank God for Alice Waters. In her new book The Art of Simple Food II you will find a lifesaving recipe, right there on page 40, second recipe in the lettuce chapter. The idea is refreshing, simple, and refreshing simple: combine greens, herbs, yogurt and some spices to create a lovely tortilla filling. Complement the fresh garden ingredients with the nutty warmth of a grilled tortilla, and you have a meal anyone, or any rabbit, can enjoy.
We do hope you'll visit Cooking by the Book and enjoy an event with your team or your family. Don't hesitate to mention any special food needs. We please any palette. It's Suzie's pleasure.
Garden Salad Tortilla 
Yield: 1 serving
Ingredients:
1 handful of salad greens
A few tender herb leaves
Spoonful of plain yogurt
Sprinkle of salt [exotic is grand]
Pinch of freshly ground spices [cumin, coriander, nigella, or fella]
1 whole wheat tortilla
Drizzle of good olive oil
Preparation:
Gather, wash and dry well the greens and herbs.
In a small bowl, mix together the yogurt, salt, and spices.
Over a gas burner or in a hot pan, grill/warm the tortilla. Place the warm tortilla on a plate, spoon the yogurt over half the tortilla, add the greens and finish with the olive oil.
Fold, bite, savor.
Consider Alice's advice to be growing your own greens, no matter how small your living space.
Source: The Art of Simple Food II by Alice Waters
Photo Information [top picture]: Canon T2i, EFS 60 mm Macro Lens, F/5.6 for 1/20th second at ISO-3200