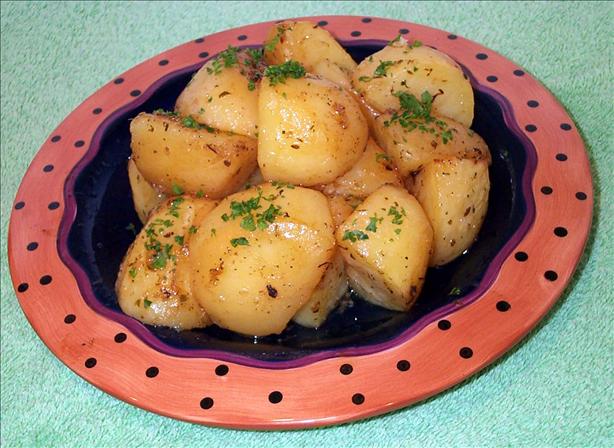 Last weekend Suzen and I had an official "urban weekend." Rather than go upstate, we decided to enjoy the city.
Saturday was a bike ride up the West Side from Tribeca to the George Washington Bridge. Well, we did stop at 97th Street with a flat. You should know that on 96th Street, just uphill east of Broadway by two doors, there is a lovely bike shop, who will patch or replace, install, lube and get you on your way again.
Sunday, we saw the Monet's Garden exhibit at the New York Botanical Garden in the Bronx. There are few months left to see this homage to water lilies.
And we finished the weekend with our first visit to Astoria, Queens, famous for its United Nations array of restaurants from around the world. Astoria is famous for Greek food and we had a lovely meal [restaurant to be blogged soon!]. Being Irish, my favorite dish was potatoes, but not Irish style. We had Greek lemony potatoes, rich in lemon and oregano flavor. [I'm told oregano is Greek for "joy of the mountain."].
I searched the web and found this version of a recipe for this fine side fare for your table. Here we have the potatoes, lemon juice, oregano, and a healthy amount of lamb stock.
This recipe scales easily. If you are having a holiday weekend feast this Labor Day, then the perfect accompaniment for that roasted chicken or sausage is this zesty potato dish.
Greek Lemon Potatoes
Yield: serves 6
Ingredients:
3 pounds Yukon gold potatoes or 3 pounds other waxy potatoes, peeled
½ cup fresh squeezed lemon juice
⅓ cup olive oil
2 garlic cloves, minced
1 teaspoon dried oregano
½ teaspoon sea salt
¼ teaspoon fresh ground black pepper
1 (14 ½ ounce) can chicken broth or 2 cups lamb stock
Preparation:
Peel potatoes and cut them in half (from medium size potatoes, quarter if large). Let them stand in water while preparing sauce.
Combine all other ingredients in a gallon size "zipper" bag, and shake to combine.
Dry off the potatoes, and put all of them in the bag and let marinate for 2 hours.
Preheat oven to 400°F.
Put the potatoes and marinade in a large casserole, preferably a white Pyrex, approximately 13 x 9 x 3 inches oval.
Roast for 1hr 10min, turning occasionally. You'll want to check for doneness starting at about 50 minutes.
There should be plenty of sauce left over after roasting.
Optionally, you can put these under the broiler for 5 minutes to crisp them up just before serving.
Garnish with sauce and parsley.
Source: Anthony Gougoutris at food.com; photo by Lorac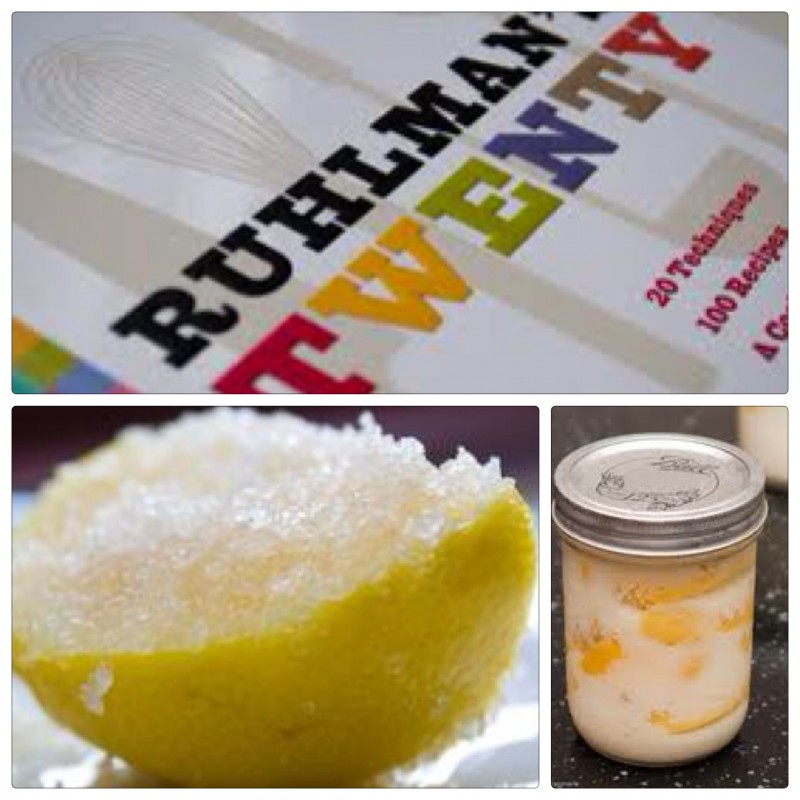 Your kitchen bookshelves may be crowded, but you know there is always room for one more. This is the one more you really need.
Michael Rhulman is a food journalist, chef, book writer, and, best of all, explainer of the long and complex food culture that we share. Rhulman's Twenty is his latest work, one that has already won international recognition and awards. The book's premise is simple: here are twenty cooking techniques you need to know. The techniques are accompanied by a hundred recipes and over 250 detailed photographs by his wife. Those photos show you the sequence of steps for very important recipes, like Angel Food Cake with Whipped Cream and Toffee.
Rhulman has co-authored great cookbooks, such as The French Laundry. In his work with great chefs and in his own experimentation to explain both the art and the science of cooking, Michael has become a master. His spirit is to explain and to simplify, so might also consider his book Ratio, a masterful description of the relative ratios of ingredients for basic foods — such as stocks and pie dough.
Here, his simplifying technique is applied not to ingredients but to techniques. Master his twenty techniques here, and you are well on your way to becoming an accomplished chef.
The twenty techniques include some you'll know:
Sauté
Roast
Braise
Poach Grill
Fry
Chill
And then there are his techniques that you might call ingredients:
Salt
Water
Egg
Butter
Sugar
Why are these techniques? In the past hundred years, we have gone from a farming society based on sustenance to our complex culture of dependency: supermarkets, frozen food, food flown from around the world, …
But in the times before that complexity was before us, cultures used salt and water and eggs and other simple things not just as ingredients but as steps, the only steps available at the time, to develop recipes and evolve the techniques that are integral to our daily lives. The invention of mayonnaise was not obvious. Take for example, salt. This blog closes with a recipe for Lemon Confit, a dish that has spread across the world. Many cuisines employ lemon confit in so many ways. But, at the core, it all begins with salt and salting. The technique is universal, discovered independently and enjoyed universally.
Rhulman's first technique is his most important: it is to think. Rhulman is not a relentless perfectionist, at least he does not seem that way. But he is dedicated to the detail that is essential to the craft of cooking. Thinking ahead, planning ahead, organizing before you begin, those are vital steps both to making great food and to enjoying the job. The kitchen should be your home's center for creativity and fund. Rhulman's Twenty is a great way to learn how.
In this confit recipe, some sugar is added to balance the salt. The lemons must cure for 3 months, then you removed them from the packing salt, cut away the flesh and pith, and recover just the peel. That peel is your gateway to many recipes. It can be minced, chipped, sliced, or just left in large pieces. You might want to rinse the peel before using — after all it's been in salt for 3 months.
You can use the juice from the jar, mixed with soda water, for a beverage. The lemons will keep indefinitely, but beware of mold. Contact with the air can lead to mold forming. Look for it often, and simply amputate.
Use a nonreactive vessel — that means glass — for the curing process.
Lemon Confit
Yield: 2 quarts
Ingredients:
2 pounds kosher salt
1 pound sugar
5 lemons halved vertically
1 cup of water
Preparation:
In a large bowl, combine the salt and sugar and stir with a spoon or whisk to distribute the sugar in the salt. Put the lemons in a 2-quaret/2-lliter nonmetal container and pour the slat mixture over them. Jiggle and rap the container to make sure the mixture falls into all the crevices. Add the water (the moisture will help the salt stay in contact with the lemons). Cover the container and store in a cupboard or in the refrigerator for 3 months. You'll want to date the container or make a note in your Outlook calendar to remind you when the lemons are ready.
The lemons will keep indefinitely.
Source: Rhulman's Twenty by Michael Ruhlman