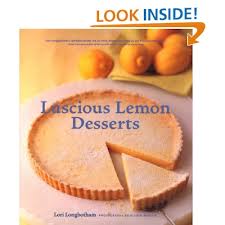 Luscious Lemon Desserts by Lori Longbotham is filled with lemon ideas, some familiar and some with a twist. Here's her idea for "staging ahead" to make lemonade: make a lemon juice syrup that can be stored for up to three weeks. When you want to drink, all you do is mix the syrup with cold water. The mixing ratio? It's up to you, but the suggested proportions are 1 part syrup to 4-6 parts water. You can start with 1:4 and dilute if you want. I prefer my lemonade on the "wake me now" side.
Lemonade Syrup
Yield: 5 Cups
Ingredients:
1 cup water
2 ½ cups sugar
Finely grated zest of 4 lemons
Pinch of slat
3 cups fresh lemon juice [about 12 large lemons]
Preparation:
Bring 1 cup of water, the sugar, and the zest and the salt to a boil in large saucepan over medium-high heat until the sugar is dissolved. Boil for 5 minutes, then removed the pan from the heat and let cool to room temperature.
Pour the syrup through a strainer into a large glass measure or bowl. Stir in the lemon juice and mix. Pour the syrup into a large jar or bottle with a tight-fitting lid. The syrup can be stored in the refrigerator for up to 3 weeks.
Source: Luscious Lemon Desserts by Lori Longbotham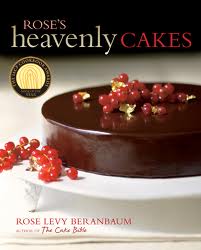 Suzen and I listen to satellite radio in our car. Channels 4 through 9 are for songs from the 1940′s through the 1990′s. We are considering canceling our subscription because of the sloppy work on the service. They keep playing songs that are almost brand new, and then they have the gall to claim the song is from the 60′s or 70′s. It's so frustrating. And I must say that when it comes to those songs from the 90s, well, I never heard any of them. It's a totally made up channel.
This Rip Van Winkle thing is getting out of hand. It is now 25 years since Rose Levy Beranbaum published The Cake Bible. And Suzen and I have not yet worked our way through every recipe. The Cake Bible deservingly won awards and fame for Rose.
Now, it's already four more years since Rose published Rose's Heavenly Cakes, which won the IACP dessert cookbook award when first published. What's the difference between the two books? Well, what is the difference between a house, a very good house, and a mansion?
Each of the recipes in Heavenly Cakes is a dessert mansion, a masterpiece. There are some recipes here you can easily knock off in a fairly short time but there are many recipes that go on for five pages or more. Those longer recipes often require you work in stages, with separate recipes for a cake, a filling, a frosting, a syrup. So, in fact, some of the "mini-recipes" there are wonderful to be used on their own.
For example, Rose has an English Gingerbread Cake, made in part with orange marmalade, which she describes as being truly authentically British and hence different from the many American versions. That cake is to be served with a lemon butter syrup which is quite lovely and quite versatile.
This syrup can be used with that gingerbread cake — yes, that recipe will appear here soon — but it can be used in many other circumstances: dribbled over pound or white cake, served atop ice cream, or — I suspect — thickened with some confectioners' sugar and used to garnish cookies or cakes.
In short, this is a multi-use recipe.
I've gone through Heavenly Cakes page by page, amazed and the wonderful detail and careful articulation of each recipe. A Rose recipe is done in what is described as signature style with tables and heading aplenty to guide you on journey to dessert perfection
To do some of these cakes will take time. But a Rose recipe is one you can always trust. Many of the cakes in the book are accompanied by photographs by Ben Fink, an artist with light. Suzen and I met Ben at a signing for this book, and I asked him what it was like to photo shoot this book.
"Well, we did it all in one go," he said. "Four or five days. One cake at a time."
"Must have been hard," I said.
"Oh, yes," he said. His voice was stern but the seriousness was totally belied by the grin on his face. He did photograph, but he had a camera in one hand and a fork in the other.
Try Rose's Heavenly Cakes, which will also be around for 25 years, and you'll smile too.
Lemon Butter Syrup
Yield: ½ cup
Ingredients:
3 tablespoons sugar
2 tablespoons freshly squeezed lemon juice
2 tablespoons of unsalted butter at low room temperature [65° to 75°F]
Preparation:
In a small pan, stir together the sugar, lemon juice and butter. Heat over medium-low heat, stirring, until the butter is melted and the sugar is dissolved.
Source: Rose's Heavenly Cakes by Rose Levy Beranbaum