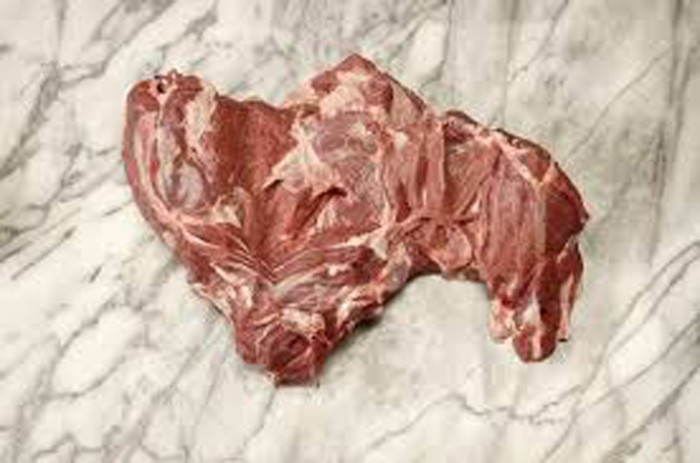 That picture above there? It's not good. I had to get a stock photo and play with Photoshop. Why didn't I already have a picture of a boneless leg of lamb? Well, the simple fact it, Suzen and I don't eat lamb that much. We like it, we do cook lamb — by the leg and by the rack. But not that often. We are Americans.
Long ago, Suzi stopped suggesting lamb to her Cooking by the Book clients. They go for chicken and beef and salmon. God forbid we suggest Bambi, or Thumper, or some tender little baby lamby thingy.
Our British cousins have a different viewpoint. They lamb-up or man-up. Lamb is readily eaten and enjoyed. Which brings us to the name of this recipe: Midweek Lamb. Americans think of lamb as a serious undertaking, one to be considered for holidays or weekends alone. Lamb is complicated. Lamb takes time. Lamb …
It's all nonsense. This recipe is from LEON: Family and Friends, a book devoted to recipes that are casual, quick, and wonderful. The preparation time for this lamb is a mere 15 minutes and the suggested cooking time is 40 minutes. In about one hour, you can have a lamb treasure on you table. Suzi and I love the combination here of lamb and anchovies plus chilies. There is a rainbow of flavors here that will make your midweek seem like a Sunday evening.
There are options to this recipe. After you have finished cooking, you can deglaze the roasting pan with 1 cup of wine, stock, or water to make a terrific gravy. I vote for a serious red wine.
If anchovies are not your thing — I so hope that is not true but people, like recipes, come in all flavors — then you can substitute black olives. Say 18 or so.
If you want a more complete but still one-dish meal, then before you put the lamb in the roasting pan, put down a layer of vegetables. The LEON authors suggest red bell peppers and a bulb or two of fennel. Of course, you could do onions, carrots, or diced/sliced potatoes. It's your choice and your pleasure.
Midweek Lamb
Yield: serves 4
Ingredients:
A small bunch of fresh rosemary
1 boned leg of lamb, about 2 ¾ pounds in weight
6 anchovies — about 1 ounce
2 large cloves of garlic, peeled
Zest of ½ lemon
2 dried chilies
1 tablespoon of olive oil
Salt and freshly ground black pepper
Preparation:
Preheat the oven to 425⁰ F.
Strip the leaves off the rosemary and set aside. Sprinkle the twigs in a roasting pan. Open out the lamb, pat dry, and lay it on top of the rosemary twigs.
Put all the remaining ingredients into a food processor with the rosemary leaves and process to a paste. Spread the paste over the lamb.
Roast in the oven for 40 minutes or until the lam is still nicely pink inside. Set it aside to rest for at least 15 minutes before serving.
Source: LEON: Family & Friends by Kay Plunkett-Hogge & John Vincent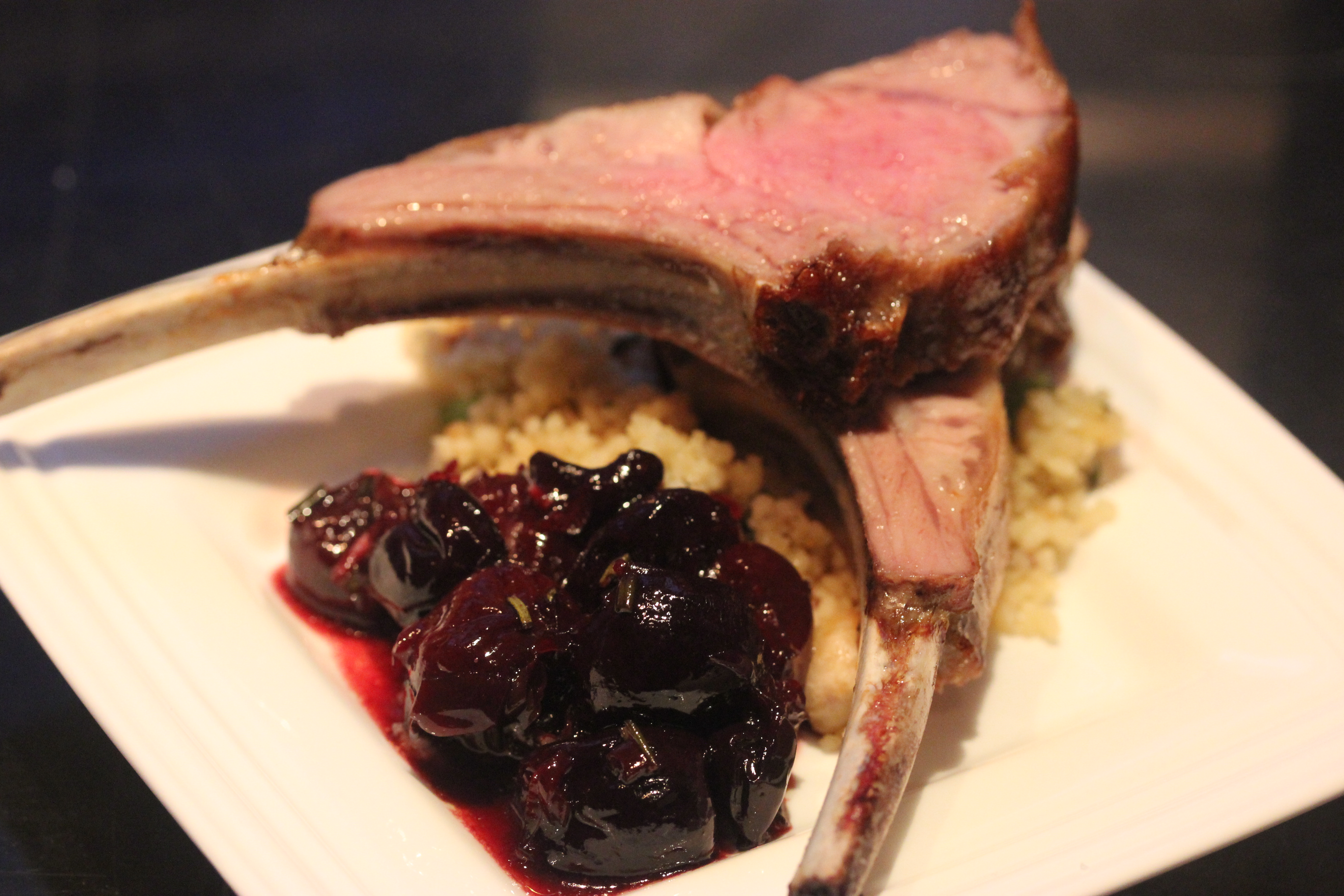 Lamb. Rich and satisfying. Chef and author Michael Chiarello loves the meat and, with his restaurant experience, knows just the proportions to serve. As an entrée, two or three chops per person is plenty. That lamb flavor can, it is true, seem overpowering. The trick is to pair that meat flavor with something contrasting but equally intense. Chef Chiarello suggests this roasted cherry vinaigrette offering just that needed flavor balance.
Serve the lamb and vinaigrette over polenta for a main course. On the side, offer a deep Pinot Noir.
This vinaigrette can be used in many other ways: topping barbequed chicken or beef toned with black grill marks, trout, and of course with salads. It's a Swiss Army knife of sauces.
The recipe below suggests cooking only half the cherries. If cherries are not available, or you prefer a different flavor, you can use pitted and halved apricots in their place.
Lamb Chops with Roasted Cherry Vinaigrette
Yield: serves 6
Ingredients:
For the vinaigrette:
1 pound fresh sweet cherries such as Bing or Rainer, pitted and halved
8 tablespoons extra-virgin olive oil
Sat salt, preferably gray salt
Freshly ground black pepper
6 scallions, white part only, cut on the bias into ¼ inch pieces
1 ½ tablespoons tarragon vinegar
1 tablespoon minced fresh tarragon
For the lamb:
18 lamb chops cut from a rack of lamb, at room temperature
Sea salt, preferably gray salt
Extra-virgin olive oil for brushing
Preparation:
For the vinaigrette, preheat the oven to 450°F. In a large bowl, mix the cherries with 7 tablespoon of the oil. Season with salt and pepper. Heat an ovenproof sauté pan or skillet over medium-high heat, add the remaining 1 tablespoon olive oil, and heat until shimmering. Add half of the cherries and toss them once or twice. Transfer the pan to the oven and roast until the cherries around the edges of the pan begin to turn lightly brown, about 2 minutes. Remove from the oven and add to the remaining half of the cherries. Add the scallions, vinegar and tarragon. Taste and adjust the seasoning. Set aside.
For the lamb chops, prepare a hot wood fire in a charcoal grill or have a grill pan ready. Season both sides of each chop with salt. Brush lightly over with olive oil. If using a grill pan, heat the pan over high heat and oil and pan. Grill the chops for 3-4 minutes on each side. Transfer the chops to a platter and let rest for 5 to 10 minutes.
If serving with polenta, place a mound of polenta on each warmed plate. Place 3 chops on the top of the polenta with bones pointing towards the plate's center. Top with a spoonful of vinaigrette. Ladle any extra vinaigrette into small ramekins to pass at the table.
Source: Adapted from Michael Chiarello