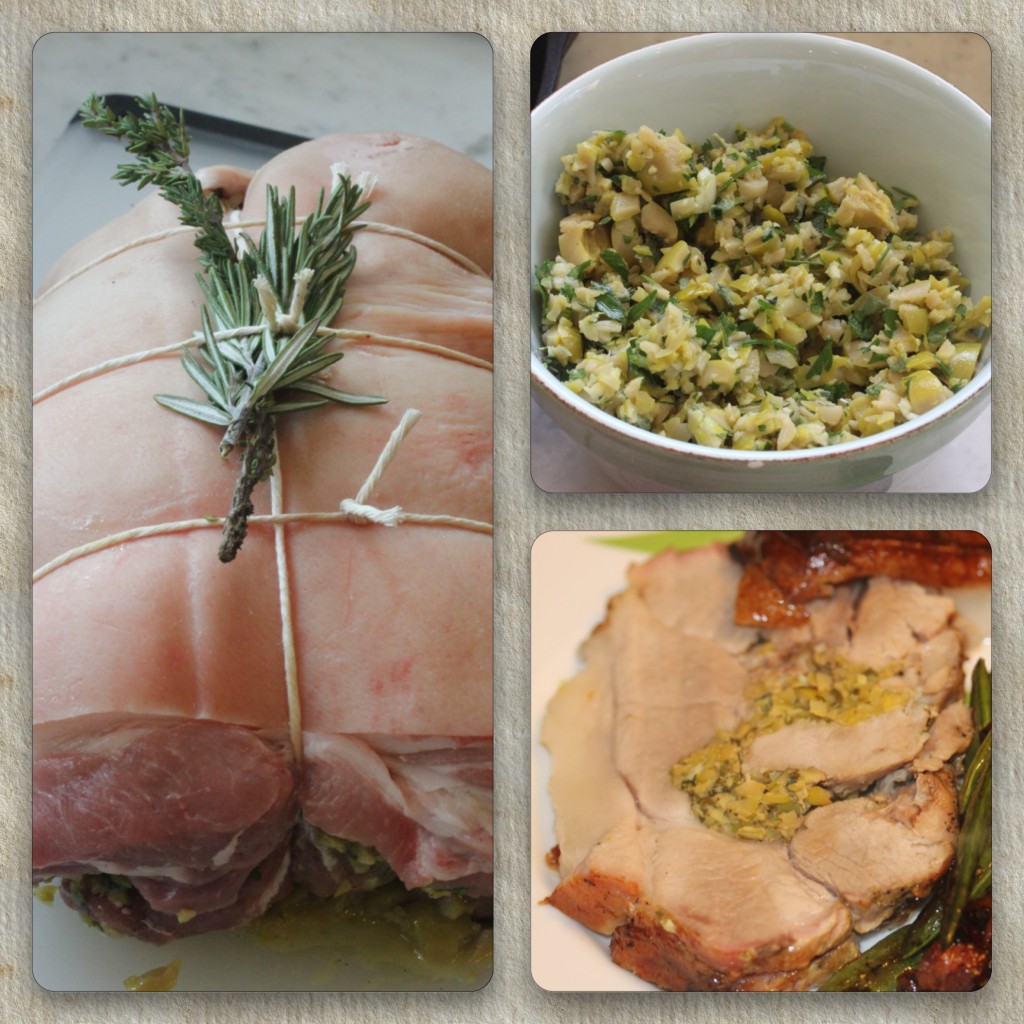 Hero Food by Seamus Mullen has a very different perspective. For personal health reasons, seasoned chef Mullen decided to focus on 18 very healthy ingredients and then create wonderful recipes using them. Now his list of 18 is pretty diverse: olive oil, dried, beans, almonds, grains, anchovies, good eggs, good birds, sweet peas, parsley, berries, carrots, corn, stone fruit, good fish, squash, mushrooms, greens, and good meat.
By "good" he doesn't mean avoiding spoiled. He means getting the specific varieties or cuts that can generate wonderful flavor.
This recipe, for a slow roasted lamb shoulder, immediately caught Suzen's eye. With her cooking school in New York, Suzen tries to offer clients a true range of flavors. She offers, the clients decide, and we prepare a lot of chicken, beef, and salmon. Lamb is not a frequent client selection. It's the Bambi thing. So, for a weekend feast, she was all over this lamb idea. Me, too. Visions of mint jelly did cross my mind.
And we made this dish. Uh, sort of.
Our butcher did not have lamb shoulder. He did have a lamb roast but at $45, Suzen held it in her hand and weighed her options. She put it back.
"What if," she began.
Now, that phrase "what if" has led to many things in our civilization. Einstein said "what if" and came up with relativity theory, for example. Suzen was less dramatic.
She used pork shoulder instead of lamb. Equally delicious. You just need to accommodate the cooking time. In fact, it's a pretty good indication that the recipes in Hero Food are robust when you can make this kind of change and yet achieve a perfect meal.
Lamb to pork was one change. The other was simpler. His recipe calls for Quick-Cured Lemons which requires a few days of curing. We were hungry that very day, and had no preserved lemons already on hand. So I Googled and found a 3-hour version of preserved lemons. I've already posted that blog just a few days ago.
That's it. That's all the changes we made. We had our cousin over for dinner and she beamed. "What is this?" Karen asked.
"Lamb," I said. Karen stared at me.
"Pork, for god's sake," Suzen corrected me. Karen took another piece.
The diligence and care in Hero Food make it a book you want to look at and consider strongly for the sagging bookshelf of yours. There's always room for one more. This should be the one.
Slow-Roasted Lamb Shoulder
Yield: serves 6
Ingredients:
1 cup good-quality black olives, pits removed
6 slices Quick-Cured Lemons [see our earlier post on this blog for a solution here]
4 cloves garlic, peeled and lightly crushed
Generous handful mixed fresh herbs, like rosemary, oregano, sage, parsley, and/or thyme
½ cup good olive oil
1 lamb shoulder, roughly 4-6 pounds, and deboned [ask your butcher to do it]
Salt and freshly ground pepper
Preparation:
In a large mortar and pestle or in a food processor, work together the olives, cured lemons, garlic, herbs and olive oil in to a nice, rustic paste. If you are using a food processor, be careful not to overprocess it; you want the paste to be a bit coarse.
Open the lamb shoulder up on a cutting board and use a sharp knife to trim any connecting meat to form a nice square. Rub the lamb all over with the paste you've just made. Carefully roll the whole thing up so that it looks like a Yule log and truss it with butcher's twine every inch and a half. Refrigerate the lamb for a few hours or overnight to allow all the wonderful flavors to come together.
Removed the lamb from the refrigerator and let it come to room temperature, about 45 minutes. Preheat the oven to 300°F.
Place the lamb on a rack fitting in a roasting pan. Roast for 1 to 1 ½ hours. You're looking for an internal temperature of about 148°F. I like to tie a few branches of rosemary together with string to make a nice herb brush and use that to baste the lamb with the dripping every 20 minutes or so. Once the lamb is done, set it aside in a warm place to rest for 10 minutes before serving.
While the lamb is resting, I like to wilt some bitter greens lake puntarelle or dandelion greens in a hot skillet with some of the drippings from the lamb pan. It only takes a couple of minutes and works really well with the lamb.
Carefully remove the butcher's twine. With a sharp knife, carve the shoulder into thin slices. Serve the sliced shoulder family style with platter of the wilted greens.
Source: Hero Food by Seamus Mullen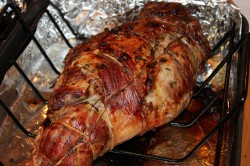 I know, lamb is not an everyday dish. And for many it's an acquired taste. There is, of course, the British-inspired route of having one bite of mint jelly for every bite of lamb. And then there are better paths.
At our recent course on wood oven cooking at Stone Turtle in Maine, we had leg of lamb done two ways: a traditional Greek style with olive oil and rosemary and then this yogurt-coated treat. The yogurt and overnight resting create a soft, almost silky texture to the lamb. It's lamb like you've never had. No mint jelly is needed. Or even wanted.
At Stone Turtle, we cooked this in a wood oven at 500° for about 90 minutes. For the home oven, we suggest 450° for 90-120 minutes. Of course, after about 60 minutes, you'll want to take the internal temperature with an instant read thermometer. You're looking for 135° for lamb that is not overdone and dry. Be sure to rest the meat, tented in foil, for 20 minutes. The temperature will still rise a bit, and you'll have a range of doneness to please every palette. If someone should ask for well done and dry, just open another bottle of wine.
Yogurt Leg of Lamb
Yield: 10 servings
Ingredients:
5-6 pound semi-boneless leg of lamb
1 cup Yogurt (Greek style, whole milk if possible)
2 tablespoons fresh mint leaves, coarsely chopped
Juice of 1 Lemon

1 garlic clove, finely minced
Preparation:
Combine all ingredients in a bowl. Rub down lamb leg and wrap in plastic wrap.
Refrigerate for 24 hours. Remove from refrigerator 1 hour before cooking. Preheat your oven to 450°F.
Unwrap and gently wipe off any excess yogurt. Rub leg with a light coating of olive oil. Place on a rack in a heavy roasting pan. Remove most traces of yogurt from the surface of the meat.
Roasting time is about 90-120 minutes hours. Check internal temperature, looking for 135° F. Do not overcook. Lamb is best when slightly pink.
Remove from oven, cover with aluminum foil and let rest 20 minutes before cutting.
Source: Meat: Stone Turtle Baking and Cooking School