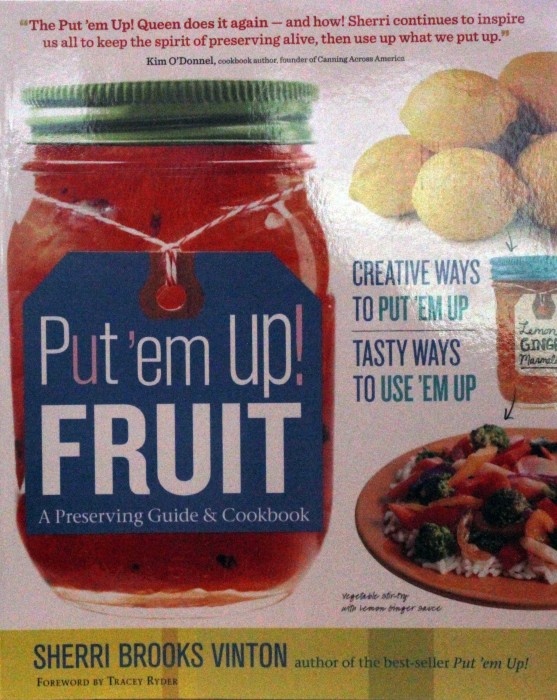 I recently blogged a review of Put 'em Up! Fruit by Sherri Brooks Vinton. It's an excellent guide to preserving fruits at home and using those treats in your daily cooking. Fruit goes far beyond jams and jellies with ideas to use your fruit wonders right away!
Here's a perfect example: Blueberry Ketchup. Sherri describes this as not too sweet and tantalizingly fun on a burger. It has much the same ingredient list as conventional ketchup — and tomatoes are a fruit after all — so this recipe is less strange than you are thinking. At the moment.
Beyond burgers, this ketchup is ideal with barbecued chicken, blackened and hot off the grill. The blueberry tones pair lovingly with the meat. Remember Thanksgiving? Turkey? Cranberries? This recipe uses a lot blueberries but fortunately a lot of blueberries are out there.
Blueberry Ketchup
Yield: 3 cups
Ingredients:
2 shallots, unpeeled
1 teaspoon olive oil
1 quart blueberries [about 1 ½ pounds]
1 cup firmly packed brown sugar
½ cup red wine vinegar
1 tablespoon freshly grated ginger
1 clove garlic, minced
1 teaspoon allspice
½ teaspoon ground cinnamon
Preparation:
Preheat the oven to 375°F.
Coat the shallots with oil and bundle in a double thickness of aluminum foil. Place the bundle on a baking sheet and roast in the oven for about 1 hour, until the shallots are tender when pierced with a knife. When they are cool enough to handle, peel and dice them.
Combine the roasted shallots with the remaining ingredients in a large nonreactive pot and slowly bring to a boil, stirring frequently to prevent scorching. Reduce the heat and simmer until thickened, about 30 minutes. Puree with an immersion blender.
To store, you can simply cool, cover and keep in the refrigerator for up to 3 weeks. Or you can uses glass jars employing the classic boiling water method for sterilization.
Source: Put 'em Up! Fruit by Sherri Brooks Vinton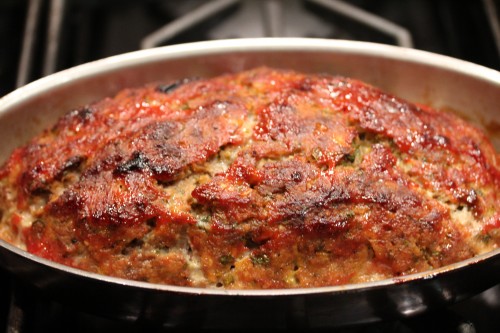 "Curly Parsley? What the hell did you buy curly? I only eat flat leaf!"
I was in the other room but her voice can carry. I looked down at the shopping list. It said "parsley [flat] and celery."
I went into the kitchen to face the music. She was standing there, parsley in one hand and the celery — which I had bought — in the other. She was waving them like mismatched green pompoms.
"I can explain," I began.
"Really? You know I hate curly parsley." She was beyond angry.
"I did not take the shopping list. I knew we needed parsley. I just got confused."
"What about the shopping list?"
"I didn't take it."
"Why didn't you call?"
"Didn't take my phone. Can I help make this?"
"Yes. Leave the kitchen."
Okay, maybe I should have taken the list. I just had an almost-senior moment in the store when I got there. All the way over, I had had the mantra "flat not curly" but when I got to the produce section all I could remember was "maybe flat, maybe curly." It happens.
As for the phone. Well, don't you sometimes just want to go out? With no agenda set in stone. With no electronic leash tying you back to everyone and everything. To just go out, and be free of contacts, contracts, and all that rigidity?
Is it possible to have two middle aged crises in your life?
We had bought this pack of ground meat with beef, pork and veal. It's the perfect arrangement for a great meat loaf. Not too beefy. Not too rich. Difference with a style. Before I had left for the market, I had tried to find a recipe in one of our meat books. Suzen had sent me off to the store with an "I'll take care of it" statement. Say, maybe that is what fried my brain?
After our parsley and phone discussion, I left her alone.
"I need you," she finally said. The ingredients had been mixed together, put in a BIG metal casserole pan, and she needed ketchup poured on top.
Instantly I saw green. Lots of green chopped up but I could tell: she had really used that curly parsley. There were lovely green spirals in the meat mix. Should I say something? Thank her? Hell, chide her?
She was wearing rubber gloves. She would leave no fingerprints if she took some "executive action." I decided to reduce my personal risk. I shut up and poured the ketchup.
This meatloaf isn't just good. It's great, truly great with a lovely smooth flavor. Tinted, of course, by the tones of the parsley, but I'm not going to mention that again.
Preparation is easy. Put everything in a bowl, and mix with your hands. It's messy, which is why she was wearing those rubber gloves.
The next day? Toasted challah, some ketchup, a sliced onion, and you can have a remarkable meatloaf sandwich.
Suzen's Triple Meat Meatloaf
Yield: about 2 pounds
Ingredients:
One package of three ground meats, beef, pork and veal (about .5 pounds each), total 1.5 pounds
1 small onion diced
1 celery rib, minced
2 large cloves garlic, minced
1 cup fresh bread crumbs
½ cup Italian parsley minced
½ cup catsup or to taste
2 large eggs
Worchester sauce
Tabasco Sauce
Salt and pepper to taste
Preparation:
Preheat the oven to 350⁰F.
Mix together by hand all the ingredients in a bowl. Transfer to a large enough metal baking container. Top with more catsup and bake for 90 minutes.
Source: Suzen O'Rourke