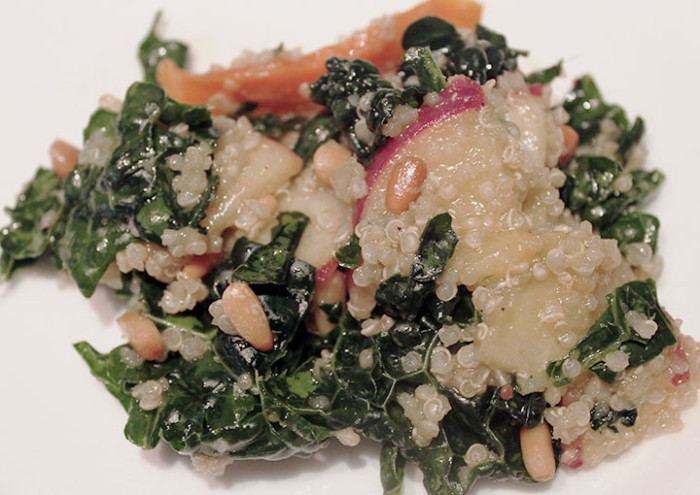 Kale is in. Quinoa stays in. Everyone loves peaches. And no one can turn down a pine nut — unless of course you are stuck with an allergy. In which case, just omit!
Kale, by the way, was also in about 800 years ago. Popular food in the dark ages, then the Middle Ages came and kale — for unknown reasons — just fell out of favor. Fortunately, it was still cultivated, new species have been created and now there is a kale boom. I do like kale chips but the best way to enjoy kale is just this way in a lovely salad with complementary flavors.
Honestly, this is a combination I would have had a bit of trouble imagining. But thanks to Linda Aldredge and Food and Wine Magazine, here's an exciting different and thoroughly refreshing recipe. And it tastes just as good as it looks in that beautiful picture.
Here at Cooking by the Book, we made a few touches to the recipe, going for every bit of gusto. This was served last night to our monthly group of celiac patients and families. Working with the Columbia-Presbyterian Center for Celiac Disease, we have monthly events with a mission: just because you have celiac disease does not mean you have to lose a beat when it comes to food.
Last night's menu was this salad, a spicy cod entry and flourless chocolate cake. Celiac or not, you'd love this meal. And, as a starter, this salad is a perfect preview for the evening. It's a visual barrage as you look at the interesting kale, the nuts, the quinoa and the glistening reflections created by the dressing. It's a trumpeting announcement that food is served.
The combination of ingredients here gives you an experience you will not have had. The peach is a lovely sweet touch, something you quickly notice with your eyes and immediately stab at with your fork. All to good reward.
This is an excellent summer salad, one that you can use with peaches, nectarines, plums or any other fruit of your choice. Berries? Why not?
Quinoa and Kale Salad with Peaches and Pine Nuts
Preparation time: 45 minutes
Servings: 6
Ingredients:
Quinoa Salad:
1 pound Tuscan kale stems discarded and leaves cut into ½-inch ribbons
1 large red bell pepper, cut into ½-inch dice
¾ cup toasted Quinoa
¼ cup pine nuts
1 cup ripe peach slices about one medium peach (tossed with honey and lemon juice to taste depending on the ripeness of the peach)
1 cup roasted sliced carrots
Dressing:
1 teaspoon Dijon Mustard
2 tablespoons fresh lemon juice
¼ cup extra-virgin olive oil
Kosher salt
Freshly ground pepper
¼ cup chiffonade mint leaves for garnish
In a medium saucepan of salted boiling water, cook the quinoa until al dente, following the package directions. Drain well and spread on a baking sheet to cool completely.
Meanwhile, in a small skillet, toast the pine nuts over moderate heat, tossing occasionally, until golden, about 5 minutes. Transfer to a plate and let cool completely.
In a large bowl make the dressing: whisk mustard with the lemon juice and olive oil. Season the dressing with salt and pepper. Add the kale, toss well and let stand until barely wilted, 15 minutes massaging well. Toss gently the quinoa, pine nuts, roasted carrots, peaches and red bell pepper to the Kale. Season the salad with salt and pepper. Garnish with mint if desired and serve.
Source: Adapted by Cooking by the Book from Food and Wine Magazine, August 2013
Photo Information Canon T2i, EFS 60 mm Macro Lens, F/4 for 1/40th second at ISO‑1000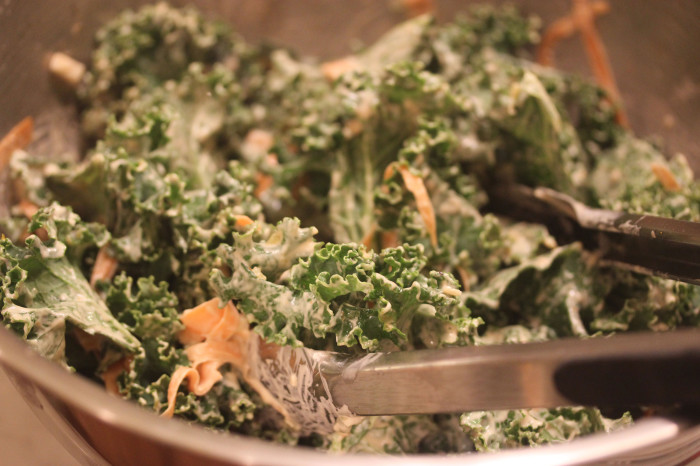 "I would touch the wall as I walked up the stairs," Suzen began, "and if it was warm, I knew she had made latkes. She made great latkes."
Suzen recounts visiting her grandmother in a 3rd floor walkup in Brooklyn. Her grandmother was one of many Jews who came from Bialystok, a town in Poland that has been Polish, Russian, Lithuanian, Swedish, and perhaps a few more. A trading center, everyone wanted Bialystok, to control it, but a lot of people could not live there.
Suzen raves about her grandmother's latkes saying they are the best. Anytime we eat out and sample one, she will contemplate and pronounce that they are nowhere near the originals from the Brooklyn apartment.
So, I finally asked: "Did your grandmother make Russian dressing."
"Sure," Suzen said, and I waited for a wondrous recipe, "it's mayo and ketchup."
I was underwhelmed. But, as fortune would shine on us, Suzen and I have a copy of Maximum Flavors. And here we have a very interesting new salad: kale slaw topped with Russian dressing. This Russian dressing is not just mayo and ketchup. There's lots more to it and the results are simply dazzling.
Maximum Flavors is devoted to new ways, new concepts to cook at home. This salad is a great example. You are used to marinating things, like meat, fish … Who ever heard of marinating a salad. But this kale slaw requests just that. At least 2 hours and Suzi did about 6. The result? That kale with its formidable skin is transformed into a delectable crunchy treat.
Kale was not on the culinary horizon for a few years ago. Now it is everywhere. Kale chips, with chipotle of course, sit in $6 bags at Whole Foods. To really enjoy the purity of its dramatic flavor, try the kale this way. With real Russian dressing.
I bet a certain grandmother would approve.
Kale Slaw with Russian Dressing
Yield: serves 8 as a side dish
Ingredients:
2 bunches kale, preferably Tuscan
1 large carrot, grated
½ cup / 100 grams mayonnaise, preferably Duke's or Hellmann's
¼ cup / 65 grams ketchup
¼ cup / 60 grams sweet pickle juice
1 tablespoon / 15 grams chopped onion
1 tablespoon / 15 grams chopped celery
1 tablespoon / 15 grams chopped carrot
1 teaspoon / 5 grams prepared horseradish
4.5 ounces / 125 grams Gorgonzola dolce cheese, crumbled
Preparation:
Remove and discard the kale stems. Finely slice the leaves about ¼-inch [6 mm]thick, then wash and dry them in a salad spinner. Put the kale in a bowl and add the grated carrot.
In a separate bowl, whisk together the mayonnaise, ketchup, pickle juice, chopped onion, chopped celery, chopped carrot, and horseradish.
Pour the salad dressing over the sliced kale and carrots and stir to evenly coat the mixture. Put the kale slaw into the refrigerator to marinate for at least 2 hours and up to 24.
To serve, put the kale slaw in a bowl and crumble the Gorgonzola cheese over the top…
Source: Maximum Flavor by Aki Kamozawa and Alexander Talbot
Photo Information [top picture]: Canon T2i, EFS 60 mm Macro Lens, F/2.8 for 1/100th second at ISO-1600