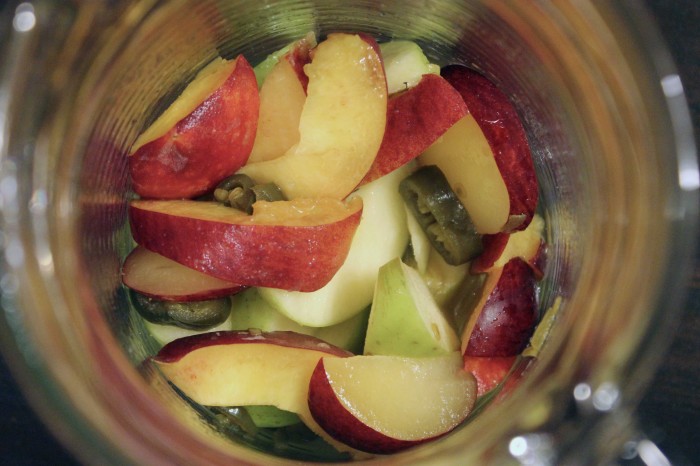 The planet is experiencing rapid growth: population, pollution, and mixologists.
Oh, don't get me wrong, I do not have bad associations with that mixologist word. In fact, when I retire, I am going to open up a B&B: Bar and Bakery.
But as the number of mixologists grow, as they each get their 15 minutes of fame while flashing out some cocktail de jour, I like to rely on the unsurpassed professionals, like Mittie Hellmich. Go to Amazon, type in her name, and you will find a battery of beverage books. Pick one to start, any one, and you are on your way to mixology heaven.
From her Sangria book, I tried this Sangria Caliente. Definitely caliente. You can see the jalapeno slices in that top-down picture. You don't see the tequila. Not too much. This is not a "boozy" sangria, but you get some tequila heat to marry with the jalapeno. And both those ingredients bounce off the fruit tones. Apple, peach, plum and apricot are all there to provide a coordinated sweetness. See, as you sip, if you detect each of the flavors.
This is a lovely sangria, definitely a first choice for a hot day. Brunch, lunch, or dinner, this is a vibrant sangria to pair with appetizers or the main meal.
Sangria Caliente
Yield: serves 4 to 6
Ingredients:
1 Granny Smith apple, peeled, cored and sliced
1 peach, peeled, pitted, and sliced
1 plum, peeled, pitted, and sliced
1 apricot, pitted and sliced
3 thin slices fresh or pickled jalapeno pepper, or to taste
2 ounces tequila
2 tablespoon sugar
750 ml bottle dry white wine, chilled
12 ounces club soda, chilled
3 cups ice cubes
Preparation:
In a large [at least 2-quart] glass pitcher, combine the fruit and jalapeno slices, tequila, and sugar, and stir until the sugar has dissolved. Slowly pour in the wine, stirring gently. Refrigerate for at least 2 hours or as long as overnight.
When ready to serve, add the club soda and stir gently with a long-handled wooden spoon. Fill the highballs, wineglasses, or other decorative glass with ice cubes and slowly pour the sangria over the ice, allowing fruit pieces [but never pepper slices!] to fall into the glasses.
Source: Sangria by Mittie Hellmich
Photo Information Canon T2i, EFS 60 mm Macro Lens, F/5.6 for 1/50th second at ISO‑3200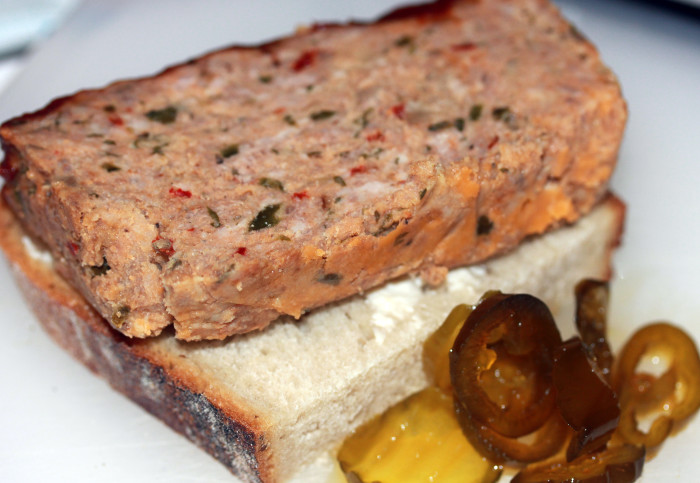 You can say that it doesn't matter. No matter how you do it, it will be fine.
Sure, and Hell did freeze over.
I did a google on "meat loaf sandwiches." I happen to love them and actually, like many people, prefer the sandwiches the next day to the freshly made meat loaf out of the oven. You find, in this search, that there is diversity and passion. And some pretty strong opinions. It's not that a meat loaf sandwich "can be …" It's more like "it must have…" Or else.
Someone wanted just meatloaf on white bread. Period. Nothing more, because if the meat loaf cannot carry the load on its own, then the meatloaf is … Well, they used a four-letter word here. Nasty.
There's the guy in Texas who says it has to be on Texas toast with gravy. And kimchi. Now, I think it is a fair bet that individual is a software guru, first generation, whose parents came from South Korea. That is not a derogatory statement, just an observation on the demographics of our world.
To begin with, what should the meatloaf be made of. People espouse the benefits of bison and turkey. Me? Well, I depend on Suzen and her secret, magic, marvelous combination of ground pork, beef and veal.
What should the bread be? Oh, how intense life can be. There are calls for white bread, rye, pumpernickel, onion rolls, focaccia, Kaiser roll, or just anything with grain.
Upon the bread, mayonnaise wins the plurality, but people do surprise with asking for butter. There's chipotle and chipotle mayo. Ketchup, of course, and horseradish sauce. Next to mayo though, the advocates for gravy are loud and cannot be ignored without personal risk.
Pickles are demanded by perhaps half the respondents. Mostly on top, but some just want their dill spears on the side. Jalapeno peppers, sweet ones like in the pictures, are my favorite addition. Yes, that picture shows that red and green peppers have been added to the meat loaf itself.
Onions? Always a fight. In the meat loaf or out? On top of the mayo or ketchup or not.
Every combination imaginable is someone's favorite. That means you cannot go wrong for yourself, but tread carefully when dining with friends. I suggest a large table, everything spread out, and plenty of knives. For spreading, not arguing.
Oh, if I am coming and you are putting up the table, you better have jalapenos there. Can't be a meat loaf sandwich without jalapenos. Everybody knows that.