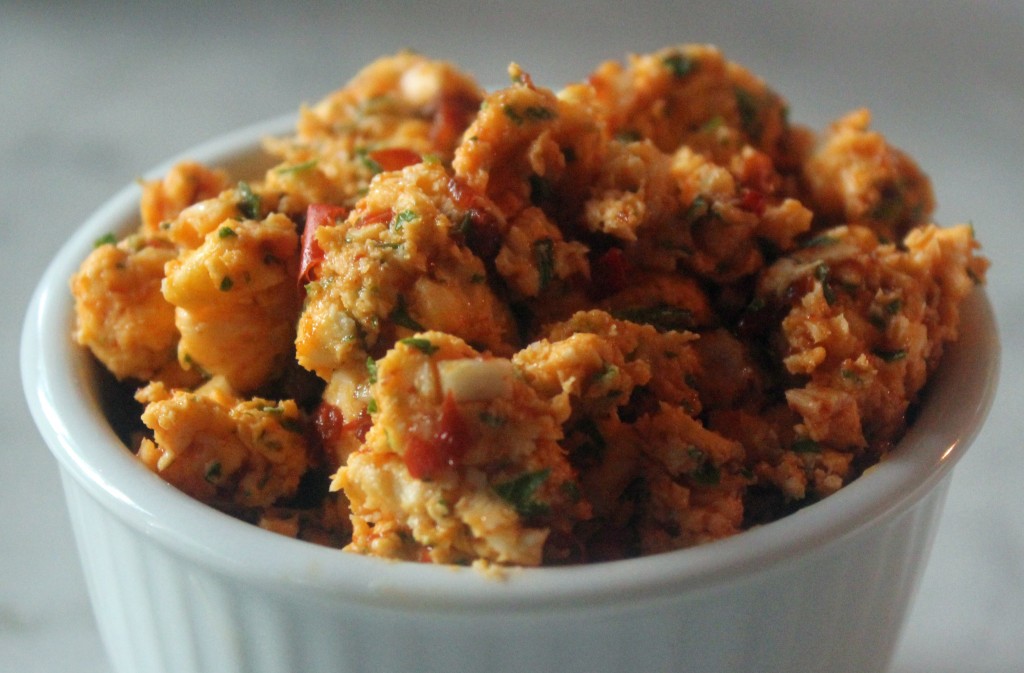 Summer corn and butter. That is a classic combination enjoyed around the world. But in corn-country, the United States, more corn is consumed by people than anywhere else on the planet. And while that simple combo of corn and butter is the favorite, new ideas appear all the time.
A few years ago, Suzen and I would put butter on our corn, then sprinkle on chile powder and maybe even splash with lime juice. It's an intensified flavor we love.
Now, we've discovered a new butter variation that is beautiful to behold and such a flavor enhancer. It's Jalapeno Butter from Fresh Mexico, the little book of 100 recipes that I found and now fall asleep with.
The recipe is right below here. The picture above is from my slight variation. I did not grill the jalapenos; instead I used two canned chipotles with some of the sauce. That's faster and hotter.
Second, I did not soften the butter first. I took a cold stick of butter and cut into ¼-inch cubes. I added the rest of the ingredients and mixed it with a fork. The result is that my version is not homogenous in color or texture. There are "pieces" of chile and parsley there that provide color and contrast.
And of course, I did not wrap it up in a tight roll so I could later cut perfect round of butter.
Other than that, I followed the recipe exactly.
The recipe was devised for corn. But, you have usage options:
A grilled steak with blackened top
A crispy baked potato
Grilled bread, crusty and waiting the moisture of melting butter
Or for whatever personal craving you might have
This dish can be classified as an indulgence. Go forth and feel no guilt.
Jalapeno Butter
Yield: ½ cup
Ingredients:
2 jalapeno chilies
1 stick unsalted butter, softened
1 large garlic clove, minced
2 teaspoon minced fresh parsley
Salt and freshly ground black pepper.
Preparation:
Grill the jalapenos, turning them occasionally, until charred on all sides, about 10 minutes. Transfer them to a cutting board and let cool for 5 minutes.
Using a small paring knife, peel the jalapenos. Scrape out the discard the seeds and veins. Coarsely chop the chiles and transfer them to a medium bowl. Add the butter, garlic and parsley and mash together. Season to taste with salt and pepper. Spoon the jalapeno butter onto the center of a square piece of plastic warp. Roll it up into a 1-inch diameter log. Refrigerate for at least 30 minutes, until set, or for up to 1 week.
Source: Fresh Mexico by Marcela Valladolid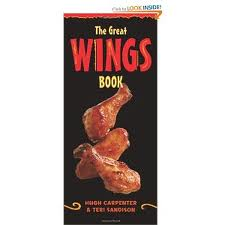 I like wings. No, I love wings. There is a place close by to us in Manhattan, Walkers, that is a classic New York pub. It opened the year we moved to Tribeca. Great wings with fire and crispness, regrettably available only at dinner time. We've been complaining about that for 25 years. You can see how much pull Suzen and I have at Walkers.
So, both for lunch and for other dinners and when we are upstate, we need our own wing recipes. I've found a great new resource. In fact, it is called The Great Wings Book by Hugh Carpenter and Teri Sandison. I found it at the bargain table of my Barnes and Noble and I am lucky to have snagged a copy of this 4-year-old book.
We adore this particular recipe for its Jalapeno intensity. And because these wings are baked, not fried. Hot and healthy? What more can you ask for?
Of course, as with any wing recipe, you can mix and match: wings and thighs. The proportions for the sauce are for 24 wings. You can "wing it" to make more sauce as you increase the amount of chicken parts.
The flavor here has an added kick from both Jalapeno jam and minced Jalapeno chilies with seeds. Those seeds have heat, so proceed with care. That's "culinary code" for doing the mincing job with rubber gloves on and making sure no fingertip is near an eye. You'll really feel silly if you have to walk around with a teary eye swollen shut because of a dab of chile. I did.
Jalapeno jam was once a rarity, but has become abundant on grocery store shelves. Actually, any pepper jam or jelly can be considered here. With the variety of these jams available, there is also a gigantic flavor spectrum for you to consider. Some jams are hot, some truly too mild, and many are sickly sweet — intended for cream cheese and crackers. The orange juice in this recipe supplies enough sweetness for even me, so try to find one of those jams that delivers at least some modest fire.
Please see my post earlier this week for Agave Margaritas. It's a natural, and powerfully compelling, accompaniment for these wonder wings.
Mexican Wings with Jalapeno Glaze
Yield: serves 4 as an entrée or 6 to 12 as an appetizer
Ingredients:
24 chicken wings [whole wings not just the meatier end]
1 teaspoon salt
2 teaspoons freshly ground black pepper
1 tablespoon ground cumin
4 cloves garlic, minced
2 cups Jalapeno jam
2 cups freshly squeezed orange juice
2 Jalapeno chilies, mince, including the seed
¼ cup chopped cilantro sprigs
Preparation:
Cut off the wing tips and save them for making stock.
In a small saucepan, combine all the remaining ingredients. Bring to a simmer, stirring to combine. Let cool to room temperature. In a bowl large enough to hold the wings, combine the wings and the jam mixture. Marinate the wings in the refrigerator for 1 to 24 hours — the longer the better.
Preheat the oven to 375⁰F. Line a shallow baking pan with foil. Coat a wire rack with nonstick cooking spray and place the rack in the baking pan. Drain the chicken and reserve the marinade.
Arrange the wings on the racks, s(smooth surface down) and roast 30 minutes. Drain the accumulated liquid from the pan. Baste the wings with the reserved marinade, turn them over, and baste again. Roast until the wings a turn a mahogany color, about another 30 minutes. Remove from the oven.
Cut the wings in half through the joint. Serve hot or at room temperature.
Source: The Great Wings Book by Hugh Carpenter and Teri Sandison