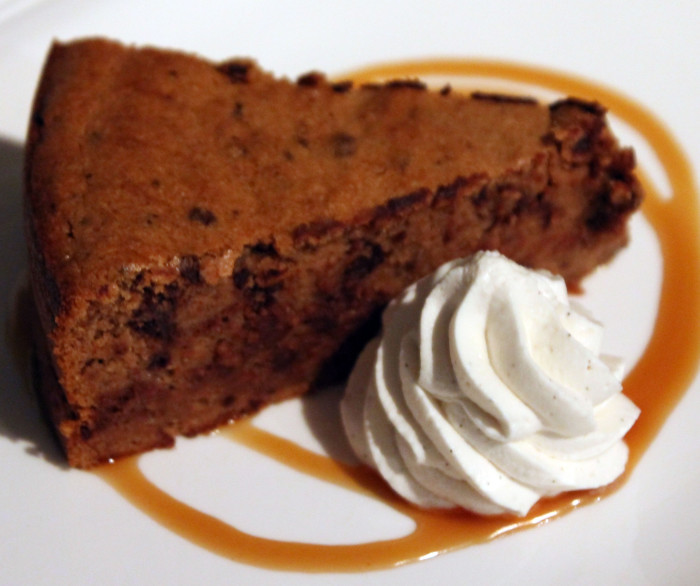 Amber Rose has just published Love Bake Nourish, a baking book that reflects a very distinctive personal nature. She's a passionate about foods that are seasonal, organic and not processed. She loves different flours and she cannot abide processed sugar. In her career as chef and author, she has scoured for recipes, old and new, that meet her standards for superior and naturally healthy baking.
This dish is old, Italian, and a treasure. No sugar, just honey. No flour, just ground walnuts plus chestnut puree. There is a reason traditional recipes are the core of our culinary heritage. They taste good.
Amber's recipes typically end with serving suggestions. I expected to read about whipped cream. How lovely to find she wants this dense, rich cake served with sour cream. This combination is truly self-intensifying.
And, uh, no, there is no chance of confusing this cake for a baked potato.
Addendum
Suzen made this cake for her monthly group of celiac patients from the Columbia University Center for Celiac Disease. She teaches patients and their families, not just how to get through, but how to thrive. Our pastry chef made this cake and I reminded her that it should come with sour cream. Our pastry chef is from the Caribbean and very dignified and a bit terse. "No, whipped cream," she said. And that's what the picture shows.
This cake is unleavened, so it is Passover ready.
A Comforting Chocolate and Chestnut Cake
Yield: serves 10-12
Ingredients:
5 large free-range eggs, separated
½ cup honey
7 tablespoons unsalted butter, softened
18 ounces unsweetened chestnut puree
1 ½ cups ground walnuts (or hazelnuts)
Finely grated zest of 1 unwaxed lemon
4 ounces dark chocolate (70% cocoa solids), grated or chopped
Preparation:
Preheat t h e oven to 350°F. Grease and flour a 10-inch loose-bottomed cake pan.
Mix the egg yolks and honey in a large bowl until thick and smooth, then add the butter, pureed chestnuts, walnuts, lemon zest, and chocolate, and mix thoroughly until everything is completely incorporated.
In a separate, very clean bowl, whisk the egg whites until stiff peaks form. Carefully fold the egg whites into the cake mixture, trying not to lose the air from the mixture, and don't bang the bowl. Scrape the mixture into the prepared pan and bake in the oven for 50 minutes to 1 hour. Remove from the oven and leave to cool in the pan.
When the cake has cooled completely, turn out onto a serving plate. Serve cold with a little sour cream or crème fraiche. I like it with cherry compote.
Source: Love Bake Nourish by Amber Rose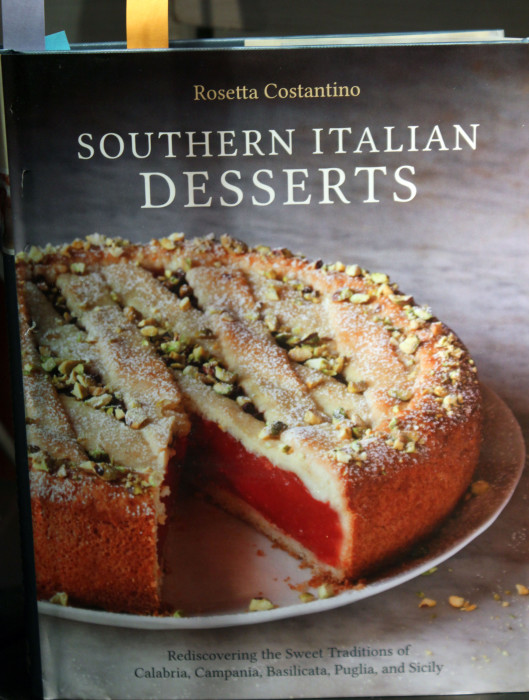 If you happen to walk by a copy of Southern Italian Desserts, I challenge you to keep on moving. Yeah, don't stop. Just ignore that cover. Go on, take the next step. No, wait. Oh.
If you are human, if you are a foodie, then that cover is going to make you pause. It certainly did me. A pastry top, sugar, pistachios, and something deeply red inside. What, I asked myself, is this?
It is the Crostata al Gelo di Mellone, a watermelon pudding tart from Sicily. A short crust pastry is the home for a watermelon pudding that is cooked, not on the stove, but inside the lattice-topped pastry. Exceptionally beautiful, Suzen and I have this on our "make when the watermelons finally arrive" list.
Author Rosetta Costantino was born in Calabria but raised in Oakland from age fourteen. She earned a chemical engineering degree at Berkeley and had a successful professional engineer. But, it was the draw of another kind of chemistry that finally won her heart. Today, with her mother, she teaches Southern Italian cooking and writes very successful cookbooks [My Calabria: Rustic Family Cooking from Italy's Undiscovered South].

This new book features dessert delicacies from across Southern Italy: Calabria, Campania, Basilicata, Puglia, and Sicily. Southern Italy is often described as poor, but I think it is fairer to describe it as more traditional and more bound to the earth than the "richer" Northern Italy.
I've driven the Po valley up north, past the miles and miles of factories with the same metal chimneys and polished glass headquarters buildings. In the south, I've simply walked two lane roads, basked in the heat, and smelled the rocket arugula that is a "weed" on the side of the road. I like the South.
We often write about a country having regional foods. Italy is the benchmark. It's not just "regional" in the sense of Sicily versus Tuscany. You can be a village and find two "better" ways of cooking a dish on the opposite ends of the only road that passes from thru. There is variety in abundance in Italy and surely in Southern Italy.
Which is why Southern Italian Desserts is so important. In the south, traditions — often coupled to annual religious feasts — have kept a dessert heritage alive. This heritage — threatened by modern manufactured food and demographic trends — is a world culinary treasure. This book is major step to saving that heritage and promoting it. Rosetta has traveled extensively throughout Southern Italy, eaten the original dishes, befriended professional chefs and local food experts, and compiled this encyclopedia with meticulous authenticity. The recipes come with one or two or more pages of instructions to take you through every twist and turn and filling step. It's all deliciously doable.
You will find here combinations that, unless you've walked those southern streets, you will not have experienced:
Ricotta and Pear Tart
Ricotta and Pistachio Mousse Cake
Strawberries with Limoncello
Italian Sponge Cake Filled with Pastry Cream and Strawberries
Mandarin Orange Pudding
Eggplant Layered with Sweetened Ricotta and Chocolate Sauce
Yes, that last idea really is an eggplant-based dessert. The picture in the book can only be describe as enticing. No, it doesn't look like eggplant. Suzen and I will be making this dish and we'll happily report on the results. If you think the idea is still too weird, I can assure you that the addition of sugar, ricotta, almonds, crushed amaretti cookies, and lots of orange peel is certain to generate a flavor profile that is not "vegetable."
If you page through Southern Italian Desserts, you are going to be captivated. Like me in the picture above, you'll find yourself putting little stickies on page after page. The only decision is where to begin. My vote is for the Almond Filled Spiral Cookies: a simple nut pastry is rolled out flat, topped with a layer of almonds and orange marmalade and candied orange peel and honey, then rolled up and sliced.
If you need desserts that are gluten free, then you will discover that Southern Italians have employed that option with gusto. Here you'll find Pistachio Cake and Flourless Almond Cookies with Cherry Preserves.
No matter your dessert passion — cake, cookie, pie or pudding — Southern Italian Desserts will expand your options in delightfully tasteful ways.