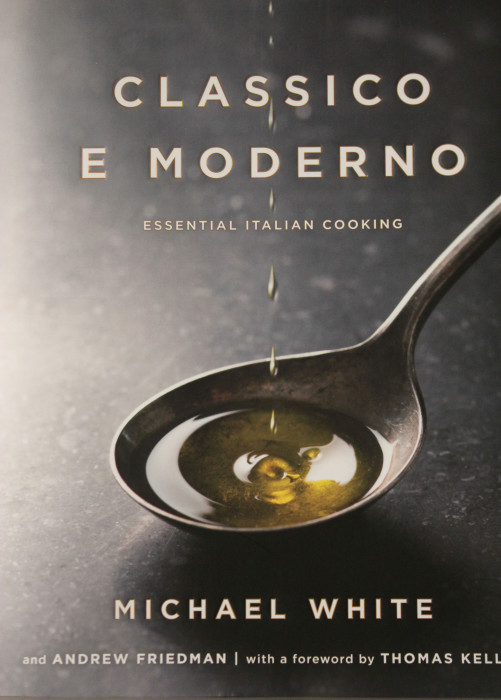 Upscale, gorgeous, coffee table cookbooks come in two varieties. Ones you can cook from and ones you can only admire, knowing too well that those beautiful pictures display food you could not possibly attempt on your own.
Michael White has rocketed to fame with his restaurants: six in New York City, two in New Jersey, one in Hong Kong and more to follow. His quality, in all the award winning restaurants, is unsurpassed. Michael grew up in Beloit, Wisconsin, migrated to Chicago for serious restaurant experience at Spiaggi, and was infected with the chef bug. Some people grow up wanting to be President. Thankfully, he wanted to be Chef. He made his way to Europe, eating, working, and learning. He came to love French food, too, but for him Italian was the cuisine that inspired him. In Europe, he gained expertise and his wife.
Returning to the United States, he worked in restaurants and then founded his own restaurant group. Now, with incredible experience, Michael has written Classico e Moderno: Essential Italian Cooking. There are 250 recipes here, in 400 pages, and 4 ½ pounds!
This is really two books in one. The first half, Classico, is Michael's tribute to the recipes he experienced and mastered during his years in Italy. These are, his versions, of the authentic recipes. Michael's spin is wonderfully evident. He does not have simple Chicken Liver Pate. His version is Chicken and Duck Liver cooked with Marsala and anchovies.
From Piedmont, there is Baked Porcini Mushrooms with Egg, Radicchio and Parmesan. From Emilia-Romagna, he offers Parmesan Custards. The Ligurian Seafood Salad combines shrimp, mussels, and calamari with potatoes, string beans, grape tomatoes, olive and capers — salad as a complete meal.
And then there are the meatballs, following the tradition of Emilia-Romagna. These are Italian regional meatballs and as far from American as you could imagine. Here we use basic meat and add lots dried herbs to achieve flavor. In Michael's version, it's all about the meat: pork, mortadella and prosciutto are combined with milk, cheese, egg and bread crumbs.
As you turn the pages in the Classico section, you may find familiar name. But, as I have tried to show, Michael has packed this book with regional specialties:
Garganelli with Prosciutto, Cram and Arugula
Cavatelli with Lam Ragu and Red Peppers
Veal Stuffed Angolotti
Pancetta-Wrapped Quail with Stewed Bell Peppers, Tomatoes and Onions
Baby Peppers Stuffed with Cheese and Bread Crumbs
To study Classico is to take a culinary tour of Italy, exploring regions and restaurants. And getting a stronger sense for the pure, simple concept that is classic Italian cooking.
Which leads us to Part 2 of the book: Moderno.
How do you know you are in Moderno? It's easy. First, they changed the fonts for the recipe titles. Sans Serif and ever so slightly italicized, you have entered a new world. The recipe titles tell you that. So do the pictures.
Moderno takes you on a tour, not of Italy, but Michael's creative spirit — okay, creative genius. Here are some sample ideas:
Salad of Raw Mushrooms, Charred Radicchio, and Pistachios
Pan Fried Soft Shell Crabs with Prosciutto and Melon
Raw Tuna with Radicchio and Grapefruit
Potato and Tuscan Kale Agnolotti
Spaghetti with Crab and Sea Urchin Roe
John Dory with Crab and Zucchini Flowers
Fennel-Crusted Tuna with Bean Puree and Crispy Pickled Onions
What has happened here is complex. Creativity, the availability of a full spectrum of ingredients, and the passion to experiment have all merged to forge these recipes. If you compare the photographs of these dishes with traditional fare of Classico, the distinction is clear: family fare versus Spartan and gloriously plated "New Food." If anything, Classico e Moderno could serve as an encyclopedia for the culinary explosion of the past two decades. More ingredients in unexpected combinations that are plated as art as much as meal. The contrast is exceptional and beautifully presented here.
So, is this a coffee table cookbook? One you look at, but cannot cook from, too hard, too complex, too arty? In a word, no. In particular, Michael's wizardry in the Moderno part has been carefully written into recipes for those of us with more modest culinary talent. Suzen took a stab at Pork Loin with Chickpeas and Ricotta Salata. The taste was inspiring: we opened a second bottle of wine. I'll post a picture and the recipe later this week.
All the recipes here, in both Classico and Moderno, are ready for you. Yes, the ingredients list will stretch to 15-20 items. This is Italian cooking, so what did you expect. But, the instructions for each recipe are truly short, direct, easily followed, and will take you from a counter filled with goodies to a plate you will be proud of. Be prepared for that second bottle of wine.
If you are a foodie, if Italian is your passion, then Classico e Moderno could not be more highly recommended.
[My apologies to Thomas Keller for truncating his name when I cropped the image above. Look, I came to Per Se, I ate at Per Se, and I am dying to return.]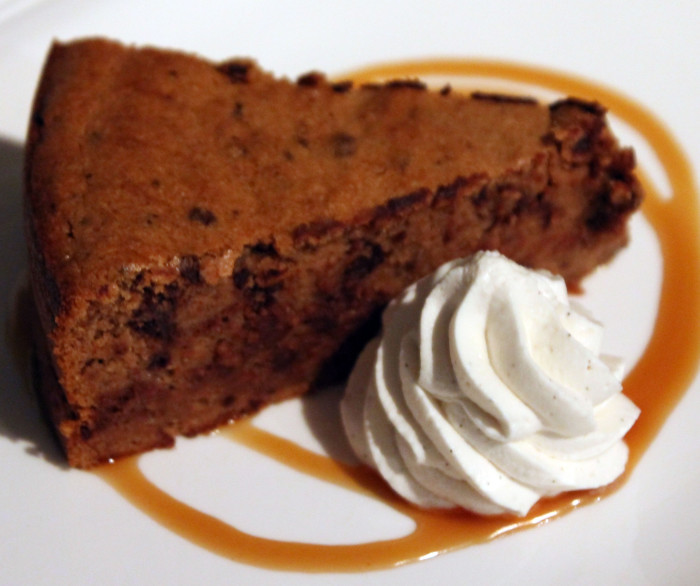 Amber Rose has just published Love Bake Nourish, a baking book that reflects a very distinctive personal nature. She's a passionate about foods that are seasonal, organic and not processed. She loves different flours and she cannot abide processed sugar. In her career as chef and author, she has scoured for recipes, old and new, that meet her standards for superior and naturally healthy baking.
This dish is old, Italian, and a treasure. No sugar, just honey. No flour, just ground walnuts plus chestnut puree. There is a reason traditional recipes are the core of our culinary heritage. They taste good.
Amber's recipes typically end with serving suggestions. I expected to read about whipped cream. How lovely to find she wants this dense, rich cake served with sour cream. This combination is truly self-intensifying.
And, uh, no, there is no chance of confusing this cake for a baked potato.
Addendum
Suzen made this cake for her monthly group of celiac patients from the Columbia University Center for Celiac Disease. She teaches patients and their families, not just how to get through, but how to thrive. Our pastry chef made this cake and I reminded her that it should come with sour cream. Our pastry chef is from the Caribbean and very dignified and a bit terse. "No, whipped cream," she said. And that's what the picture shows.
This cake is unleavened, so it is Passover ready.
A Comforting Chocolate and Chestnut Cake
Yield: serves 10-12
Ingredients:
5 large free-range eggs, separated
½ cup honey
7 tablespoons unsalted butter, softened
18 ounces unsweetened chestnut puree
1 ½ cups ground walnuts (or hazelnuts)
Finely grated zest of 1 unwaxed lemon
4 ounces dark chocolate (70% cocoa solids), grated or chopped
Preparation:
Preheat t h e oven to 350°F. Grease and flour a 10-inch loose-bottomed cake pan.
Mix the egg yolks and honey in a large bowl until thick and smooth, then add the butter, pureed chestnuts, walnuts, lemon zest, and chocolate, and mix thoroughly until everything is completely incorporated.
In a separate, very clean bowl, whisk the egg whites until stiff peaks form. Carefully fold the egg whites into the cake mixture, trying not to lose the air from the mixture, and don't bang the bowl. Scrape the mixture into the prepared pan and bake in the oven for 50 minutes to 1 hour. Remove from the oven and leave to cool in the pan.
When the cake has cooled completely, turn out onto a serving plate. Serve cold with a little sour cream or crème fraiche. I like it with cherry compote.
Source: Love Bake Nourish by Amber Rose