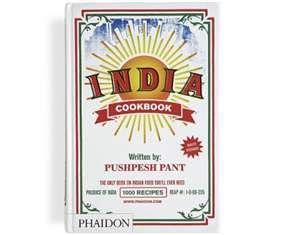 India.
What comes to mind? Tigers, elephants, jungles, teeming cities, … Oh, and the food: curries, tandoori chicken, onion kulcha bread, mango chutney, …
Actually, that's just scratching the surface. India is huge with jungles, yes, but also mountains, desserts and great river plains. Its history is an old as Egypt. In that time, with all those people, and all those different climates — plus the occasional impacts from Asia, the Middle East, and even Europe — Indian cuisine has evolved into a vastly complicated landscape. There's a lot of flavor beyond that tandoori chicken.
Pushpesh Pant has written India Cookbook and filled its 800 pages with 1000 recipes plus a culinary description of the different regions of India, with their particular styles and contributions to the food style of the nation.
Pant's research and dedication have produced the most detailed Indian cookbook you have ever seen. The subtitle says "The Only Book on Indian Food You'll Ever Need." I don't want to depress cookbooks sales, of course, but it's very true that you can live with this book alone for a long time to sample the treasures of India.
Why am I reviewing this book now? There are two reasons. First, it's Christmas. If you have a foodie friend interested in world cuisine, this is the perfect gift.
Second, it's Christmas. And holiday meals present challenges. You want them traditional but exciting. You have to have the "old" but there's always part of you that needs some "new."
There's going to be the turkey on your table, the mashed potatoes, the gravy, the stuffing, … That table is filling up, and there's no room for much more. And that's where India Cookbook comes into play.
As you scan the pages of this authentic book, you begin to understand something. Indians cook with the same things we do — okay, there are some additional spices thrown in — but you still see potatoes, and cauliflower and carrots, and peas. Except in the Indian world, these ingredients are not cooked one by one but together in wonderful combinations, providing the ideal veggie upgrades for you holiday table. For example, here you can find:
Fried Potatoes with Yoghurt
Fried Potatoes with Eggplant
Potatoes and Peas in a Chili Sauce
Cauliflower with Oranges
Fried Green Peas
Cauliflower with Potatoes and Chili
Peas and Carrots with a Chunky Tomato Sauce
Now, I'm not going to mess with my mashed potatoes, but out of this crowd of ideas, Suzen and I will be doing #4: Cauliflower with Oranges. It's an obvious compliment to the turkey and will contribute color and spice to the table. [And it even has potatoes in it!]
Find a copy of India Cookbook and you too will be putting stickies on pages and imaging how this encyclopedia of recipes can diversify and intensify your dining experiences.
Cauliflower with Oranges
Yield: serves 4
Ingredients:
1 small head cauliflower cut into 1-inch florets
4 potatoes, cut into 1-inch pieces
1 teaspoon ground turmeric
4 tablespoons vegetable oil
2 bay leaves
1 tablespoon garam masala
1 tablespoon ground fresh ginger
2 onions, finely diced
1 teaspoon chili powder
2 teaspoons ground cumin
1 teaspoon sugar
3 oranges, peel and de-seeded, pith removed, flesh reserved
3-4 green chilies, de-seeded and chopped
Salt
Preparation:
Put the vegetables in a large bowl, add the turmeric and toss until they are lightly coated.
Heat the oil in a large, heavy-based pan over high heat, then reduce the heat. Add the vegetables and stir fry for 2-3 minutes, or until they are light brown. Remove from the pan with a slotted spoon and set aside.
Add the bay leaves and garam masala to the pan and stir-fry for about 1 minute, or until fragrant. Add the ground ginger, onions, chili powder, cumin and sugar and stir-fry for a further 1 minute, or until the spices change color. Sprinkle over a few drops of water to prevent burning, if necessary. Add the vegetables, season with salt and stir thoroughly.
Add the flesh of 2 oranges, reserving the rest for the garnish. Mix well, then pour in ½ cup water, cover and cook over low heat for about 15 minutes.
About 5 minutes before the end of the cooking time, add the chilies. There should be very little sauce left in the pan. Garnish with the reserved orange.
Source: India Cookbook by Pushpesh Pant [published by Phaidon]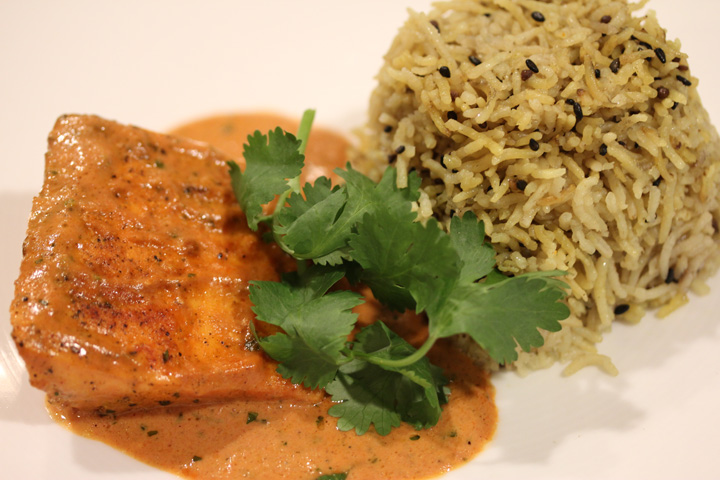 Yes, that's the same picture from yesterday. Now, ignore the salmon but focus on that rice, and the lovely tomato cream sauce. They are a wonderful combination. The rice has plenty of flavor but that whole experience is amplified by the sauce. With yesterday's salmon and this rice, you have a magnificent meal!
Yellow Basmati Rice with Sesame Seeds
Serves: 4-6 persons
Ingredients:
2 cups basmati Rice
2 tablespoons olive or canola oil
one dried hot red chili
1 teaspoon urad dal or yellow split peas
1 teaspoon whole brown or yellow mustard seeds
1 tablespoon sesame seeds
½ teaspoon ground turmeric
1 teaspoon salt, if desired
Preparation:
Put the rice in a bowl. Wash in several changes of water. Drain. Let the rice soaked in water that covers it generously for 30 minutes. Drain through a sieve and leave in the sieved suspended over a bowl to drip.
Pour the oil into a heavy medium pan (that has a tight fitting lid) and set over medium-high heat. When hot, put in the red chili, urad dal, mustard seeds, and sesame seeds. As soon as the dal turns reddish and the mustard seeds begin to pop, add the drained rice, turmeric, and salt. Turn the heat down to medium. Stir very gently and sauté for one minute. Add 2 ⅔ cups water and bring to a boil. Cover tightly, turn heat to very, very little, and simmer gently or 25 minutes
Source: At Home with Madhur Jaffrey by Madhur Jaffrey