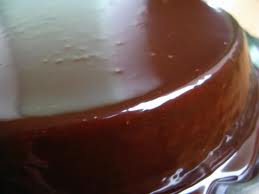 This is a two part blog: cake and frosting. Of course, frosting comes first and tomorrow you'll have the cake. Frosting deserves to be first. Well, icing should come first. Icing, frosting, which is it? Even in the recipe from The Great American Cookbook by Clementine Paddleford the two terms are confused. She calls this a Fudge Icing but refers to the mixture as a frosting. Oh, and it's not fudge. It's Mocha.
What is going on here? In mid-century, Clementine Paddleford toured America, writing for magazines and cataloging the "best" in local recipes. Those recipes were collected into her book How America Eats, which has now been republished as The Great American Cookbook. The book provides "typical but great" recipes region by region, state by state.
It is assuredly American. And it is great. Most importantly, this book captures how Americans cooked over 50 years ago. That was a different America. The terminology was different: hence using "icing" and "frosting" interchangeably. The styles of cooking were different. There is a recipe here for Hungarian Meatballs, something you'd expect to come from Pennsylvania or Ohio. No, it's from Florida, which had a much smaller population in the 1950's with a radically different ethnic mix.
There are recipes here with terms you've never heard of: Montauk Berry Duff from New York.
Today, the hottest restaurant in New York City is just two block from where I live on Worth Street. The chef is from Portland, Oregon, now listed as one of the food centers of America if not the world. I grew up in Portland. In the 1950's the hottest restaurant in Portland was Manning's Cafeteria where you pushed along a tray to get salmon croquettes and meatloaf and blue berry pie. For me, the close connections and yet the enormous increase in culinary complexity, well, it makes me shake my head and smile and the same time.
Ah, if you want to smile, then make this icing. It is an icing, thin and shining, not deep and thick like a frosting. But you won't care. You can use this icing on cakes, on cookies, or even on your fingertips.
Tomorrow comes the cake that Clementine recommended.
Fudge Icing from Seattle Circa 1960
Servings: covers one 9 X 13" sheet cake
Ingredients:
2 ¼ cups confectioners' sugar
5 tablespoons cocoa powder
6 tablespoons [¾ stick] unsalted butter
5 tablespoons hot coffee
1 ½ teaspoons vanilla extract
Preparation:
Sift the confectioners' sugar and cocoa into a medium bowl. Stir in the butter, then the coffee, followed by the vanilla, mixing well with a wooden spoon after each addition, until the frosting is smooth. Ice the top and sides of your cake with frosting.
Source: The Great American Cookbook by Clementine Paddleford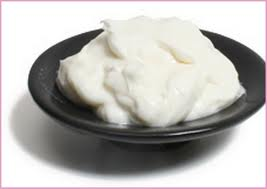 Sour cream. It has many uses: dips, baked potatoes, dips, chili topping, dips, …
It's wrong, I know, but the flavor image that pops into my head is Lipton Onion Soup mix and sour cream. And, of course, I always double the amount of soup mix so that the dip literally burns your tongue. What could be better?
That ability of sour cream to offer cool, tangy flavor is, in fact, very versatile. The curt tang can be a perfect contrast to something that is "too" sweet. "Too" sweet? Yes, it's possible. Some rich brownie recipes are so intense with chocolate and sugar that it's hard to eat more than one. Even for a chocoholic, approaching-diabetic like me.
Here is the solution: a Sour Cream Icing that is made with chocolate and becomes the perfect, muting crown for brownies, cakes, or cupcakes.
You'll want to let your sour cream come fully to room temperature. If it is still cold and is added to the melted chocolate, the chocolate will seize and you are dead. You can't reheat the mixture. Sour cream does not reheat well. So, just plan ahead and you'll be able to enjoy every bite of this distinctive icing.
Sour Cream Icing
Yield: about 1 ½ cups
Ingredients:
6 ounces bittersweet or semisweet chocolate, chopped
8 ounces sour cream (regular, low-fat, or fat-free) at room temperature
1 teaspoon vanilla extract
Preparation:
Place the chocolate in the top of a double boiler set over simmering water. Stir constantly until half the chocolate is melted. Remove the top of double boiler from the pot, then continue stirring, off from the heat, until the chocolate is completely melted.
Alternatively, you can melt the chocolate in a microwave, too. Again, keep in the microwave until only about half is melted, then remove and stir with a spoon until completed mixed and melted.
[Nothing, nothing is sadder than chocolate microwaved until it scorches. You kitchen will smell like it's been on fire and the glass bowl will be so much fun to clean. That burnt chocolate almost becomes a mortar. Always under heat!]
Add the sour cream and vanilla. Beat them into the chocolate with an electric mixer on low speed. Continue beating until the frosting can hold a peak when molded with a spoon, about 4 minutes. Spread immediately.
You can use your stand mixer for this, but here's a case where one of those little, hand-held mixers is much easier to use and maneuver.
Source: The Ultimate Brownie Book by Bruce Weinstein