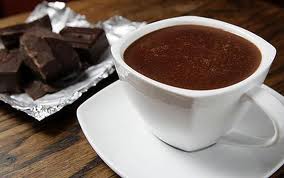 Hot chocolate. I am an addict. For me, an appropriate 12-step program would be how to combine 12 types of chocolate while making my hot chocolate. There are other ingredients, of course, like sugar. You cannot make hot chocolate without sugar. It's not possible.
Actually, it is. From the website delish.com, here is a recipe for hot chocolate from Bouchon Bakery. Located in New York City in the Time Warner Center on the food floor, Bouchon Bakery is a sort of heaven. If you were a bank robber, and could just saunter into an open vault filled with money — nice, new crisp bills — well, you'd be thrilled. Stand in line at Bouchon and look at the perfectly executed pastries and cookies, and the thrill is there. Every item is flawless. It's Paris at Columbus Circle.
And then there's this hot chocolate recipe. No sugar. Instead, crushed and toasted coriander seeds along with a cinnamon stick. I must say, I looked at this recipe, pondered these ingredients and the technique, and just had to wonder: how could this taste like hot chocolate.
Well, it does, deliciously. You don't miss the sugar at all! The coriander flavor is muted. There are cinnamon overtones that just give you an aromatic quality without conflicting with the chocolate. This is a very different style of hot chocolate but one you should try. You are sure to enjoy it.
Okay, in the interest of full disclosure, I did serve it with whipped cream that had sugar but that's just Step 7 of my current program. If I didn't do it, my sponsor would have been all over me.
Bouchon Bakery Hot Chocolate
Serves: 1
Ingredients:
8 ½ ounces whole milk
1 ounce heavy cream
½ teaspoon coriander seeds
1 cinnamon stick
½ vanilla bean
1 tablespoon cocoa
1 ½ ounces milk chocolate, finely chopped
1 ½ ounces dark chocolate, finely chopped
Preparation:
Place the chopped chocolates into a metal bowl with room to eventually add the milk and to be able to stir.
Place the milk and cream in a saucepan over medium-high heat and bring to a boil. Reduce the heat to a simmer.
Smash the coriander seeds and toast with the cinnamon stick in a hot pan until fragrant. Add these spices to the hot milk and allow to steep for 2 minutes.
Scrape the vanilla bean and add to the milk mixture. Stir in the cocoa powder and whisk to combine.
Strain the milk mixture over the chopped chocolate. Whisk well until the chocolate is melted. Strain one more time and serve.
Source: Adapted from delish.com
I know, it's been a competitive year for us all. Getting work, keeping work, working better, more with less, more more with more less.
If you think it's bad for us adults, you just have to empathize with our kids. It's a different world. One of Suzen's friends has a second grader who was doing a kitchen project for school. He was home in Brooklyn and there was a problem, actually a kitchen disaster. Very upset, he called his mother , who was working with Suzen, and lamented that he was about to flunk second grade. I think if, at age seven, you are smart enough to call mom and articulate educational concerns, you are probably going to make it.
In Austin, our grandsons had a check list four years ago before starting kindergarten. You had to know the alphabet and be able to count to 100. Otherwise, you were rejected for kindergarten. It's not that you flunked kindergarten, you couldn't even start.
And now, it's almost Christmas and each kid knows that Santa's sleigh has a finite volume but there are more and more children around the world Santa has to serve. So kids are going to feel threatened. What if Santa has to cut back on presents for everyone, what if Santa runs late and never even comes, what if …
Here is my suggestion. Bribery and inspiration. This hot chocolate will put a smile on Santa's face and give him the caffeine buzz he needs to make it to every chimney. You might want to double up here and make some for you, too.
Tell your kids you are doing this for Santa. They need all the reassurance you can provide.
Hot Chocolate Espresso
Yield: 4 servings
Ingredients:
½ cup heavy cream
½ cup whole milk
3 ounces bittersweet chocolate (at least 70 percent cacao), chopped
Preparation:
Bring the cream and milk to a simmer in a small heavy saucepan over medium-high heat. Remove from the heat and quickly add the chocolate, stirring until melted and very smooth. Return to medium-low heat and warm until a bubble or two forms on the surface, about 3 minutes.
Pour the hot chocolate into 4 demitasse cups and serve immediately.
Source: Hot Chocolate by Fred Thompson