There is in Paris one cathedral, Notre Dame. And then a lot of other churches, some actually more interesting. Except that Notre Dame has one unmatched feature. Each Sunday afternoon, the church is filled for the free organ concert. I suggest you go on a dark, wet, gloomy day. Let those organ vibes literally penetrate your body. And look for people with hunchbacks ready to leap out from behind the columns. They do exist. I saw one.
Okay, it was a shadow, but I know what I saw.
There are in Paris other cathedrals. For example, Angelina's, a 1900′s style parlor space famous for its hot chocolate. Famous. And instantly addictive. Once you have had hot chocolate there, nothing else will satisfy. Everything else is lamentable. You will never recover. Your therapist will not be able to understand unless they too suffer from Angelina depression and then he or she will merely be joining you in fond memories as you both grab for tissues.
Those days are over. In his great book Hot Chocolate, Michael Turback has crafted a recipe that so resembles the original that I'd have to sip them side by side to know the difference. And I bet I the difference is very slight. The secret is the mix of milk and heavy cream. And then the amount of chocolate. A mere 4 ounces per serving. The recipe is below. The recipe and pictures are wonderfully illustrated at this website:
http://almostbourdain.blogspot.com/2009/06/paris-angelinas-chocolat-lafricain-hot.html
I really, really, really encourage you to try this. If your weekend allotment of time is for either hot chocolate or a margarita, go chocolate. Go Angelina.
Here is the remarkable recipe.
Paris Angelina's Chocolat L'Africain
Yield: 1 cup [which is not going to be enough for you alone]
Ingredients:
3/4 cup whole milk
1/4 cup heavy cream
1 teaspoon confectioners' sugar
4 ounces bittersweet chocolate, chopped
Whipped cream
Preparation:
Combine the milk, cream and sugar in a saucepan and heat over medium-high head until bubbles appear around edges. Remove from the heat and add the chocolate. Whisk until melted. You may n eed to returen to low heat. You are going to generate a very thick beverage, part of the charm.
Serve in a cup with whipped cream. Marshmallows, as shown in the picture, are an option but would probably get you banned from the Right Bank.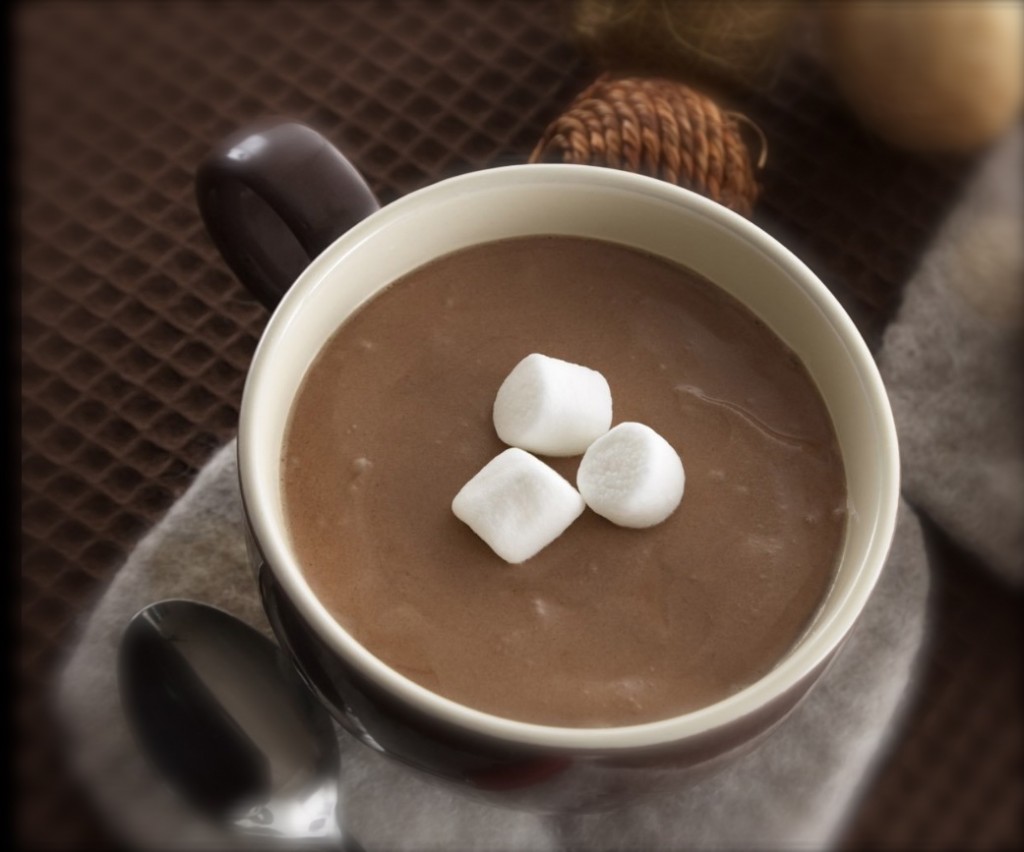 There are many, many ways to make hot chocolate. I just posted two marvelous recipes earlier today from Fred Thompson and Linda Collister.  But in your portfolio of hot chocolate ideas, you need to consider these things.
What is the liquid I use?
Your options include:
Pure milk
Pure water
Pure heavy cream
Some combination of those three
Dashes of booze, such as coffee liqueur or kahlua or brandy or tequila
What is the source of the chocolate?
Cocoa powder
Unsweetened chocolate, or semi, or milk or even white
How do I thicken the beverage?
A "thick" beverage is simply more satisfying than a thin one so consider:
Whisking
Arrowroot
Cornstarch
How can I augment the flavor?
Orange or lemon or lime zest
Chili powder
Cayenne pepper
Honey
Maple syrup
Brown sugar
Dulce de leche
Vanilla bean
Cinnamon stick
Lavendar
Homemade caramel sauce
Malted milk powder and malted milk balls
Nutmeg or allspice or cloves
Peanut butter chips
Ground peppermint candy or peppermint oil
Espresso powder or a shot of coffee
Cardamom
Eggnog
How can I flavor the whipped cream?
Cayanne
Chocolate
Cinnamon
Liqueur of any kind
To find specific recipes using these ideas, you can consult Hot Chocolate by Fred Thompson or Hot Chocolate by Michael Turback.
Or, you can wing it. You'll be fine. It's a dash of this, a teaspoon of that. Your goal is to create flavor overtones and you can certainly do that using one or more of these flavor additions.