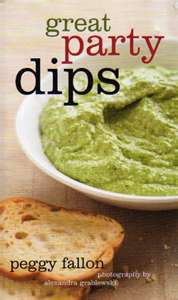 By one report I saw today, there will be over 30 million Super Bowl parties on Sunday. That's going to be a lot of dip. Dip for chips, vegetables, even shrimp or crab. And for those more upscale "dipables" like seafood you'll want an equally upscale dip. Something easy, yet something a tad different.
Great Party Dips by Peggy Fallon is a slim, interesting book that has all the classics — salsa fresca, guacamole, creamy herb dip — plus new dip ideas that are just the ticket for the Super Bowl. Well, a food ticket. Nothing here is going to get you into the game.
If you do just happen to have a spare ticket, you can email me. I would be thrilled. Somewhere on or near the fifty yard line.
This dip has a lightness that comes from folding in whipped cream, an irresistible ingredient for me. And, it can be made up to three days in advance, so party preparation can be spread over multiple days. The last thing you need, at the start of your party, is to already be tired from getting ready for your own party. Dividing the effort of preparing that party spread over multiple days is simply wise planning.
Creamy Horseradish Dipping Sauce with Fresh Chives
Yield: 1 ½ cups, enough for 6-8
Ingredients:
½ cup sour cream
¼ cup mayonnaise
2 teaspoons honey-Dijon mustard
2 tablespoons prepared white horseradish, or more to taste
1/4 teaspoon ground white pepper
½ cup heavy cream
1 tablespoon minced fresh chives
Preparation:
In a medium bowl, combine the sour cream, mayonnaise, mustard, horseradish and white pepper.
In another bowl, whip the cream until forms stiff peaks. Fold the whipped cream and chives into the horseradish mixture until blended.
Transfer to a small bowl, cover, and refrigerate for at least 2 hours or up to 3 days before serving.
Source: Great Party Dips by Peggy Fallon
Here's another chicken wings recipe that is delicious but not hot. This one is sweet — thanks to maple syrup — yet with a tang thanks to some pepper, vinegar, and horseradish. The spices here are present in small amounts, enough to give a hint of fire, but without smoke or flames. Just some comforting warmth.
I suggest these wings as part of an assortment for a party platter.
Canadian Maple-Leaf Wings
Yield: 20 wings
Ingredients:
½ cup real maple syrup
¼ cup ketchup
1 teaspoon crushed dried red pepper
¼ cup apple cider vinegar
2 tablespoons grated horseradish
2 teaspoons dried mustard
½ teaspoon ground cinnamon
2 tablespoons (¼ stick) unsalted butter
20 trimmed and separated wings
Preparation:
In a small saucepan over high heat, combine the maple syrup, ketchup, crushed pepper, vinegar, horseradish, mustard, cinnamon, and butter. Bring to a boil and stir until all ingredients are dissolved. Reduce the heat and simmer for 3 minutes. Removed from the heat and let the sauce cool for 5 minutes.
Place the wings on a low- to medium-high heat grill or barbecue. Brush the wings generously with the basting sauce. Continue to baste and turn the wings for 25 to 30 minutes, or until glazed and cooked through. Transfer the wings to a platter and serve.
Source: Wings Across America by Armand Vandersitgchel