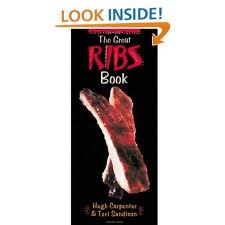 My favorite cuisine? Well sort of Mexican, Southwestern, Thai, French, Italian, Japanese, Chinese. You know what I mean.
I like a lot things and the "most liked" can depend on the time of day, the smells on the street, how long since my last pasta gorge, or how long since I ate some great ribs.
Ribs. No matter what the "cuisine" I can do the ribs. It can be a Chinese restaurant with those red gems, or a Thai place with ribs floating in broth, or a barbecue place with smoke in the air. It's always the ribs. Yes, the next morning, even after brushing my teeth, I'm still getting stands of meat from between my teeth. But, you know what? Those strands can still taste great.
This recipe for Sweet and Sour and Fiery Ribs comes from The Great Ribs Book by Hugh Carpenter and Teri Sandsion. It's a universalist recipe that can be applied to ribs of any denomination: beef, pork, or even lamb. Beef is the meat of choice, though, for these.
Here you will find sweet flavor from honey, sour from vinegar, and heat from chipotle. Plus lots of overtones from tomato paste, cinnamon, and cilantro. There is flavor aplenty here.
When we make these, we don't marinate for just the 15 minutes minimum. We go the whole hog [or whole cow] and let the sauce penetrate for hours and hours. I know there are discussions about how long you really need to marinate something. I am of the firm belief that you have to give all the flavor molecules equal opportunity to penetrate and offer up their tasty secrets.
I have to say that on a Sunday afternoon or early evening, when your football team is the race for playoff spot, you have a choice. You can be in the stadium, with the rain and snow, cheering your team on and then braving the 3-hours of snarled traffic to get home. Or you can be watching on your big screen, munching these ribs and having a beer or some sangria. What you do is up to you. I don't drink and drive.
Sweet and Sour and Fiery Ribs
Yield: Serves 4
Ingredients:
6 pounds beef ribs or ribs of your choice
½ cup honey
½ cup water
½ cup distilled white vinegar
½ cup chipotle chiles in adobo sauce
½ cup tomato paste
1 teaspoon ground cinnamon
1 cup chopped cilantro sprigs
6 gloves garlic, finely minced
Preparation:
Remove the membrane from the underside of the ribs if it is still present. If you are not sure, talk to your butcher when you buy the ribs.
To make the sauce, come all the remaining ingredients in a food processor fitted with a metal bland and puree. Makes about 2 ½ cups.
Coat the ribs evenly on both sides with half the sauce. Marinate the ribs for at least 15 minutes and up to 8 hours. Reserve the remaining sauce to serve with the ribs [or you may be basting with it if you are oven roasting or grilling; if you are a sauce freak and paranoid, just double the recipe; you can use leftover sauce the next day on your sandwich instead of mayo].
Cook the ribs using the technique you prefer: grill, smoke, or roast. Since winter is upon us, the instructions for roasting [indoors!] are presented below.
Once cooked, serve by cutting each side of the ribs into single ribs or half or one third side slabs. Serve at once with the accompanying sauce.
How to Oven Roast Ribs
Preheat the oven to 350⁰F. If your oven has a convection setting, set the oven on "convection" at 325⁰. Place the ribs on a wire rack, meaty side up. Place the rack on a foil-lined baking sheet on the middle oven rack. Place a small pan of hot water in the bottom of the oven, and roast the ribs until the meat begins to shrink from the ends of the bone. Brush the meaty side with reserved marinade one or two times during the roasting. Do NOT turn the ribs over. Approximate roasting times: pork baby back ribs and country-style spareribs for 75 minutes, spareribs and beef ribs for 90 minutes, and lamb ribs for 40 minutes. Don't overcook that lamb!
Source: The Great Ribs Book by Hugh Carpenter and Teri Sandsion.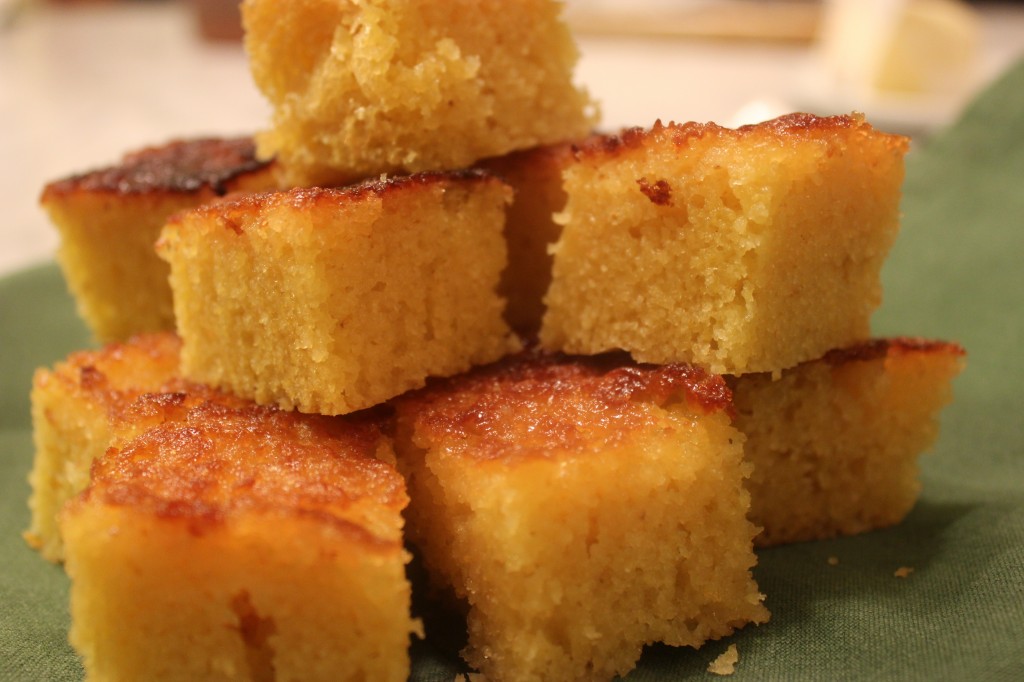 "I'm making the corn bread," Suzen announced.
"Oh, good, honey," I said. Then I bit my tongue as hard as I could and left the room. How, how was this possible? I had just given her my copy of Dessert by Yard, a treasure trove of wonders, like My Favorite White Birthday Cake with Chocolate and Butter Fudge Frosting. There are pages and pages of cakes and pies and cookies and treats I can't begin to describe. Treats I have yet to put in my mouth.
And what does she choose to make? Corn bread.
Oh, yum. Corn bread is right up there on the list of things I have to have on a daily basis. It was so thrilling to learn that …
Truthfully, I like corn bread. Once in a while, on the side, with some chili. That's fine. But I wanted a rich, dazzling dessert and corn bread is not on that list.
My mind began to change when she was making the glaze. The corn bread, fresh out of the oven, had that distinct aroma. And when the honey glaze hit it, there was heightened incense in the room, and the corn bread suddenly had this sparkling liquid top. The glaze slowly sank into the hundreds of tiny holes Suzen had poked.
I grabbed a knife.
"You will wait until dinner," I was told. "Thirty minutes."
"But," I protested.
"I know exactly what you were thinking, Brian. Learn your lesson."
Enjoy this wonder anytime, anywhere.
[I'm still going to make that cake, but without any sense of depravation.]
Honey-Glazed Spago Corn Bread
Yield: one 9-X-13 inch pan
Ingredients:
For the cake:
1 cup yellow cornmeal
1 cup all-purpose flour
¼ cup cake flour
1 cup sugar
2 tablespoons baking powder
1 ½ teaspoons salt
4 large eggs, at room temperature
3 ounces unsalted butter
⅓ cup vegetable oil
1 cup milk
½ cup buttermilk
For the cake:
3 ounces unsalted butter
¼ cup honey
⅓ cup water
Preparation:
Place a rack in the middle of the oven and preheat the oven to 350°F. Line a 9-X-13-inch baking pan with aluminum foil and spray the foil with pan spray.
Sift together the cornmeal, all-purpose flour, cake flour, sugar, baking powder and salt 2 times. Set aside.
In a medium bowl, whisk together the eggs. Melt the butter and immediately whisk into the eggs in a slow stream. Whisk in the oil, milk, and buttermilk. Whisk in the dry ingredients just until combined.
Scrape the batter into the pan and bake for 30 minutes. Rotate the pan front to back and continue to bake for 10 minutes, or until a tester inserted in the center comes out clean.
To make the glaze, while the com bread is baking, melt the butter in a medium saucepan. Add the honey and water and whisk until blended.
When the corn bread is done, removed from the oven and pokes all over the bread, about ½ inch apart using a toothpick. Brush with the glaze and allow to cool.
This is wonderful warm or cold. It's so rich you don't need to put butter on top.
But you can. I did. However, I did not add honey. I'm a moderate.
The next day, heated in the oven, this is breakfast paradise.
That glaze, by the way, truly makes for a moist and sticky cake. It's a fun treat.
Source: Dessert by the Yard by Sherry Yard