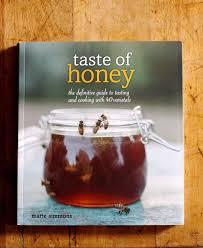 Marie Simmons is a friend  and very trusted author. Trusted? Take any recipe, from any of her 20+ cookbooks, and you just have to follow the simple, totally clear directions. Your results will be, well not just results, but a culinary accomplishment that will truly please you.
Marie's latest venture is Taste of Honey. Here's the first taste test that Suzen tried: a salad dressing that has "the usual suspects" coupled with a good dose of honey. The fun thing here is playing with the amount of honey —Suzen displayed a heavy hand here so there was a distinctly honey tang to her dressing.
And, of course, changing honey varieties can generate enormous flavor shifts. Unlike other foods where you have to struggle to notice the "difference" that "experts" announce, with honey you can be tongue-dead and still be very aware of a flavor difference.
So with this recipe as a template, you can pair different honey flavors with different ingredients. Chicory versus romaine, for example, gives you room for mix and match.
Suzen and I are working our way through this lovely book recipe by recipe. More tasting results to come. No testing is necessary: these are all Simmons perfect.
All-Purpose Honey Mustard Salad Dressing
Yield: 2/3 cup
Ingredients:
5 tablespoons extra-virgin olive oil
2 tablespoon full-bodies red wine vinegar
2 tablespoons honey [or more!]
2 teaspoons Dijon mustard
1 small clove garlic, grated
½ teaspoon coarse salt
Freshly ground black pepper
Preparation:
Combine all of the ingredients in a blender and blend until emulsified. If making by hand, combine all of the ingredients except the olive oil in small deep bow. Add the olive oil a few drops at a time, continuously whisking until emulsified.
Store in a glass jar at room temperature for up to 1 day or refrigerate and keep for up to 1 week.
Source: Taste of Honey by Marie Simmons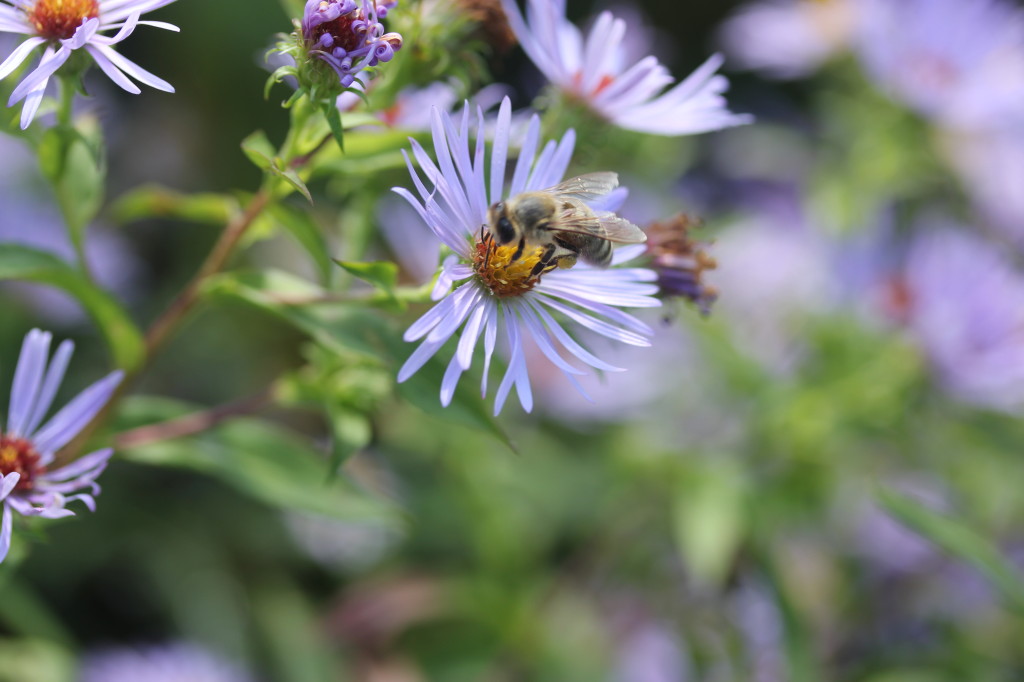 It always helps to begin with the beginning. I'm pretty sure that is a bee in the picture. I got close, but I did not want to get that close.
Bees, of course, are endangered. Suzen and I attended a seminar so we could have our own hive. The problem with doing that is the bears. You need an electric fence around the hive and the hive boxes have to be chained together so they are not destroyed when the bear has destroyed the electric fence.
We spoke with a man who estimated his honey cost him $600/pound, given all the gadgets you need for protection.
Rather than create a small Alcatraz, we've elected to buy our honey.
On a morning biscuit, nothing could be more wonderful than honey butter. Here's just the recipe to let you make your morning perfect. And, if honey is not your preference, you can substitute jam or preserves.
Just try to plant some lavender or other plants that bees can thrive on. They need our help and we need the honey.
Honey Butter
Yield: 1 cup
Ingredients:
¼ pound [1 stick] butter, softened
¼ cup honey
Preparation:
In a medium bowl, place the softened butter and honey. Beat with an electric mixer until light and fluffy. If you are using a stand mixer, then the whip attachment is your tool of choice. But even better, this is a time to use one of the small hand mixers. You can find excellent ones now for under $20 and they actually do a better job in this situation than the stand mixer. You just have that extra control that only an able wrist can provide.
Sources: Thanksgiving Cookbook by Holly Garrison