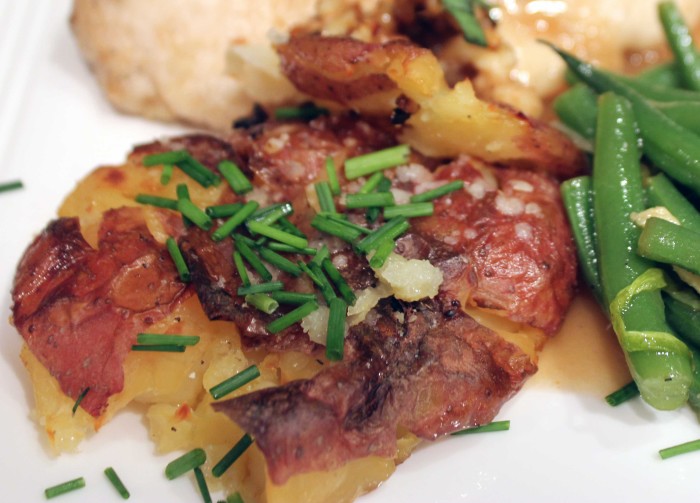 Often we prepare our potatoes with swiftness. One [step] and done. Baked or fried or boiled. Salt, pepper, butter or mustard or sour cream. Quick and ready to eat.
Consider a different, slower, more complex, but oh-so-good path. These potatoes are cooked twice: once in a simple boil and then roasted with oil you have flavored with herbs. Optionally, add some bacon and cheese. Maybe that's mandatory, not optional.
The result? You will have a renewed respect for the not-so-humble potato. Pair with a good [and now expensive steak] and you have a meal worth its price.
The smashing part here is one to enlist family members in for help. Want to introduce your kids to the fine art of cooking? Give them a potato, a towel to cover the potato, and pan to flatten the potato. All those TV shows and video games they watch with violence in abundance? Give your kids some real world experience.
Herbed Crushed Potatoes

Yield: 4-5 servings of 2 potatoes each

Ingredients:

For the oil:

2 cups olive oil
1 head garlic
2 sprigs rosemary
4 sprigs thyme
For the potatoes:

2 pounds red potatoes, scrubbed [medium to small size]
¼ cup chopped fresh parsley
½ cup extra-virgin olive oil
½ pound of thick cut bacon, cooked and crumbled [optional but a really good idea]
3 tablespoons grated parmesan [also optional but brilliantly wonderful]
Salt & freshly ground pepper to taste
Parsely or chives for garnish
Preparation:

Preheat oven 450°F.
To make the flavored oil, separate the garlic cloves from the head clean and gently bruise. Place garlic in olive oil with rosemary and thyme and bring to a simmer.
Remove from the heat and let sit for 20 minutes.
For the potatoes, cook in a large saucepan of boiling salted water until tender, 15 minutes.
Drain the potatoes, pat dry, place potato on dish towel and partially flatten (be careful to not completely crush) with hand or the back of a small pot. Place crushed potato on cookie sheet and brush liberally with flavored olive oil on both sides, season with salt and pepper.
Place in 450°F oven for 15 minutes and then turn potato over and bake for another 15 minutes, until lightly brown and crisp. Remove from oven.
Sprinkle with bacon, parmesan and parsley serve.
Source: Adapted from American Test Kitchen Television

Photo Information Canon T2i, EFS 60 mm Macro Lens, F/4.5 for 1/50th second at ISO‑800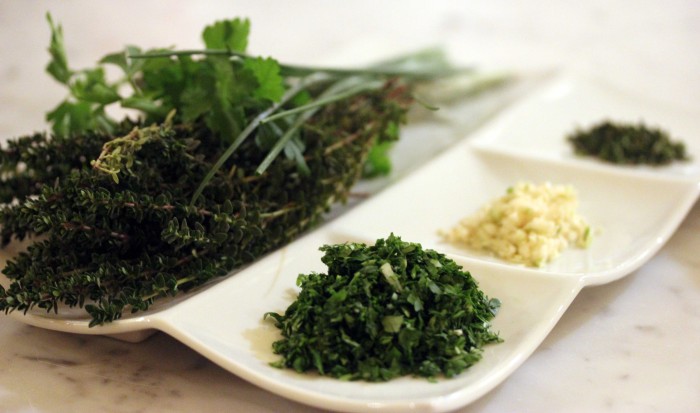 You're about to make a dip. What are you going to use. Onion soup mix in sour cream? Please, take a moment. Look at the post "Not Your Mother's Onion Dip from Diane Morgan" published on April 17, 2014. There the base is sour cream but also mayo with some vinegar on the side for a dash of intense sour.
We'll talk about dips in two steps: that base and then the add-ins. It's just like ice cream.
Dip bases can be many things: sour cream, mayo, sour cream + mayo, mayo + olive oil, whipping cream + olive oil, yogurt, yogurt + sour cream, or crème fraiche. Those are ideas from my "go to" dip book, Delicious Dips by that same Diane Morgan. Clearly, there are more combinations available than listed here. You can play to achieve the flavor and texture you desire. And, in Diane's book, she never goes to a triple combination, say, sour cream + yogurt + crème fraiche. It's not just the ingredients, either, but the relative proportions.
Once you have your base, what do you put in? Again, that packaged onion soup mix should just be put aside. Cooking, well caramelizing, your own onion will create a far more satisfactory dip. I almost slipped and said "product." Product is what you get when you use the soup mix: familiar, ever dependable, but ultimately boring. Live a little.
Dip making can be just the opportunity to empty your spice rack. Don't be afraid to pick three or four jars of spices that really deserve a happy end of life. A combination of spices and live ingredients — diced scallions, peppers, chives, garlic, or herbs fresh from your garden — will contribute their own flavors and amplify others.
The odds are, your dip creation today will be unique. Never to be repeated. And certainly not to be forgotten.