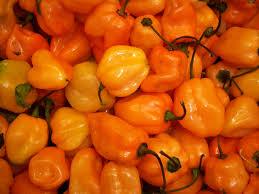 Habaneros are hot. That we all know. In 2000, with its Scoville scale of 100,00-350,000, the habanero was considered the world's hottest chili. Thanks to genetic engineering, and perhaps man's endless quest for pain, the habanero has been displaced from the top of that list. But never from our hearts.
This particular pepper originated in the Amazon, then spread north in the Americas and ultimately worldwide. In the 18th century, taxonomist thought the pepper came from China, hence its Latin name Capscum chinense [the Chinese pepper]. It's American. South American. Oh, it is closely related to, but not the same as, the Scotch Bonnet.
How can we use something so potent? Let's, let's drink it.
Combine habanero and honey to forge a Habanero Honey Syrup. And then, unleash the dogs of war.
Well, war may be too awkward a term here. How about: rich and rapturous flavor enhancement. If you have read this blog before, you understand that when it comes to cocktails, I adopt a classic approach: a liqueur, something sour, and something sweet.
Now, let's shift to something sweet and hot. Use this syrup in a margarita in place of simple sugar syrup. In that combination, that syrup first strikes the tongue as sweet, because it is loaded with honey. Then the tequila and lime/lemon flavors approach. But the aftertaste now is not lingering tequila. It is a rush of heat from that habanero that lingers pleasantly.
This syrup is a reward you should engage. And, if margaritas are not your beverage of preference, then tomorrow you'll see the Habanero-Honey Syrup used without alcohol but with total satisfaction.
Honey Habanero Syrup
Yield: ~11 ounces
Ingredients:
1 cup water
1 cup honey
½ to 1 teaspoon dried habanero [available at Latin markets]
Preparation:
In a small saucepan, combine 1 cup of water and 1 cup of honey. Add the dried habanero. Bring to a boil, simmer for about 10 minutes, the let cool. Strain into a jar and refrigerate for up to 1 month.
Use delicately. It's hot.
Source: Food & Wine Cocktails 2013 and Wikipedia
Photo Information [top picture]: Canon T2i, EFS 60 mm Macro Lens, F/5.6 for 1/10th second at ISO-3200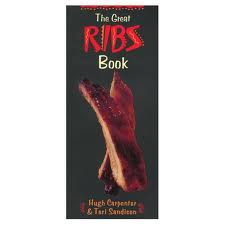 "Oh, careful," I said. "Your hair is going into the sauce. What's wrong?'
We were at a local barbeque spot and for some reason Suzen was dipping her head right into her food.
"What's wrong?" I repeated.
"You can be so embarrassing," Suzen expressed herself.
"What did I do?"
"When the waiter brought your spareribs," she pointed with her fork towards my plate, "you asked him if they were beef or pork."
"What's wrong with that?" I asked.
"Brian," Suzen's voice was low, "spareribs only come from pigs. No cows. No little lambs. Pigs! My God, why can't you get that straight?"
Today, I slunk into my local bookstore and found The Great Ribs Book by Hugh Carpenter and Teri Sandison, whose The Great Wings Book I reviewed last week. This tidy volume begins with a survey of what ribs are:
Spareribs coming from pigs appearing either Kansas City-style or St. Louis-style.
Pork Baby Back Ribs: the Rolls-Royce of ribs offering more meat and less fat
Country-Style Spareribs: cut from the pork loin and featuring lots of meat and just a little bone
Beef Back Ribs: offering lots of bone and not much meat
Beef Short Ribs: a combination of meat and bone that is best cooked slowly with smoke to avoid toughness
Lamb Ribs: fatty and low in meat, these ribs are best smoked or grilled or roasted, but cannot be braised.
The Great Ribs Book continues with discussions about:
Fresh versus frozen [go fresh!]
Preliminary boiling of ribs before grilling or smoking [no, no, no]
How to remove that white membrane
How to marinate, baste, cut, grill, smoke, roast or braise
In short, you have a complete primer on ribs! And then, the recipes unfold in chapters devoted to:
Asian style ribs
American style
Mexican and Southwester ribs
Mediterranean and Caribbean ribs
Fruit-based glazes and marinades
Braised ribs
I particularly love those fruit-based glazes and this book offers a combination that I would never have imagined: strawberry, soy, habanero and mint. To use this marinade, make it and coat the ribs evenly on both sides. Marinate the ribs, refrigerated, for at least 15 minutes but up to 8 hours for the very best flavor. If you have extra marinade, baste the ribs as they cook.
Strawberry-Habanero Marinade
Yield: about 1 ¼ cups or enough for 2 full sides of spareribs
Ingredients:
½ cup strawberry jam
Zest of 2 limes
Juice of 2 limes
¼ cup thin soy sauce
2 tablespoons habanero hot sauce
¼ cup finely minced ginger
¼ cup minced mint leaves
Preparation:
Combine all the ingredients and whisk or stir well to create a uniform mixture. No cooking is necessary.
Source: The Great Ribs Book by Hugh Carpenter and Teri Sandison