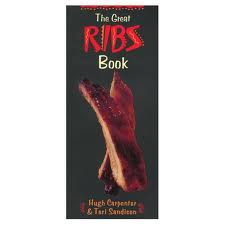 "Oh, careful," I said. "Your hair is going into the sauce. What's wrong?'
We were at a local barbeque spot and for some reason Suzen was dipping her head right into her food.
"What's wrong?" I repeated.
"You can be so embarrassing," Suzen expressed herself.
"What did I do?"
"When the waiter brought your spareribs," she pointed with her fork towards my plate, "you asked him if they were beef or pork."
"What's wrong with that?" I asked.
"Brian," Suzen's voice was low, "spareribs only come from pigs. No cows. No little lambs. Pigs! My God, why can't you get that straight?"
Today, I slunk into my local bookstore and found The Great Ribs Book by Hugh Carpenter and Teri Sandison, whose The Great Wings Book I reviewed last week. This tidy volume begins with a survey of what ribs are:
Spareribs coming from pigs appearing either Kansas City-style or St. Louis-style.
Pork Baby Back Ribs: the Rolls-Royce of ribs offering more meat and less fat
Country-Style Spareribs: cut from the pork loin and featuring lots of meat and just a little bone
Beef Back Ribs: offering lots of bone and not much meat
Beef Short Ribs: a combination of meat and bone that is best cooked slowly with smoke to avoid toughness
Lamb Ribs: fatty and low in meat, these ribs are best smoked or grilled or roasted, but cannot be braised.
The Great Ribs Book continues with discussions about:
Fresh versus frozen [go fresh!]
Preliminary boiling of ribs before grilling or smoking [no, no, no]
How to remove that white membrane
How to marinate, baste, cut, grill, smoke, roast or braise
In short, you have a complete primer on ribs! And then, the recipes unfold in chapters devoted to:
Asian style ribs
American style
Mexican and Southwester ribs
Mediterranean and Caribbean ribs
Fruit-based glazes and marinades
Braised ribs
I particularly love those fruit-based glazes and this book offers a combination that I would never have imagined: strawberry, soy, habanero and mint. To use this marinade, make it and coat the ribs evenly on both sides. Marinate the ribs, refrigerated, for at least 15 minutes but up to 8 hours for the very best flavor. If you have extra marinade, baste the ribs as they cook.
Strawberry-Habanero Marinade
Yield: about 1 ¼ cups or enough for 2 full sides of spareribs
Ingredients:
½ cup strawberry jam
Zest of 2 limes
Juice of 2 limes
¼ cup thin soy sauce
2 tablespoons habanero hot sauce
¼ cup finely minced ginger
¼ cup minced mint leaves
Preparation:
Combine all the ingredients and whisk or stir well to create a uniform mixture. No cooking is necessary.
Source: The Great Ribs Book by Hugh Carpenter and Teri Sandison
The Bromberg brothers have journey far from their native New Jersey. First to Paris and Le Cordon Bleu. Then back to New York City where they opened a restaurant, then another, a bakery and more and … They now have nine locations and food products sold around the country.
This recipe for their own hot sauce has a wonderful story. Inventive and devoted to the best and local, they wanted to make everything themselves. They learned something. There are things out there you buy. In their case: A1 sauce, Heinz ketchup, and Ciao Bella ice cream. Those items are perfect. But for hot sauce, they prefer their own concoction and the recipe is here, ready and simmering.
You might want to make a half recipe and experiment at first with the number of habanero peppers you use. Habenaros are hot. Very, very, very hot. Wear rubber gloves, don't touch your eyes, and just take your time.
The bothers say that this sauce has a secret ingredient: all those carrots. They add color, body, and sweetness to offset the peppers. Put in sterilized jars, this sauce will keep for years. But you can use it all up and just keep making more.
Blue Ribbon Hot Sauce
Yield: 4 cups
Ingredients:
3 cups distilled white vinegar
3 to 4 re, orange, or yellow habanero chiles, to taste, trimmed and sliced
2 tablespoons slat
1 pound carrots, trimmed, peeled, and roughly chopped.
Preparation:
Combine the vinegar, chiles, and salt in a large nonreactive pot over medium-high heat. Bring to a boil. Let the mixture cool, then puree in a blender and strain.
While the peppers are cooking, in a separate pot combine the carrots with enough water to cover them. Simmer until very tender but not overcooked, about 10 minutes. Drain well. Puree the carrots in the blender until smooth (you do not need to strain them). Stir into the strained vinegar mixture. If it is too spicy-hot, thin it down with a little water.
Use immediately, or transfer the hot sauce to airtight sterile jars or bottles and refrigerate.
Source: Blue Ribbon Cookbook by Bruce and Eric Bromberg